So, in deciding to go with the
AWshifter
, i needed to make room somewhere for my
arcade joystick
. I already had a console, but it was junky and there was no way to get the joystick to look good mounted to it. In continuing the theme of
my dash
, i decided to fab up a new one. It's not done yet but i figured i'd post up some pics of what i have so far.
Here you see all of the parts i made out of 18 ga. most of it i was able to shear and bend at the school, but there were a couple of things i had to cut out with the dremel (only 12 discs worth).
Here's the lid. it turned out about 1/8" too short, but i'll see if i can get it to work still.
Here's the console all tacked up. the front portion down low is going to have a couple of holes cut in it, and i will mount in some of those marine cup holders. the part that angles back towards the driver is large enough to mount a DIN head unit in case i ever want to mount a radio. directly behind that is the flat area where the joystick will be located along with some room for future switches. finally, behind that is the cargo area, measuring 8" wide, 12" long and 9-3/4" deep.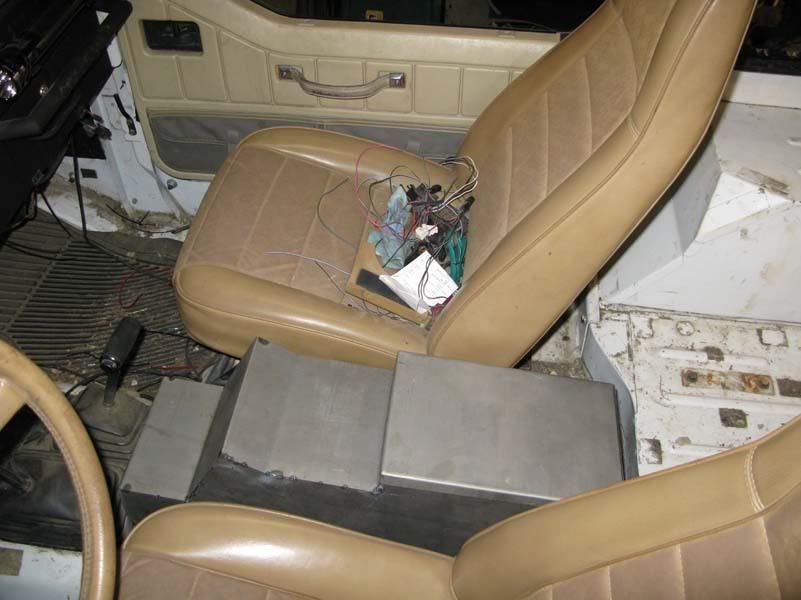 here it is mocked up in the jeep
for only $35 in material, i think it's turning out well. the only thing i don't like about it is how far back the joy stick is going to be. to move it any farther forward is going to require me to cut off the cup holders, but i think i'll try it this way first.