Registered User
Join Date: Jun 2006
Location: Hamilton, Ohio
Posts: 54
Clutch Master Cylinder Replacement
---
Well, the wrecker just dropped me off at home.
I've taken the assembly off the firewall, but I've no idea how/what kind of "nut"/connector is holding the tubing to the unit... any ideas?
Also, any idea on how to bleed the system?
I think this is WHERE, but I've no idea HOW...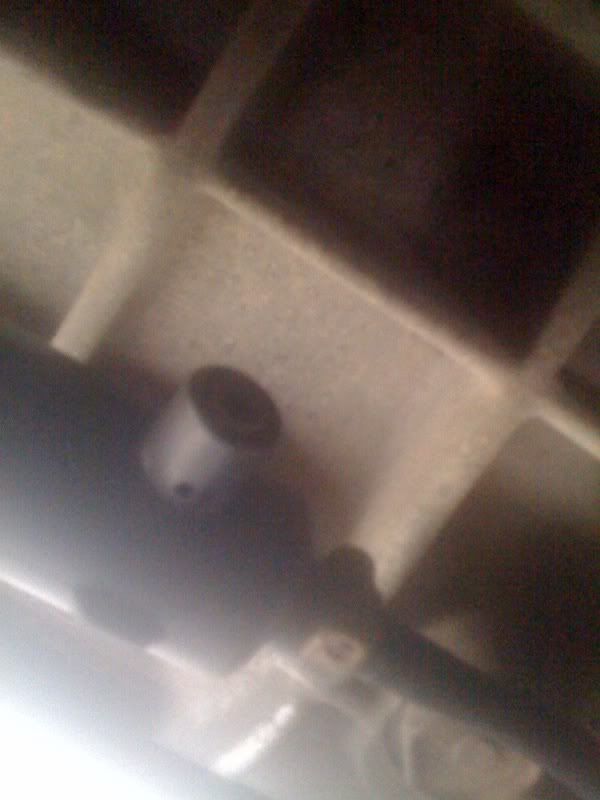 THANKS! I appreciate the help more than you know.
Registered User
Join Date: Jul 2008
Location: Maryland
Posts: 57
This is probably one of the first problems I had with my YJ. The only way you can fix it (that I found) was to go to auto zone and purchase the complete master cylinder assembly. cost me about 150 i believe. It was extremely easy to install. You don't need to bleed the system at all because it is all self contained. Just disconnect the part from the transmittion (you had a picture of it)...and follow the hose and disconnect the other part from the firewall. It will all come out as a single unit, and just put the new one in it's place. Took about a half hour once I figured out what I was doing. You should look into buying a repair manual...they explain everything.
Registered User
Join Date: Jun 2006
Location: Hamilton, Ohio
Posts: 54
I found there's an allen screw-head on top of the Slave, and tried loosening it to bleed, but NOTHING comes out. It does seem to drive just fine.

I do have a HAYNES manual, but it's not very helpful. It described there being a nut to loosen on the slave to be able bleed using a hose and clear container, etc... not the case.

It seems to be driving fine now even though I haven't bled the system. I hope everything's cool tomorrow on my way to work!

THANKS!
Registered User
Join Date: Apr 2008
Location: Meridian
Posts: 2,565
As previously suggested, replace the Master and Slave as an entire unit. They can be bought as an entire assembly, pre-filled and pre-bled, ready to go. The issue with replacing just the master, is that when the master goes bad, it usually transmits debris downstream to the slave, which in turn takes it out. The life expectancy for both the master and slave is identical. So if one goes, the other isn't far behind. To answer your question, there is a roll pin that connects the hydraulic line to the master, you can punch this pin through, and it will release the line from the master cylinder.
Don't poke the bear
Join Date: Jul 2007
Location: Stuart, Florida
Posts: 13,734
The entire pre-bled system is the preferred way to go, for those lucky enough to have that option ('94-'95 owners & converted earlier models) but if you are doing just the master, here is my write-up. This write-up is on an earlier model that uses a flare fitting to attach the hose to the master, but the roll pin type that you have is discussed farther down in the thread.

Max
---
To view links or images in signatures your post count must be 10 or greater. You currently have 0 posts.
Quote:
Max has a picture of every Jeep part ever made.
Quote:
No one here knows what they are talking about. You should try Pirate 4x4 they will be happy to help you.
There is no situation that cannot be improved with a small but well-placed explosive.
Registered User
Join Date: Jul 2006
Location: Holland, MI
Posts: 434
When I replaced my clutch MC, I just installed the new MC, filled the reservoir with fluid and pumped the clutch pedal (by hand at first) until the pressure returned to the clutch.
---
MichiganTech Mechanical Engineer Alumni
1994 Wrangler Sahara - Jeep Project
2003 Dodge Ram 1500 (new truck)
2007 Mazda CX-7 (the new commuter car)
2005 Mitsubishi Lancer (Rear Ended - TOTALED)
1998 VW Beetle (SOLD)
1988 Jeep Cherokee Limited - (SOLD)
Currently Active Users Viewing This Thread: 1

(0 members and 1 guests)
Posting Rules

You may post new threads

You may post replies

You may not post attachments

You may not edit your posts

---

HTML code is Off

---