Registered User
Join Date: May 2014
Location: Greeneville
Posts: 14
Clicking from under jeep???
---
So I have built my jeep from the ground up myself; with that being said I have a lot of knowledge about working on it. So my jeep is a 92 2.5 yj with a 3'' lift and sye and triple ujoint driveshaft. Any ways I have been chasing this clicking sound for over a month it will do it if I shift down (not applying the brakes) and if I break hard. Also if im in first and kinda just tap the throttle it will do it; it only does it when the rear axle is under load of slowing down. It is a single click if I am braking hard I can feel it in the floorboard. Also it will do it if I pull into the drive way and the next day backout it will do it. What i have done to trouble shoot jacked up and simulate going down the road, checked u-joints, all internals of rear brakes are new as of last fall and checked my motor and trans mounts everything is tight. Any suggestions will help. The jeep is my daily for now and runs fine and pulls fine this is the only issue.
Registered User
Join Date: Sep 2013
Location: Sparks
Posts: 513
U joints can make clicking sounds. They are also one of those items you can't tell by looking at them and I'm pretty sure you haven't just replaced them all for the heck of it.
The drive shaft came with 3 spicers u-joints when I installed it over summer with the sye. Should have said ive shook the drive shaft and hit a few times with a rubber mallet. Also the the front driveshaft u-joints are new aswell they were **** when I purchased the jeep.
Web Wheeler
Join Date: Aug 2006
Location: Grass Valley
Posts: 16,132
Check your front axle shaft u-joints.
---
Quote:
Originally Posted by George Orwell
We sleep safe in our beds because rough men stand ready in the night to visit violence on those who would do us harm.
Good thinking i've looked past those. So I went out and checked and I have replaced one axle last summer due to not being able to the get joint out; driver side is good, but passenger side looks rough (my jeep was from the north) and has just a little play not much. I will look closer at this tomorrow and keep you guys posted for future references. Also if I did not specify it does this in 2wd. I do not know about 4wd where I have not been wheeling since it has started.
Web Wheeler
Join Date: Aug 2006
Location: Grass Valley
Posts: 16,132
If there's any play in that joint with the axle in place you need to replace it.
---
Quote:
Originally Posted by George Orwell
We sleep safe in our beds because rough men stand ready in the night to visit violence on those who would do us harm.
Registered User
Join Date: Jul 2013
Location: Morrisville
Posts: 4,087
The clicking... If you can feel it in the floor, that makes me think it's something "heavy" as a ujoint will typically click under coast but not load and perhaps give you vibes as well while under load. But other than vibrations it's not typically likely to be felt in the floor, especially if the ujoints passed your visual check.

If the other issues like timatoe mention check out and that doesn't fix it, look at your spring bushings. I can't see the specs on your jeep, but since you have an SYE and mention a 3" lift (I assume spring lift?) and installing the SYE I assume the springs and bushings are new. But give them a look-see cuz you can and it's free. If you have a 3" body lift, however, that's a lot of potential for noise/movement because of the leverage provided by the height- though again an SYE suggests a spring lift since it's not required for a body lift.

Then check out your rear axle ubolts and centering bolt for the springs. With the length of some axle spring mounts, once the springs settle in, there's a potential for movement and hence noise.

Other things that make noise are the front sway bay bushings, link bushings, body mounts, and the track bar. The front end lifts when power is applied and dives on let-off and braking and something loose will make a noise. I mention the track bars because if your jeep is from the north the bushings could be beat out or more likely frozen solid. You *might* need track bars for state safety inspection in your area; dunno. But removing them will improve your ride comfort substantially. Even though I knew the track bars were not really needed and removing them could improve my ride quality, when I did it it was an eye opener. Mine were frozen motionless. Amazing improvement, and it let my jeep show me the spring bushings were bad. Replaced those and my road wander stopped, too.

Then there's mechanical stuff. A worn out ring and pinion, excessive side play in the ring gear, or an early warning of a pinion bearing failure can be culprits.

After that or maybe right away I'd look into the motor mounts, too. It's hard to make them show you a problem in the driveway cuz it's just little you compared to all the weight and torque of the whole jeep pulling on them.

I'm just trying tho think through what could possibly be the source of a single click you can feel in the floor boards. If you still have the D35 rear axle, though, if I had to guess at something "heavy" I'd point there. But the other checks are free and will take under an hour and maybe they will reveal something. I'd hope for a simple fix for you rather than a differential issue.
---
Shackles and D-rings: different things!
Cranking IS turning over
I should be more specific with what I have done to my jeep. It was an old farm jeep when I bought her, so almost every thing is new Ive replaced injectors, every sensor ( she had a bad sputter when I got her) engine mounts are new from Brown Dog Motor mounts and my trans mount is new as well. It is a 3" spring lift and my pinion angles is one 1 degree off from Dana 35 rear pinion. She has a 4.0 throttle body new rear seal, fly wheel and clutch. Now when you mentioned leaf spring might have play when i simulated driving (with the jeep on stands) My buddy said the sound came from rear passenger side he said it looked like my leaf spring had some play, but we could only get it to make the sound once or twice. The lift is not new I bought a 89 yj (motor was shot) and stripped and sold her and used a few parts such as the lift. I also have took off rear diff cover and inspected the gears it all looks good and tight.I cannot remember when i put lift on how spring bushings looked with full time school and work its hard to crawl under her. Also i want to mention that is seems to do it worse when it is wet outside or raining. Also that my passenger side rear tire sometimes wants to lock up because the self adjuster in the brakes does not touch the clip that locks it so i have to loosen it up every now and then.

P.S Also how much play should be in rear tires? When I jacked up jeep I shoock the rear tires now with all my body weight (200 lbs) i got just a slight movement out of both so i compared to the front where i got no play at all.
Registered User
Join Date: May 2015
Location: Choctaw
Posts: 354
I had clicking under load that turned out to be the centering pin/bearing. Pardon the 20 years of grime. Not my mess
---
1994 YJ Sahara. 4.0 Automagic transmission, rocket headlights, SOA, list item #15, bag of hammers, 1/2 tank of gas, GPS with a map called up to get me to t
Registered User
Join Date: May 2015
Location: Choctaw
Posts: 354
Here's the "after" just so you guys don't think I put it back in like that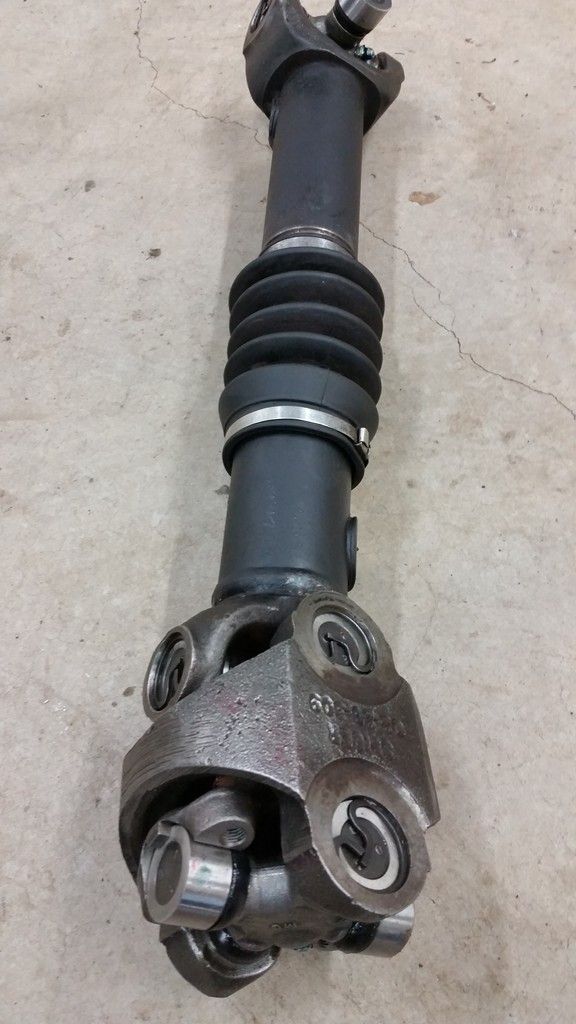 ---
1994 YJ Sahara. 4.0 Automagic transmission, rocket headlights, SOA, list item #15, bag of hammers, 1/2 tank of gas, GPS with a map called up to get me to t
Currently Active Users Viewing This Thread: 1

(0 members and 1 guests)
Posting Rules

You may post new threads

You may post replies

You may not post attachments

You may not edit your posts

---

HTML code is Off

---