Registered User
Join Date: Oct 2009
Location: ca
Posts: 94
brake switch question
---
Anyone do a 4.3 swap and put a auto in and have to run the 4 pin brake switch to lock and unlock the convertor. if so can you tell or send me a pic of how you mounted to the brake pedal or how you did your setup. i used a painless wiring harness in mine.
Thanks,
Matt
Senior Member
I couldn't find a brake light switch that would work without the extra work of adding a bracket. What I did was use a relay activated by the stock brake light switch. It has been a while since I did it and will have to see how I wired it. I have the diagram from the back page of my Painless installation book and have notes telling me what color wires I used to make it work but I need to get under the dash and look before I tell you something wrong. I will take a look, scan the page and get back with you.
that would be awesome thanks for the help
Senior Member
Here is the diagram of how mine is hooked up. I hope this will help.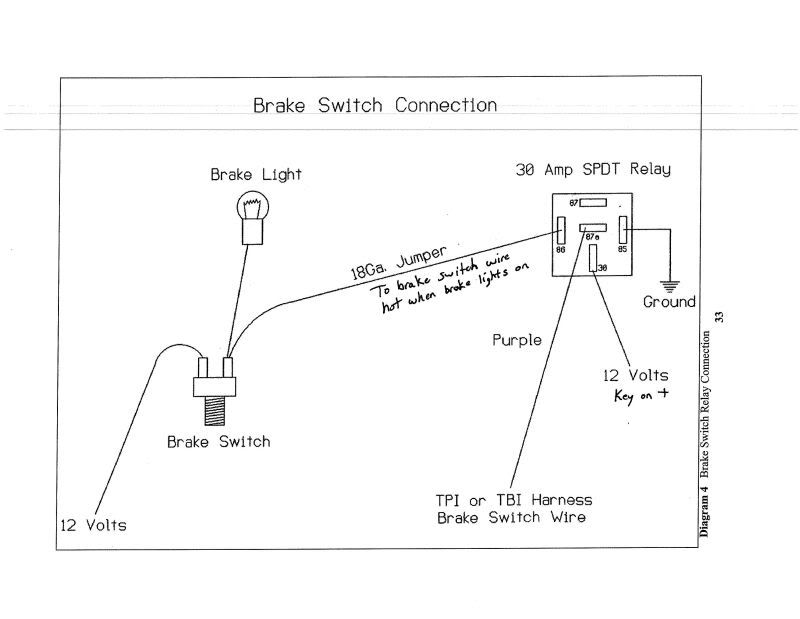 And you used the one already on the jeep right
And wiring this way will lock and unlock my torque converter.

Matt
Senior Member
It will unlock the convertor when you step on the brakes and the speed sensor should keep it unlocked until 45 miles per hour or so. This is how I understood it, the diagram used a pressure type brake switch but I saw no difference in using my stock brake light switch.
great thanks i am all over that to see what happens.

Matt
ok so wired like the pic last question how do you know when its locked and unlocked?
Senior Member
If it was locked up at idle (in gear and on the brakes) it would push the Jeep forward and lug it down, and when your above 45 (if using a non-adjustable speed sensor) hit the brakes while on the gas and your RPM's will come up a few hundred.
yea thats what it did thanks again for your help

Matt
Currently Active Users Viewing This Thread: 1

(0 members and 1 guests)
Similar Threads
Thread
Thread Starter
Jeep Forums
Replies
Last Post
Brake Switch

lyoncc

YJ Wrangler Technical Forum

1

03-06-2010

08:52 PM

brake switch help please

Codyf12

TJ Wrangler Technical Forum

1

06-05-2009

01:44 PM

brake switch fix

wegotj

TJ Wrangler Technical Forum

2

08-19-2007

08:32 PM

Brake Switch

Bachman

TJ Wrangler Technical Forum

5

07-29-2007

03:39 PM

Brake light switch.......

GzrGlide

TJ Wrangler Technical Forum

4

11-01-2005

07:41 PM
Posting Rules

You may post new threads

You may post replies

You may not post attachments

You may not edit your posts

---

HTML code is Off

---