Registered User
Join Date: Oct 2008
Location: Maumee, Ohio
Posts: 49
Body Armour?
---
Looking for a few pieces of body armour for my 90 yj. When I bought the jeep it already had the side pieces on it, but what I really need/want is the back corner pieces and one for the front grill. I have seen TONS of TJ styles for the back, but it has a hole for the gas tank on the wrong side
. Any help would be appreciated!
Registered User
Join Date: Aug 2008
Location: Ontario, Canada
Posts: 1,134
---
87 YJ(sold), 97 TJ(sold), 99 TJ(daily)
03 R1 (fun)68 Mustang Coupe(summer)
67 Fastback(resto)
Registered User
Join Date: Mar 2007
Location: Clark, NJ
Posts: 291
Registered User
Join Date: Dec 2006
Location: Port Edwards
Posts: 1,058
---
I got a Jeep, it's lifted and it's got crap bolted to it.
Color by Rattle-Can.
LO Jeep Club #111 [and not proud of it]
Red Jeep Club #MC399
Registered User
Join Date: Mar 2008
Location: Ontario
Posts: 39
check out vendors.... sniper fab has some nice rear tube fenders that bolt around the rear corners... also fabricate a yj friendly version
Registered User
Join Date: Oct 2008
Location: Maumee, Ohio
Posts: 49
Thanks guys! How hard is it to move the gas filler? I am looking for a diamond plate style, and do NOT want the ones that go the full way around, just enough to cover the corners in the back. Thanks so much for the help so far guys!
Registered User
Join Date: Dec 2008
Location: east texas
Posts: 1,367
I got the full DP ones, but qtec has the short diamond plate ones too
---
Sold) 94 YJ, 4.0L 5 sp manual, Hard top, 33/12.50s, 4.10 ring&pinions, Polished D30 w/Aussie front, 8.8 rear w/ LS, 2.5" RC, 2" BL, 5/8" booms, TJ flares, SYE, custom F/R bumpers and rock sliders, 8k winch, dual optimas, HO alt.

2) (Sold) 99 TJ, mustang 5.0 GT 40, AX15/231J, trektop, 37x12.50r17 cooper STT, superlift 6" long arm, D30/44 w/ ARBs & yukons, customized warn bumpers, custom sliders, 12K winch w/ synthetic rope, custom paint

3) 2007 JKU being built now
Registered User
Join Date: Mar 2007
Location: Clark, NJ
Posts: 291
When I first bought my yj the one rear corner was dented, and when i pulled it out all the paint cracked. Rather then get corner guards, I took spray on bed liner and did just the corners. I really liked how they came out and it only cost me $5. And the LED lights are just trailer lights from harbor freight $20 a piece.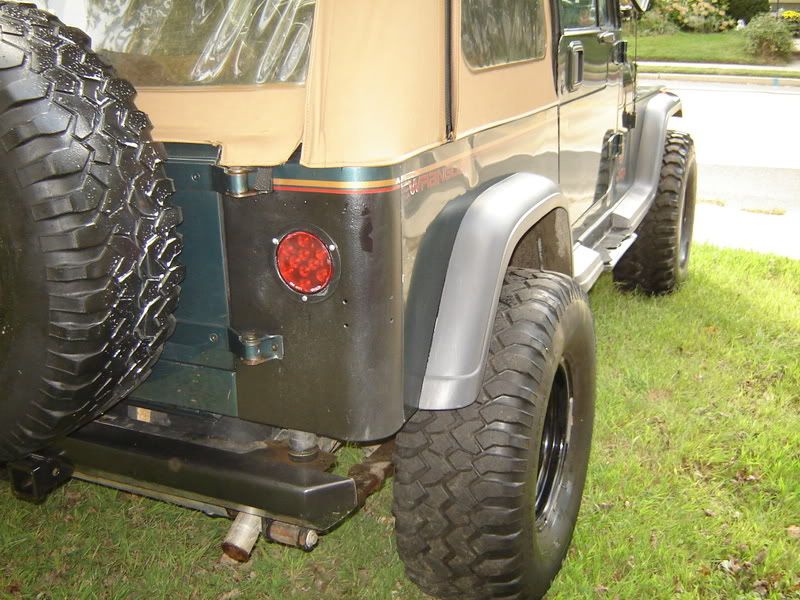 Registered User
Join Date: Sep 2006
Location: Englewood, CO
Posts: 4,566
Went with Genright, myself. Got the full coverage ones as they are certainly armor. Also had future plans on further mods. These plans needed the full coverage corners.
Added home made weld on armor plate flairs, moved the license plate and added led lights.
Registered User
Join Date: Jun 2008
Location: Columbus, Ohio
Posts: 203
ive got a set of tj one and moved the gas filler over. All the yj guys will tell you to do the filler relocation a bit lower than the normal tj to avoid the wheel well inside the cab, but if you get the corner guards youll have to put the filler in the stock location and cut into the wheel well.
Registered User
Join Date: Dec 2006
Location: Port Edwards
Posts: 1,058
---
I got a Jeep, it's lifted and it's got crap bolted to it.
Color by Rattle-Can.
LO Jeep Club #111 [and not proud of it]
Red Jeep Club #MC399
Currently Active Users Viewing This Thread: 1

(0 members and 1 guests)
Posting Rules

You may post new threads

You may post replies

You may not post attachments

You may not edit your posts

---

HTML code is Off

---