Basic Maintenance: The External Clutch Slave unit
---
First off, if you are fortunate enough to have an external clutch slave cylinder, take a moment to reflect on your blessing and good fortune before going on. If you are in the process of converting from internal to external, or are replacing your current external slave unit, there are a few tips you need to know that seem to be missed by many members of the forum, or transient visitors thereof. I don't have all the photos I would like to show, but will edit in ASAP when I get them. This will be a write-up in progress. The 94 and 95 YJ's with manual tranny came with the external slave unit, earlier models came with the internal slave unit unless it has been converted over. As the internal slave units are so much trouble to so many Jeepers, the less problematic external slave unit just doesn't get much notice because it is comparatively simple.
It is
so long as you follow some simple guidelines that have otherwise in general been neglected from mention in a writeup.
When you change out your clutch master cylinder,
STRONGLY
consider replacing your clutch slave unit and vice versa. There are many many (did I say "many" yet?) threads of woe in regards to "I replaced my clutch master (slave) and now my slave (master) is leaking" etc. The increased pressure/resistance developed by a single new component in the system results shortly thereafter in failure of the other component. Period. Don't post in and say you never had a problem or your 2nd cousin's younger brother's Aunt's roomate's ex-boyfriend did this and never had a problem.
They just got lucky
. Don't count on this happening for you. If you replace one of them, just dig deeper in the pocket and replace both of them while you are at it. If you don't believe this, I won't hold it against you, but I am going to start collecting all of these threads of woe and linking about 10 of them into this writeup in the future.
Edit-here they come......
http://www.jeepforum.com/forum/f12/t...-fluid-716310/
http://www.jeepforum.com/forum/f12/n...inder-1439438/
Look at post #7 in this thread:
http://www.jeepforum.com/forum/f12/c.../#post10579128
http://www.jeepforum.com/forum/f12/n...-info-1228408/
Post #3 in this thread:
http://www.jeepforum.com/forum/f12/c...inder-1238670/
http://www.jeepforum.com/forum/f12/a...lutch-2670682/
and look at post #12 within this current thread....
A first consideration in replacing your clutch slave unit. It comes with white plastic shipping straps which hold the piston into the bore of the slave unit.
DO NOT CUT THESE STRAPS, THEY ARE DESIGNED TO BREAK AWAY THE FIRST TIME YOU DEPRESS YOUR CLUTCH PEDAL.
They are like a little jock strap that retains the piston in the bore, and if this piston is launched, you may think you can get it back in but it will cause enough damage to the seals that your unit will be worth the equivalent of a truckload of dead rats in a tampon factory, and you will have to replace that unit. Generally it dies on you on the trail, or at the worst possible time, under the worst possible circumstances, when it will hurt you the very most. This is called Karma. Don't ***K with Karma.
Make sure when you install the new slave unit, the action end of the piston is properly nestled into the dimple in the end of the clutch fork up inside your bellhousing, otherwise even when you left on the shipping straps, when you depress the clutch pedal for the first time, you will hear a very sad dull clunk sound of your piston launching free into your bellhousing, and you will spray hydraulic/brake fluid from the ruined slave unit all over your clutch plate. This is badness.
There is a One-piece, pre-bled clutch master/hose/slave unit that you can purchase, it is bolt in and go. In fact the slave does not have a provision for bleeding, as indeed a lot of the currently available individual clutch slave units are not equipped with the bleeding screw on them. There is a complicated and pretty worthless "get the air out, hold unit at 45 degrees while facing west at high noon" description in the box, but it is complicated, frustrating, tedious and ineffective. There are only 2 nuts to remove to replace the slave, and 2 to remove to replace the master unit. There is only one sheet metal screw that stabilizes the hose between the two components. My teenagers could break a ball bearing with a rubber hammer--give them a few wrenches and they figured it out in about 10 minutes.
Here are some photos of the slave, in various forms. First of all the external slave in all its glory. You can see the part number on the tag for the whole assembly--the one piece assembly I described above.
Closer view of external slave unit. Note the white tabs, these are the residual tabs of the white plastic shipping strap. They just hang out there after you install. You don't need to pull them off even after they have snapped internally with the first clutch pedal depression, they just hang out there.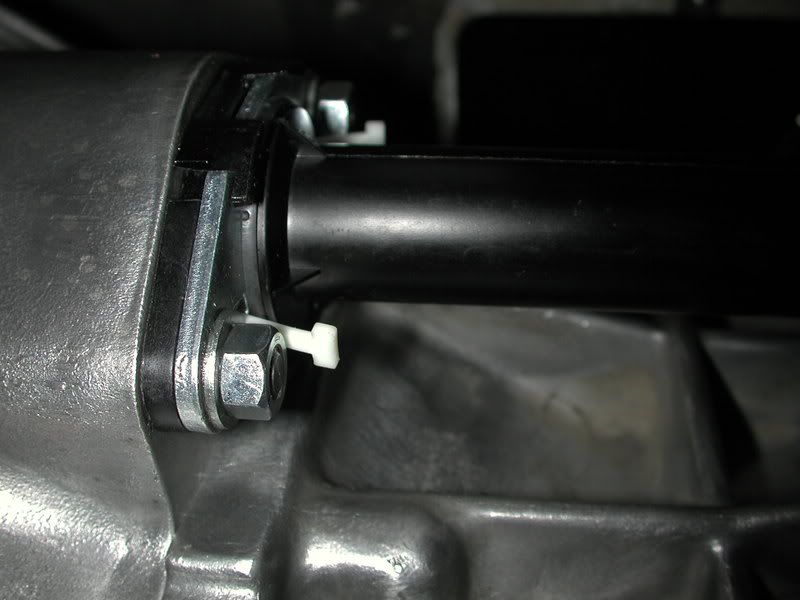 If you need to disconnect your slave unit from the hydraulic line, here is how you do it. It is held in place by a roll/tension pin. You can knock out the tension pin with a small pin punch while supporting the opposide side over a socket or equivalent. There is an O ring as a seal on the end of the line. This photo shows the technique on the master, but the application is identical on the slave unit.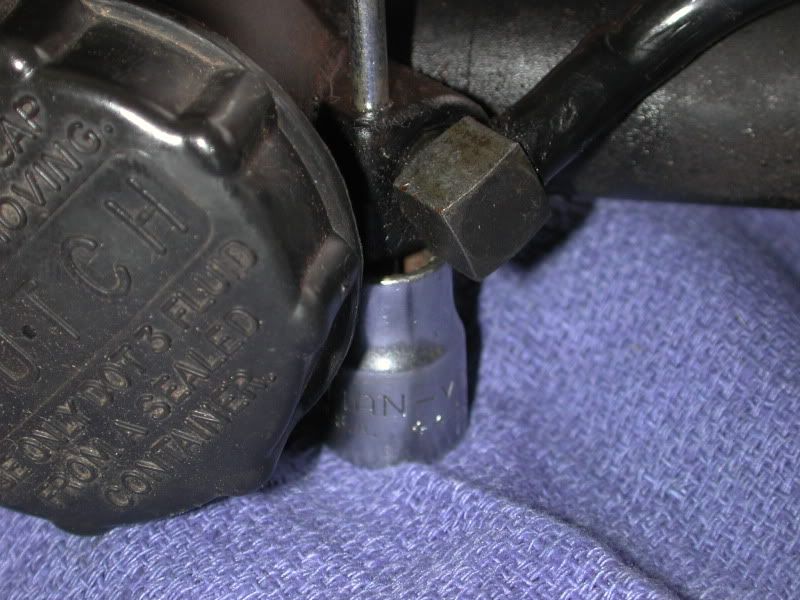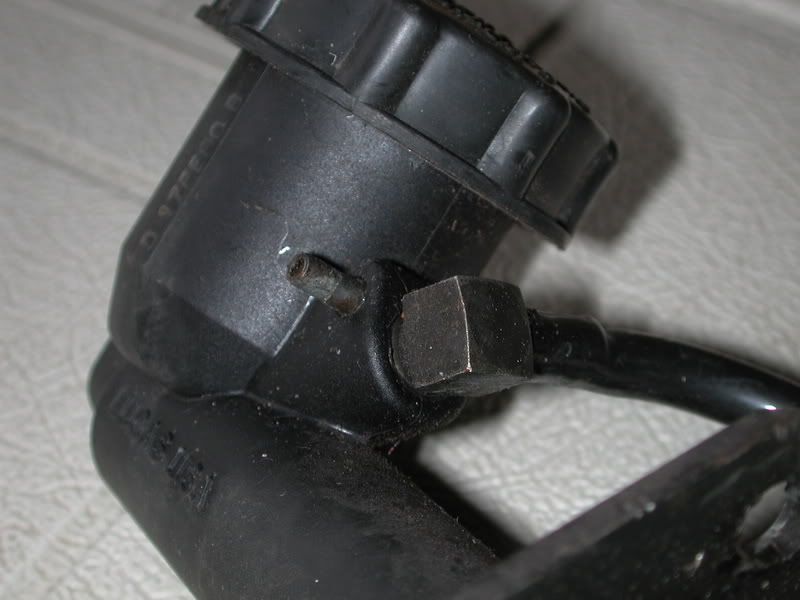 Here is the pin out/line out on the slave unit. You can put the line in a new slave if this is the route you chose, and push/tap the tension pin back in place. You can get a new individual O ring if needed from your local hardware store like Ace, City Mill, Lowes, Eagle Hardware, etc.
The new verison of individually sold slave units frequently do not have the bleeder screw in the bleeder tower. I have seen both varieties in the partsplaces. This is the bleeder unit version in a variety of poses.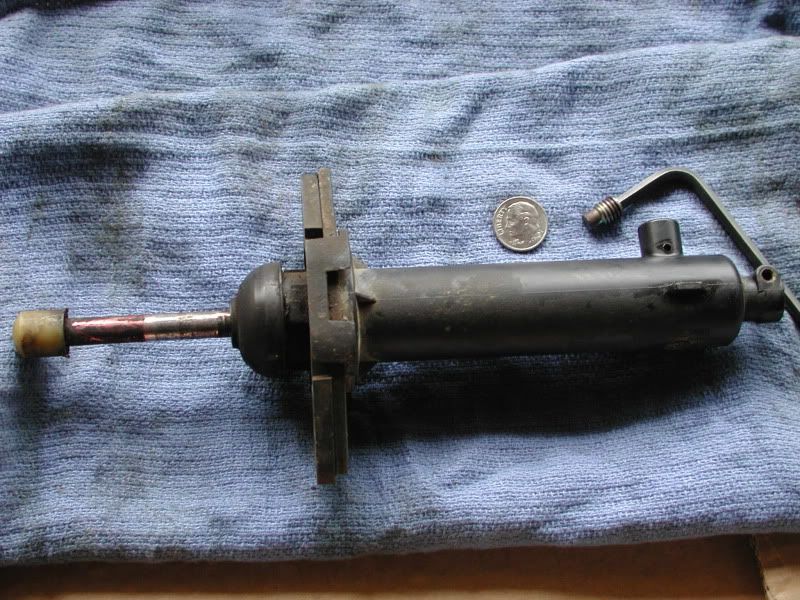 This is a shot down the "bleeder tower" of the newer version clutch slave. The one-piece, pre-bled unit comes with this style non-removable plug in the base of the bleeder tower. Note that there is no provision to unscrew this plug as you saw in previous photos with the allen head version. I have a theory upon which I will elaborate subsequently.
Theory
--I have not been able to test this out, since I do not have a scrap/spare "non-bleedable" variety at my disposal to take apart, and have asked various forum members to mail me their old ones so I can play with them, even offering to pay shipment to 96701 but have had no takers.
I believe
that if you were to drill a small hole in the middle of this plug, put in an easy-out, then you can extract this plug. Both varieties have a small 1/16 hole drilled in the side of the tower that hydraulic fluid comes out when you bleed the system. If you were to thread in the plug from your "old" unit, you would now be able to bleed your new "non-bleedable" unit. I have not tested this yet, it's just a theory.
I fully intend to Edit stuff in later on as more photos become available, and I collect the threads of woe regarding the replacement of just a single component of the clutch hydraulic system. Please ask me your questions and I will do my best to answer them.
The bottom line critical message in this thread is DO NOT CUT THE SHIPPING STRAPS HOLDING THE PISTON INTO THE BORE OF YOUR EXTERNAL SLAVE UNIT. Install it properly, they snap the first time you depress the clutch pedal after proper assembly.
---
....I'm not smart, but I can lift heavy things.......
Fill out your PROFILE, and don't forget to look in the FAQ for writeups
I'm stuck on da Rock
http://kamfamily.wordpress.com/2009/...waiian-limpet/
Quote:
We will be going Metric every inch of the way.
Quote:
yes I'm a some guy and have always put gasket sealer on my surfaces before mating
Quote:
You should go to Pirate. I hear they are real smart over there. You'd fit right in.