Early YJ up to 92 had the 0.590" tip and 92 onwards including the NV3550s had the 0.750" tip. 92 was a transition year though but
likely
your trans has the bigger tip on it, but you'd have to pull it to check to be sure. It is possible to knock out (drill holes in it, then chisel fracture) the BIG reducer that the pilot hammers into, and replace that whole element. Not sure where to get the big reducer, but in some circumstances I have seen it come with the pilot bearing. You can contact Novak or Advanced Adaptors and they can tell you more. On the 4.0, the pilot does not go into the flywheel, it goes into the back of the crankshaft. Changing flywheel won't help. Pictures coming.
The part circled in wobbly purple is the reducer I'm talking about, the pilot you can see in the middle of it, half-way pulled.
Tip comparison, 0.590 left, 0.750 right. The input shaft can be changed, but that requires a tear down of the gear case, it's a long run for a short slide. I am not aware of a sleeve that can be hammered onto the small tip variety to convert it to the larger style, but machine shops are resourceful. Not sure this could be done without pulling the input shaft anyway, but you can check with your local machine shop.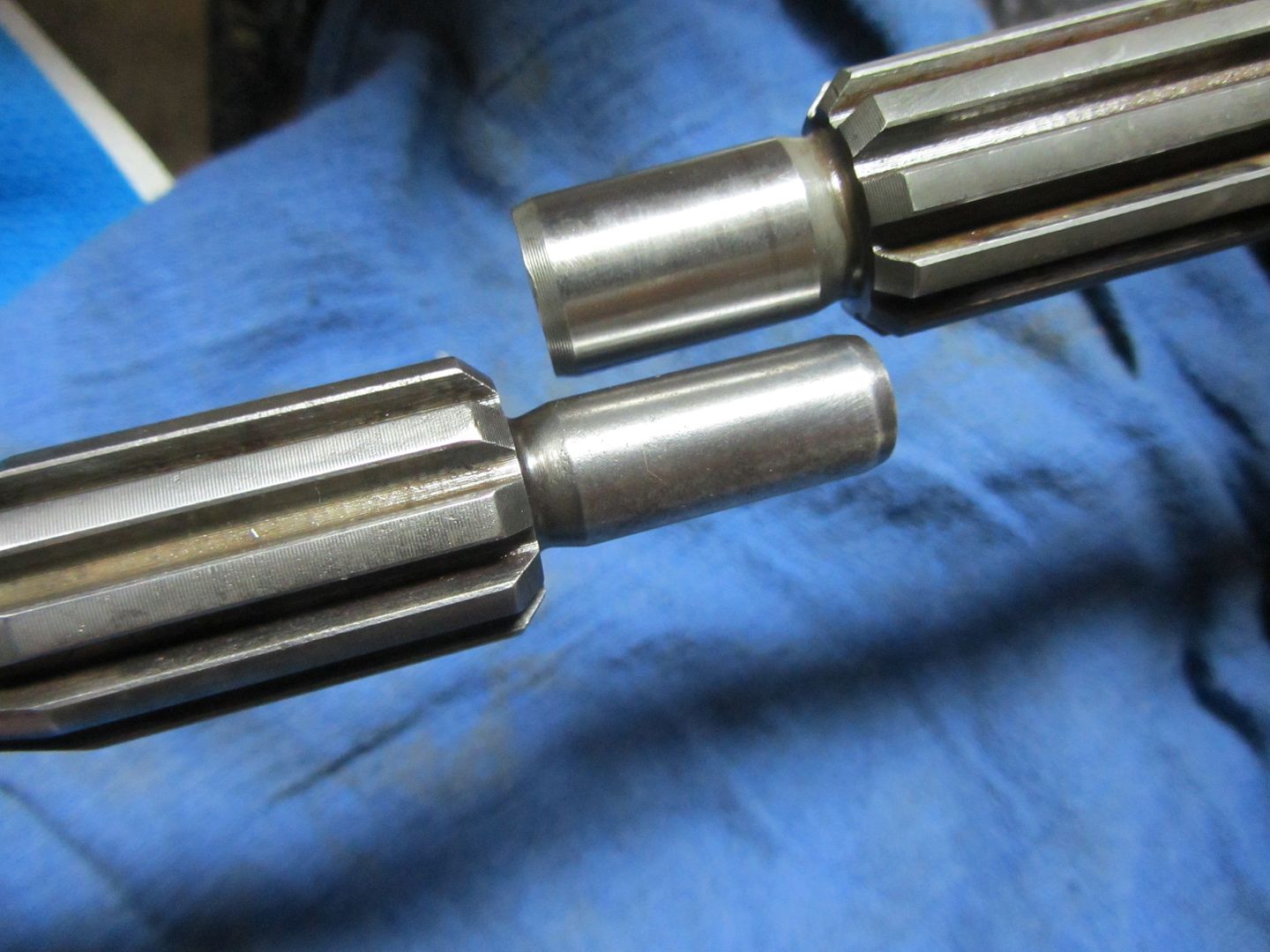 Drop your skid plate, with something holding up the back end of the drivetrain, on the bottom of the transmission intermediate plate, you will see a series of numbers set into the bottom of the int. plate. Wipe off the grease and trail salsa, and tell me what those numbers are. I can tell you more about your transmission from those numbers. If you pull off your shifter and boot and look from above, you may be lucky enough to be able to see a PN in Green ink on a silver sticky tag on the top of the intermediate plate. More info there as well that could help.