Automatic Transmission Mount Replacement
---
Ok, well I got tired of watching my transfercase shifter move 1" left and right each time I stepped on the gas, so I decided to replace my transmission mount.
Here's a run down of what you'll need:
Transmission Mount (duh) (I purchased the Anchor brand mount from AutoZone. Only cost $18 for the lifetime warranty and all)
Assorment of deep well sockets (the set I used was between 3/8" and 3/4")
3/8" Ratchet wrench
3/8" Breaker Bar
Floor jack w/ block of wood to support transmission and transfer case
Engine Degreaser
PB Blaster rust solvent
I started by supporting the transmission and transfer case with a floor jack. I placed a block of wood on top to keep from punching a hole in the pan, like so:
Next I removed the two bolts that attach the transmission mount to the crossmember/skid plate. The other bolt with the rubber bushing ended up getting cut off:
Next, there is six bolts that attach the skid plate to frame of the jeep. Mine were in really good condition and I had little trouble getting them off. One was rather stubborn, so I just put my jack handle on the end of my breaker bar and with the added leverage it came free easily:
Here's where I used my grinder to take off the bolt that couldn't be removed the traditional way. After a few wheeling trips the bottom of the bolt had been scraped quite a bit. I had no choice but to cut it off: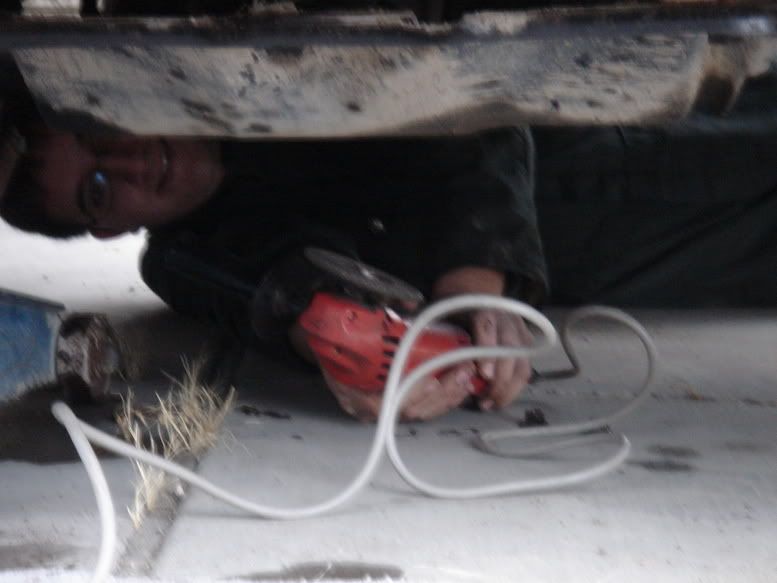 More grinding, almost there:
With the skid plate free, it was time to clean off 12 years of dirt, grime, and transmission fluid. Here's what it looked like before hand:
After putting my girlfriend (the picture taker) to work for a good 30 minutes, the skid plate looked much better, pratically new inside and out:
Of course while Jer was getting her hands dirty, I was busy removing the old mount. Here's a picture of the old (on the left) and the new (on the right):
Installation is just the reversal. There's two bolts that hold the mount to the transmission. You will need your ratchet wrench and a preferably a box end wrench to remove and install them. I took this time to clean up the transmission pan and transfer case with the engine degreaser as well. It might not be a bad idea to double check the tightness of the transmission pan bolts either. I did this and found all of them at least 1 to 1.25 turns loose. It should only take about an hour, but because of the cold it took us a little longer. I saved a ton of time by having Jer clean up the skid plate while I was removing and replacing the transmission mount. It really makes things like this easy when you have a girlfriend who's willing to help out (honestly, she volunteered to do it
)
Anyway, there's not much to it and I have noticed my transfer case shifter doesn't move nearly as much, only about 1/4" side to side when starting from a complete stop. I don't have any new or noticeable vibrations due to the stiffness of the new mount.
Enjoy!
---
1994 YJ 4.0 H.O.
3-speed Auto
My NEW
RigRater
Score: 406RRv1.0 with a BOA of 31.60