August YJOTM Vote Now!!
---
Sorry it's late but it did take a while to get the contest configured for the judges. You guys know the rules for voting, lets keep this fun, Hmm?
mylightsrsquare
1988 yj
4.2 i6 with a webber,nutterd and cdi ignition with the ford tfi conversion and a pre smog distributor. ax15 swap in. i go back and forth between a set of 33's and 31's. stock axles. the engine was rebuilt in 01. i have worked on every part of the jeep myself.
i got my jeep in may of 2010. i wanted a wrangler since i was a kid. it took a year or so to find one i could afford, i learned so much working on it. i bought it being mechanically illiterate. i used this forum and my trusty chilton's manual to the best of my advantage. it was a challenge for me doing the first tune up and now i can have the tranny dropped for clutch work in under an hour its not the prettiest jeep ever, but it is my pride and joy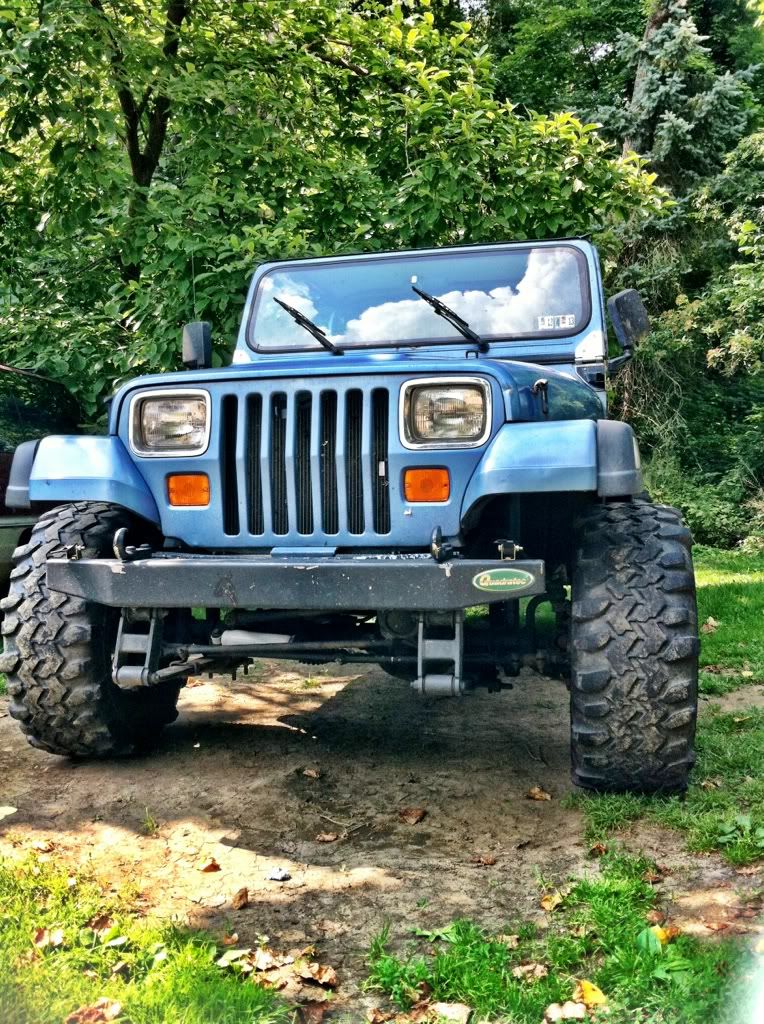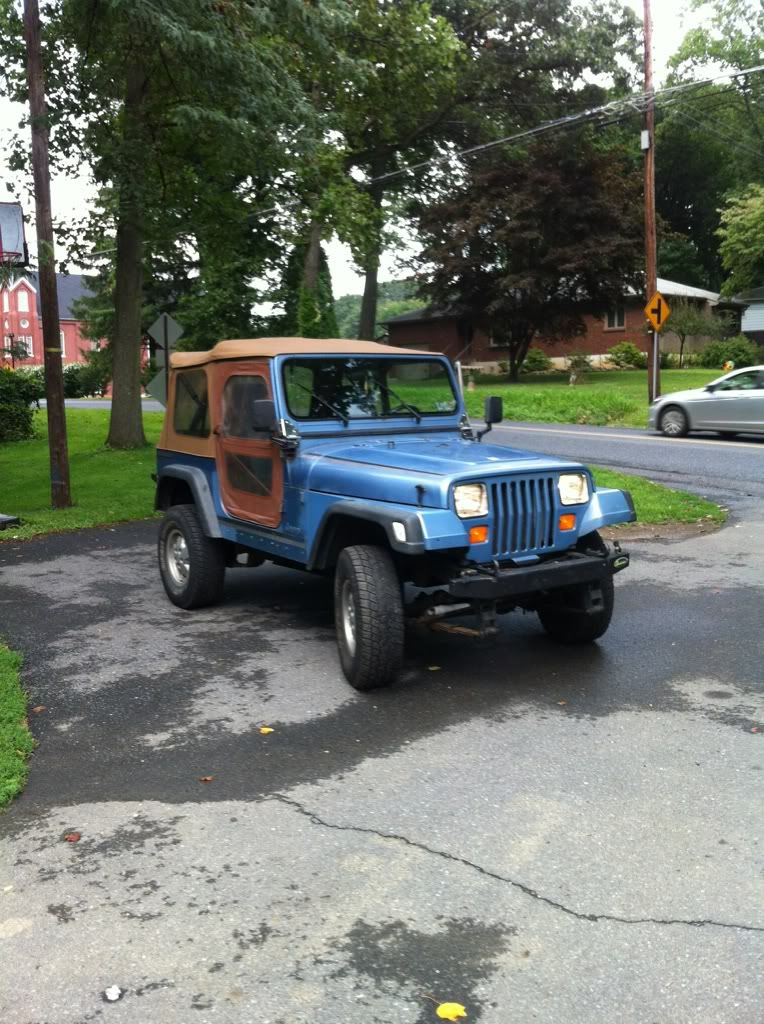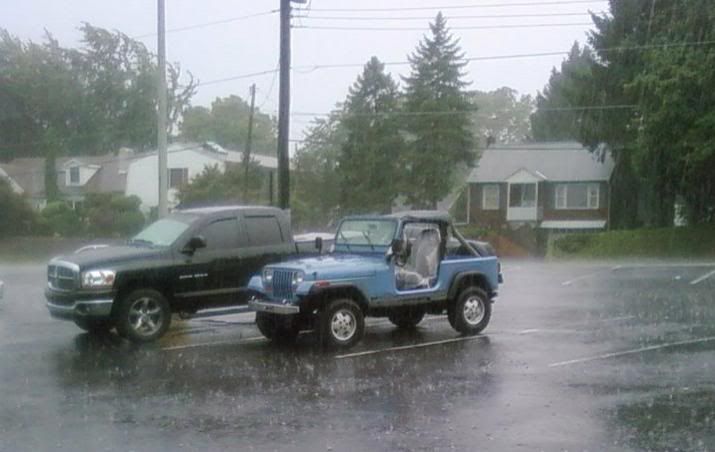 `````````````````````````````````````````````````` ``````````
bigdhamYJ
So I finally have an updated entry for YJOTM! I have done sand have had done a lot of work to my YJ over the last few months so she's definitely a little different! For the basics, She's still a 1993 YJ 2.5/ax5/231. Now Spring over on stock springs with Bilstein 5100's, 33x10.50x15 BFG KM2's, Stock height VACJ5 Boomerang Shackles, JB4x4 Raised steering bracket, Custom Spring Perches by VACJ5, 8.8 rear end, all new brake lines, ZJ Prop Valve, ARB Snorkel, and to top it all off, two new KC 110w Daylights. She works, and that's all I can ask for sometimes, but I'm finally catching up on all the little things that needed fixing, like changing the tranny fluid, swapping out my 3.5" Skycracker Leafs for Stock leafs, and will soon be trying to remedy my lack of up travel with the MORE 2" shock kit for the rear, and probably tabs on the front axle for the shocks. So far I'm coming right along with all my plans which is great! Once I work out my up travel I will get her out and go wheeling for sure, but until then I'll keep wheeling the pavement!
On ride height spring over with 3.5" Skycrackers
After Stock springs
All cleaned up next to my brother's XJ for our Church's annual community car show. (Tires are shiny, nothing else matters.
)
`````````````````````````````````````````````````` ```
Michaelgoesrawr
-1988 Sahara
-Rebuilt 1989 4.2 Engine with Howell Fuel Injection Kit
Stock suspension
BA 10/5 trans and NP231J transfer case with stock axles and 3.07 gears sitting on 30x9.50R15LT Hankook DynaPro AT's.
Posi-lok kit
Corbeau Baja SS seats with three point harnesses.
1994 Family Roll Bar
Led under dash lights
Rock lights
Hardtop and full doors in winter/Full mesh top(optional half doors) in summer.
-My boss was letting this Jeep rot away at his house. It sat uncovered for almost 6 years before I bought it for $200 with over $400 in back tags. It didn't run so I rebuilt the carb and got it to pass smog and it has been changing slowly ever since, with the most recent mod being an engine swap. I hope to install OBA, OME lift, swing away bumper and roof rack in the future.
-When I towed it home using my buddies Cougar.
A little bit of wheelin' last summer
Putting the new to my Jeep, engine in a few weeks ago
`````````````````````````````````````````
kingcat400
specs:
1993 jeep yj
2.5 ax5 231 combo
4.10's
ford 8.8
fabtech 3.5"lift
AA sye with tom woods shaft
flowmaster 40
custom front bumper
flush led tails
tj soundbar
custom tube fenders
smittybuilt rear tube flairs
33-10.5-15 km2's
mt classic lock wheels
hella e-codes
custom led light bar (in progress)
fresh paint
rebuilt ground up
```````````````````````````````````````
ThreeHeadedYJ
1993 Wrangler YJ, 94 Wrangler YJ 4.0
Well I guess first I will explain the history of my Jeep..
My 93 Wrangler was a gift to me from my father and grandfather as my first vehicle when i turned 15. The jeep barely ran when i got it, had a stock 2.5L and was in decent shape, some rust but not terrible.
My father and grandfather got me the Jeep as a way to teach me how to work on a vehicle, change the oil, all the basics ect. Well soon to behold it became an obsession what all I could do to my very own vehicle!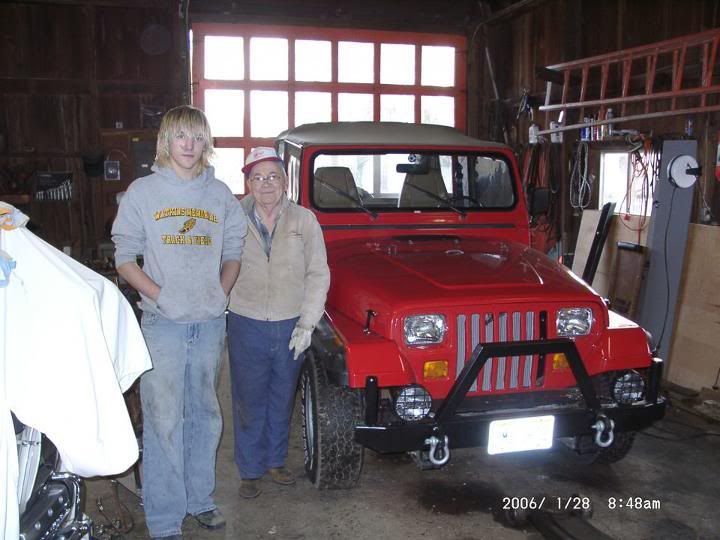 First thing I did was designed and had a company make me a custom front bumper and added some fog lights.
That soon developed into that winter with the help and knowledge of my father and grandfather we installed a 3.5" Blackdiamond lift kit. Only problem with this was that the stock 2.5L barely ran...
Soon me and my father found another Jeep in the hills of Pennsylvania with a 4.0 and took a adventure to go check it out and see if the motor would be something that we could use..
We ended up buying this Jeep that frankly looked worse than mine, but hey it ran. So we drove it home...
My Father and Grandfather and I then made a project into swapping motors to putting the new one in, Boy was that an experience being 15 years old.
Along the process of what my Jeep has become today my grandfather taught me how to weld, change u-joints (both of which my father doesnt know how to do), and how to tear basically anything apart and most importantly he taught me how to just be able to look and listen for problems so that way i could fix them and never have to go to a shop...
At 16 I got my license and learned to drive my 5 speed before my father would let me drive any other vehicle around.
To help sum up the story, I now am 21 years old. Still have the original YJ that they purchased for me so many years ago. This Jeep has been my DD everyday since I recieved it. Not to mention that I love to take it off road and too often break something.
My Jeep when I was in highschool was totaled in a car accident where a lady ran a red light and clipped my front bumper, turning my jeep 90 degrees into traffic, destroying her car (smashed windshield, airbags popped, every possible fluid on the ground, ect) while my jeep looked like only a little paint got scratched.. Well lone and behold i took it to a shop to check it out and my frame had been torqued 7" to the passenger side from the impact.
I had a choice to make, let the insurance total it and get a new vehicle, or buy mine back and fix it...
Well by luck when the insurance agency came to look at my jeep i made it very clear i didnt want it to be totaled so i didnt have a salvage title and i got it her insurance to pay for the damage done. PHEWWW
To date i have spent well over 15K on my Rig that i got for $1,900..
I now have full metalcloak body armor. Poison spider trailgate and rear bumper. Corbeau racing seats, AEM cold air intake, 35" MTZ's, Savvy offroad taillights, ect.
Now for the part that is making it so hard to enter in this contest, but what has driven me to finally enter...
My grandfather, the person who helped shape me into the man I have become today. The person who taught me to work with my hands, fix my own problems, weld, have fun, and just live life and dont take and BS from anyone passed away this past Tuesday, August 14th.
He would always tell me that my jeep was the best one in Ohio, and told me how proud he was of me and how i have been able to surpass his knowledge on how to work on my Jeep and fix problems, even before they start..
So i guess I am entering right now for him. Because to me this was his Jeep too. He helped me build it, fix it, and have fun with it.
Even at 85 years old, 5'5", with a bad back, and other health problems he was able to jump into my jeep last year and take it around the block just for fun..
So thats my story, this is our jeep, and i will continue to put another 15K+ into it, break it, fix it, and continue to drive it and cherish the memories i have.
```````````````````````````````````
skyj
1990 Jeep wrangler
4.2/ 4.0 head swap, HEI
motorcraft 2100 carb
Ax15 5 speed
np231 with SYE
cut down cv shaft from cherokee for rear shaft
lengthened cv shaft from cherokee for front shaft
ford 8.8 rear 4.56 gears and detroit locker
LP dana 30 from ZJ with 4.56 gears and tj shafts(open) soon to be replaced with waggy dana 44
saggy Grand Wagoneer springs giving 2.5" of lift and
4" of stretch
1" shackles and 2" body lift.
tie rod flip with ford ranger pitman arm.
home made MORE inspired shock extensions.
Warn 5687 winch.
custom made front and rear bumpers all built by me.
home made rear swing away tire carrier.
seats out of a 99 TJ
custom roll cage made using YJ sport and TJ family cage.
custom ammo can center console with cup holders
35x15.5x15 super swamper SX mounted on 15x10american racing wheels
33x12.5x15 BGF all-terrains mounted on ultra wheels
I grew up driving a jeep on our ranch and during my senior year of high school I built a cj-5 from the ground up with my father. Doing that brought me so much closer to my father than I could ever imagine. I bought this jeep a few years ago with the intensions of building it with my three sons. My two oldest boys Love working on the jeep with me and its been a great project for us. MY youngest (1yr) is still a little to young to be helping but there are always more mods to do and more to improve on (ie replace the LP dana 30 with a dana 44). The Best part is that we have done this entire jeep from my garage with only the tools and Welder we have at our home. My jeep is by no means DONE and plan to continue to mod it and spend lots of hours in the garage with my boys teaching them and learing from them with this jeep. Its not just a vehicle to us its a family member.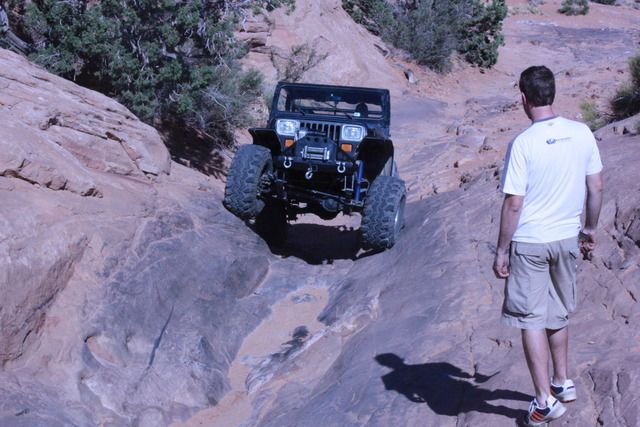 ```````````````````````````````````````
Burlbook48
1995 YJ
4.0 AX-15 5-speed
NP231
3.55 gears
Hard top and full doors
This is my first jeep, after wanting one for years. I am the third owner of this jeep. It spent most of its life with the original owner as a toad behind an RV. The second owner added cheap 4" leaf springs and 33" all terrain tires on 15x10 wheels. . It felt like a go cart, having almost no suspension flex, and was a real tooth breaker. Over the course of the last four years, I have slowly added modifications when I could afford them, learning about jeeps along the way. I have tried to keep the jeep as versatile as possible, having both a hard top and full doors to a soft top and half doors. It's my daily driver, so I didn't want to go too extreme.
I've tried to build this jeep to be a fairly capable all-around street-legal rig that could get me from the grocery store to a High Sierra lake and back again, planning for both highway use and rock crawling. Keeping versatility in mind, I have made a quick-change secure storage area for the back seat cargo space, letting me change from a two-seater back into a four-seater in just a few seconds. I made a bolt-in cargo rack between the rear family style roll bars that allows for more cargo on camping trips with only two people. An overhead cargo rack allows me to carry bulky items like kayaks on top. With the need for more cargo space when taking four adults, I am building an off-off trailer to drag behind the jeep.
I've learned a lot along the way, and hopefully will keep learning more. This jeep has pushed me to improve my fabrication skills and become more self-reliant when considering modifications. Future modifications include a full roll cage, CB, and possible HAM radio license. Better seats are also in the plans, cuz my back isn't getting any younger. Hope you like my YJ, I've modified it using skills I learned from all of you here on Jeep Forum.
Modifications over the last four years in order of their occurrence:
Rugged Ridge 7" fender flares
PIAA Dual Beam fog/driving lights
Bikini top
Synthetic oils for motor, trans, T-case
Tuffy Secure Glove Box
JB Conversions Super Short Slip Yoke Eliminator with Wide-Chain kit for the transfer case
CV rear driveshaft
BESRK Rear bumper with swing-out tire carrier, Jerry can mount
High pinion D44 front axle with Warn hubs, 5.13 gears, Detroit locker
D44 rear axle with 5.13 gears, Detroit locker
Spring over axle suspension swap
Full high-steering with 1-ton components
RE 1.5" SOA leaf springs
Ultra Type 50 aluminum wheels, 15x8"
Toyo Open Country M/T 33x12.50R-15" tires
Matching spare tire/wheel
Boomerang shackles
Bestop Soft Top
Hard half-doors painted to match my YJ
Out-boarded driver/passenger seats 1"
Disc brakes for rear axle
Anti-Wrap bar for rear axle
DIY Hand throttle on gear shift
ARB Selectable Locker for rear axle
ARB air pump
Bestop Rear Fender-Well Storage boxes
Oversize Sears Die-hard Platinum battery, 950 CCA
Hi-lift jack
Ammo can tool boxes
Heavy-Duty Tire chains
Kongo Cage and Safari rack
DIY instant secure rear storage area with rear seat in place
DIY Cargo Rack over rear seat area with rear seat removed with Thule Cargo bag
Overhead storage for half-door soft-tops
Tuffy Deluxe Console
Shrockworks 3/16" Rocker Guards with tube rocker knockers
DIY Bus-Bar for electrical system
DIY front Bumper with weld-though tow-points and 2" receiver
DIY winch mounting plate
Warn 8274 winch, fully disassembled and rebuilt, painted to match my YJ
DIY winch rope cover and license plate mount
DIY extra 2nd jerry can mount
Amsteel blue winch rope, 100'; Off-Road Solutions Aluminum Fairlead, Factor 55 Pro-Link thimble
Extra 50'Amsteel rope, assorted hooks, d-rings, 20' snatch strap, 20' tow strap, tree saver
DIY vise-mount/work-support for front receiver
Wiring harness for 7-pin trailer connector
Prodigy P2 electronic trailer brake control
The usual replacement of old parts…. Radiator, hoses, plugs and wires, etc….
And still a work in progress!