Norcal_Chris
1995
Ax5
np231/dana 300 doubler
Triple stick with Cable shifters Home built
Gm 10bolt front axle
Reid racing knuckle
ORD crossover steering arm
ARP studs
Yukon 4340 Chromo shafts
Lockright
2in .250wall tierod and draglink
Bilstien steering stabilizer
Plated diff cover
GM 14bolt rear axle
Bottom shaved and smoothed
Detroit locker
Ruffstuff disc brake brackets
GM 3/4 ton rotors and calipers
ORD braided brake lines
Ruffstuff pinion guard
Plated diff cover
Stock YJ springs SOA in front with added main leaf with relocated shackle hangar
Stock XJ springs SOA rear with added mil wrap main leaf.
Front hangars moved back 3in and frenched into frame
Rear crossmember bumper 1.5x4x.250wall with shackle hangars mounted.
Highlined front tube fenders Home built
Miniboatside 3/16 rock sliders Home built
Front stinger Home built
High clearance tranny mount Home built
3/16 reinforced flat belly skid Home built
1 3/4 x.120 Wall DOM cage Home built
Corbeau Baja SS seats tied to cage
Corbeau 4pt harnesses
York OBA with 2g tank
37x12.5x16.5 Goodyear MTRs grooved front
37x12.5x16.5 Goodyear MTs Grooved rear
Recentered H1 double beadlocks with Pvc inserts
Bilstien 5100 shocks
TJ grill
Stock tank moved up into tub
104in wheelbase.
Bought this jeep with a 4.5in lift and 33s almost 2 years ago. It started off slow but has been gaining momentum. I have nicknamed the jeep "Snowball" Sold all of what it had and have been wheeling and dealing ever since. I have under $4000 TOTAL spent including the purchase price of the jeep. Budget build x1000.
[IMG]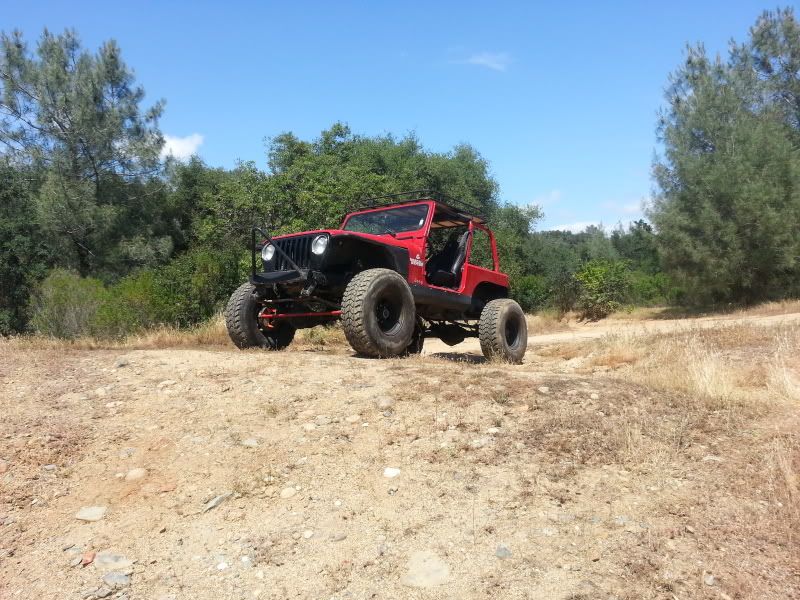 [/IMG]