Ordered my new dash from Dan at
Jeep CJ Dashs (Double D Fab)
I decided I wanted to keep the YJ dash pad so I got with Dan after seeing the design of Jerry's, aka JeepsOLot, dash that Dan was doing. This seemed like it would be the easiest swap. Just remove the center section, wire in the new gauges and your done.
Well that was until I found this....
So hit the local u pull it and found this victim of the cash for clunkers. 95 rust free YJ. I think just about every YJ in the club has some parts off this thing now.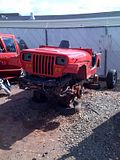 Took out the old....
Painted and installed the new....
I went with the Autometer Traditional Chrome Series gauges. I just like the old school look of them. Replaced the dash speakers and the cowl seal while I was at it.