I own a 1990 so I have a slightly different situation (fixed mine in 1 day since I had the parts and the sacrificial assistants to get caught on fire instead of me).
All stock in the engine minus battery and the fact i have a Nutter Bypass (e.g. no computer since I have a carbuerator).
Fixed my timing late monday and she ran better after that than in months. Next morning dies on the freeway and won't start. AAA towed it back to the house and I called in the cavalry.
12 hours of work we tested distributor, the sparkplugs, the wirings, we LED Light tested the power cables going TO the coil.
Now note my engine would rotate, and click, but wouldn't catch and run.
So we tested to see if when the cable from the coil to the distributor was placed near metal if it would ARC. (this was after we determined the coil had power). Nothing, so we put in a new coil (well a used one but for a YJ thats new). Tried cranking her again, still nothing but now the coil worked.
Tested to see if the spark plugs were getting power by doing the ARC test on the cables from the distributor to the spark plugs. They arc'd so the coil was working fine.
We decided to check the FUEL PUMP. Now I have a 1990 once again so my mechanical one is on my crankshaft in the engine luckily, but I had an electrical one mounted parallel to it (which turned on and ran BUT WASN'T PUMPING NADA!!!) so we disconnected the electric fuel pump and put it on the mechanical stock one.
Hmm still nothing, but at this point we were guessing it just couldn't crank enough to get gas flowing at this point so it needed a 'jump start'. We took the cover off the carb and filter and proceeded to pour gas directly into the carb. At this point the engine backfired or sparked ackwardly catching the bottle of gas on fire along with my good friends foot: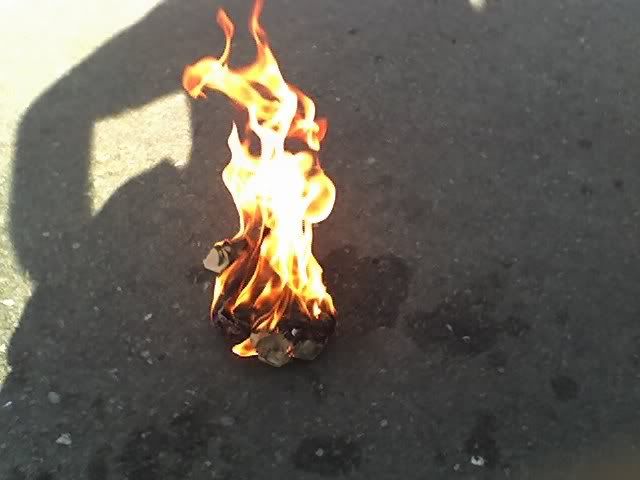 Long story short. I would just to be safe check that your fuel line has gas flowing through it. If that doesn't work light part of your engine and you on fire, Jeeps like to work when the human suffers.
(DO NOT TAKE THE PREVIOUS STATEMENT SERIOUSLY
)
So in the end my advice is:

Check that the fuel line has flow. (just disconnect part of it in the engine and hold it over a cup while you try to start your jeep)

If you DIDN'T replace the coil, check that it causes arcs when exposed. (But I assume your replaced the coil, distributor, sparkplugs, and computer from what you said).
And the final moral(s) of the story are:
Jeeps like watching their owners and owner's friends suffer.
Fire is our friend.
Check even the non-electric aspects of the problem. (Since not only did I have an electric problem, but my gas failed too)[my guess is that I had a surge in my power since an electric fuel pump and coil gave out at the same time.]