Registered User
Join Date: Feb 2012
Location: Borger
Posts: 5
4x4 trouble
---
soooo....was out doing a little wheeling lastnight and got stuck then i noticed my 4wd was engaged and the drive shaft was spinning and the "vacuum hose"? that comes off the axle was disconnected.. and i cant figure out where it goes is there a diagram online somewhere that i havent found that shows me where it connects to? its a 89 yj islander straight 6.. the driveshaft turns but nothing seems to be working i put a new carb on it got rid of the carter and put a motocraft 2150 on there and had a hard time finding a vacuum port that pulls enough from the carb to engage the accuator so its straight off the intake and its always engaged. and i think that might be some of the issue because its always engaged...which also hurt me driving down the highway at 70mph so this morning I messed with the actuator a bit this morning and now the 4wd works not sure if it was stuck or what but I still need to find a vacuum other than straight out of the manifold to connect to im sure someone else has had this problem thank ya!
RIP one good jeeper
Join Date: Aug 2009
Location: Ripon
Posts: 20,368
Registered User
Join Date: Sep 2009
Location: dyersburg
Posts: 15
I'd go ahead an do the one piece axle swap just search it on here be worth it in the long run. Just my .02
Registered User
Join Date: Jun 2008
Location: st. louis
Posts: 2,116
It needs a check valve between the vacuum source and where it hooks up to keep the vacuum from being too low when you accelerate.
Here is a diagram of how it is set up. Stock, there is a vacuum reservoir, but I unhooked mine and it still works fine.
Note that the blue line is a vent. Also, be careful, there are some diagrams floating around (color homemade ones) that don't show the checkvalves correctly.
The vacuum lines are almost 25 years old if they are original. Probably should just replace them while you are messing with it. Regular autoparts store rubber ones are fine.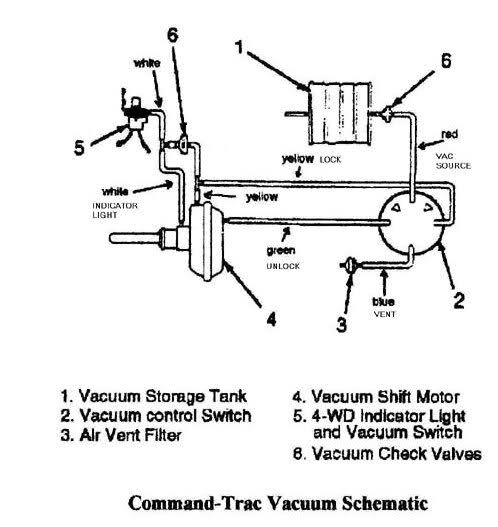 Currently Active Users Viewing This Thread: 1

(0 members and 1 guests)
Posting Rules

You may post new threads

You may post replies

You may not post attachments

You may not edit your posts

---

HTML code is Off

---