Registered User
Join Date: Apr 2012
Location: Clarskville
Posts: 1
4x4 Light Question
---
I am new to the website but have been lurking for a while. I just bought a 89 YJ and am going through everything to verify condition and reliability. This YJ has the 4x4 posi-lock system installed and works great, the only issue is my 4x4 light is on all the time. I downloaded the posi-lock instructions and found the switch on the axle, one wire is grounded and the other heads up towards the battery and is connected to a factory black with a yellow stripe wire. Is this correct? I know that it needs to connect to the vacuum switch, I just don't know what I am looking for to know whether the wiring is correct or not. Any suggestions or pictures?
I have done some searching but cant find a good explanation for the vacuum switch and wire color that I should be spliced into.
Registered User
Join Date: Dec 2009
Location: brackney
Posts: 99
could just be a bad 4x4 switch, common problem, i believe its the vacuum switch on the t case
i would look for one of these little buggers
RIP one good jeeper
Join Date: Aug 2009
Location: Ripon
Posts: 20,368
There is a tj switch available if you're not running vacuum actuation anymore. I'm looking to swap mine out so maybe someone has more info for the both of us.
---
Luck Favours The Prepared
Registered User
Join Date: Jun 2008
Location: jersey
Posts: 172
the pic posted above is a vacuum valve that, when the transfer case is shifted into 4h or 4l, sends vacuum to the front center axle disconnect (CAD). it has nothing to do with the 4x4 light. Since the posi lock was installed i think most likely you can assume the vacuum lines are shot, dry rotted, and cracked. Again following the black w/ orange stripe wire it should lead up on the passenger side fender / firewall and somewhere you should see a 2"x2" metal angle bracket bolted to the wall with a vacuum line going into to a vacuum switch and a wire coming out the other side. This should activate the light when the 4x4 is activated. It is not working correctly as the vacuum circuit is broken. Im sure there is a way to hardwire it to a switch. Here is some
good reading
and here are some
YJ 4x4 vacuum diagrams
good luck
Registered User
Join Date: Mar 2012
Location: Los Angeles
Posts: 24
Any photos of the vacuum switch? I'll be working on this tonight too.

As my 4x4 light is on and it wont engage
Registered User
Join Date: Mar 2011
Location: Albany
Posts: 41
The yellow shou,d go to the 4x4 indacator switch on the firewall. Make sure your pulling good vacuum from the engine where the red line is connected,that goes to the transfer switch.
Registered User
Join Date: Mar 2012
Location: Los Angeles
Posts: 24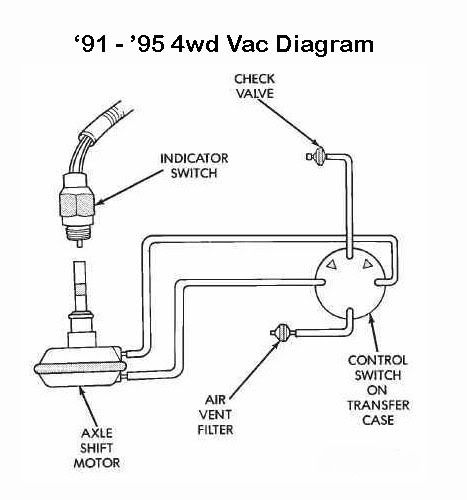 When you say yellow are you referring to the indicator switch? I"m assuming that's where I need to look next
Registered User
Join Date: Mar 2011
Location: Albany
Posts: 41
Yellow vacuum line off the transfer vacuum switch goes to the dash indacator switch.
Registered User
Join Date: Jan 2012
Location: Nashua
Posts: 64
The Posi-Lok comes with an indicator switch that replaces the vacuum one. When I installed mine, I simply cut the wires on the vacuum indicator and spliced them to the new one from Posi-Lok. The 4x4 light is actuated from here so if your light is on then most likely your axle is engaged and you need to open it up and adjust the cable length.
Currently Active Users Viewing This Thread: 1

(0 members and 1 guests)
Posting Rules

You may post new threads

You may post replies

You may not post attachments

You may not edit your posts

---

HTML code is Off

---