So about a year ago I bought a 1990 YJ for a really good price. The body was super clean, only had 100,000 miles on it, and like I said, I got a smoking deal on it. It originally came from Canada and was treated with Ziebart, and it seemed to have worked because they only rust it has is some minor surface rust on the frame, and a little tiny spot on the rocker.
The only problem was, I knew the engine was a little tired. The kid I bought it from neglected it severly. Oil was 2 quarts low and very very black (think of the oil that comes out of a diesel), thermostat housing leaked and was low on coolant so it was overheating. But I drove it and it felt fairly strong for a 2.5. In fact, I took it over the Grapevine (a steep grade on the I5 for all you non-socal people) and it maintained 70. Granted, that was foot to the floor in 4th, but I thought that was normal for a 4 cyl Jeep since my old 88 Toyota pickup could barely do 65 on the same hill with a fresh 22RE. So I put fresh fluids in it all the way around and fixed the leak and left it alone otherwise.
Fast forward to a few weeks ago I decided to do a compression check on it just out of curiosity. Well, that was a bad idea.
:
Cyl 1: 90 psi
Cyl 2: 110 psi
Cyl 3: 125 psi
Cyl 4:
70 psi
Balls. This engine was more tired then I thought. Cyl 4 is practically a dead hole and the other 3 aren't much better. jOur engine guy was with me and was amazed that it ran smoothly. No misfires or anything, and the fact that it ran somewhat strong. So I went to the parts counter and had a long block priced for me thinking that it might not be too much with my employee discount. Well, lets just say that Chrysler is proud of them. I drove the jeep home, pulled it into my garage and yanked the motor out: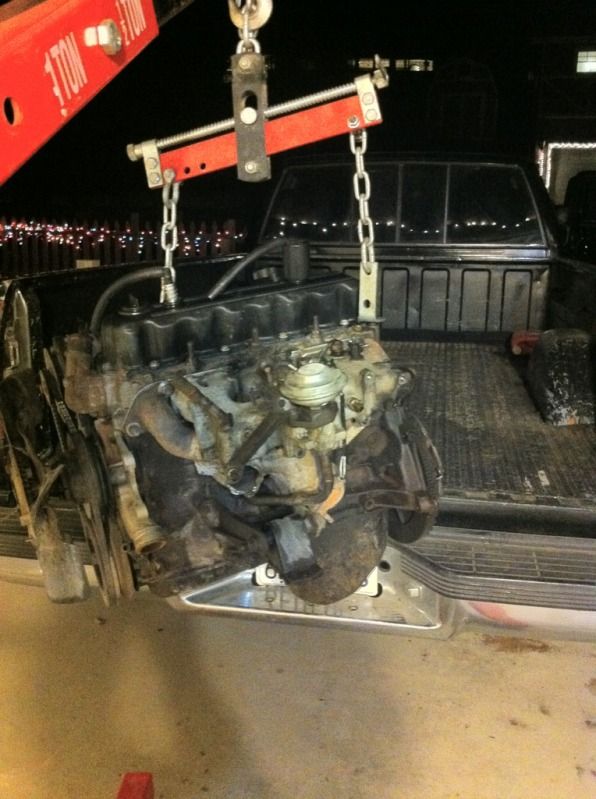 Took me about an hour. Pretty easy to do when your Jeep is the most base model you can get. I loaded the engine into the truck and hauled it down to work where I would tear down the motor and see what needed to be done to have this thing running like new again.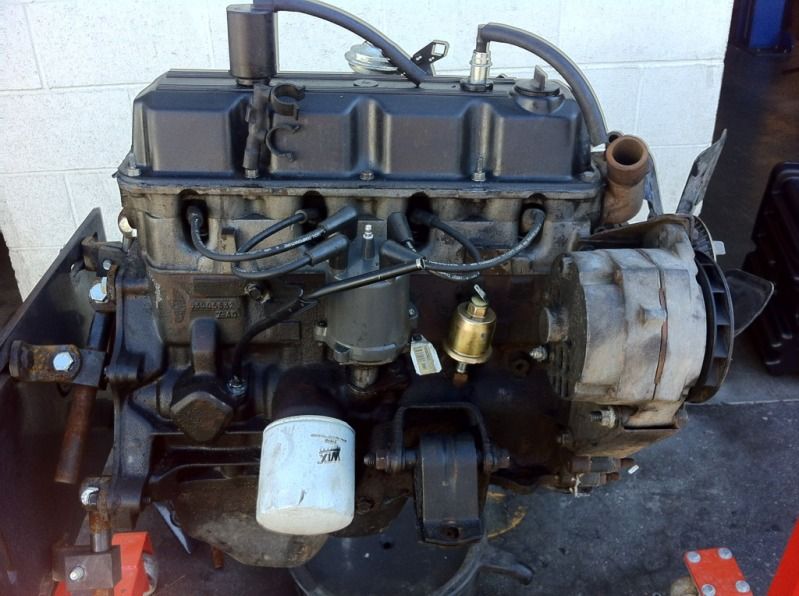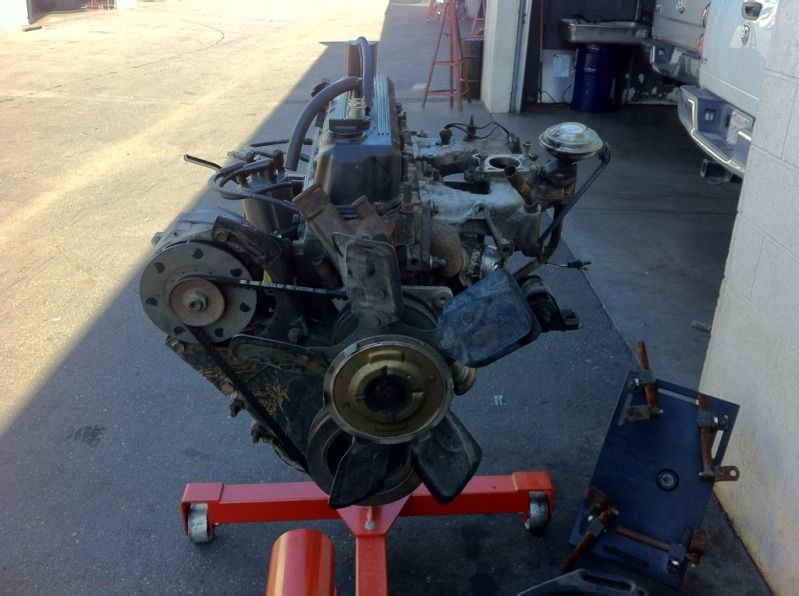 As you can see this things been apart before and has had a new head put on. My guess is it blew a head gasket. The bottom end hasn't been touched and still has all the factory parts in it. Things were looking bad. I got the head off and found massive ridges worn into the cyl walls from the rings. I tried taking pics but they just would not show how bad they were, I could drag my finger nail across and actually have to move my finger back to get across it. The cam lobes were worn down severely, bearings were toast and the crank was scored: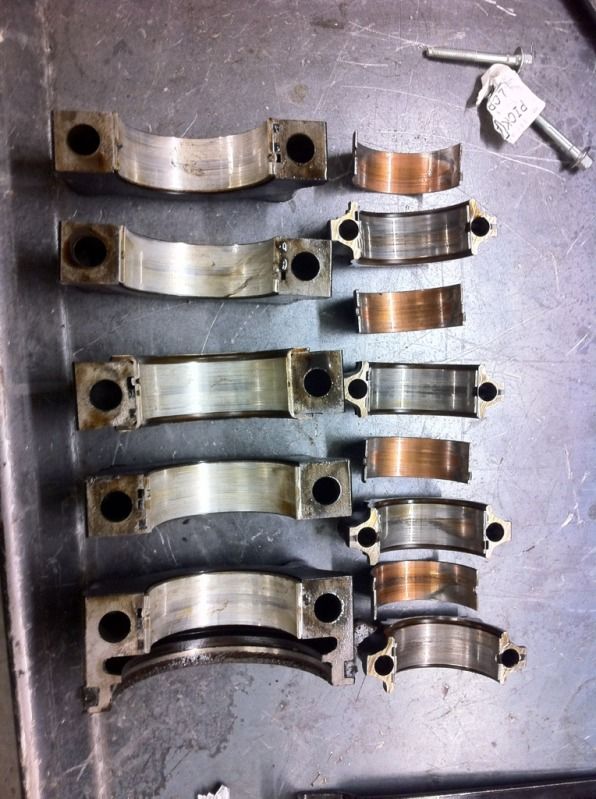 I could tell this things been ran out of oil and overheated several times. It was abused bad. Everybody in the shop could not believe it was running, especially how well it was. It didn't knock, make any noise or blow any smoke out of the tail pipe. Even my oil pressure was at 20 psi hot idle. Our engine guy said "I know those 2.5s are tough little ****ers, but DAMN! I have more respect for them than I already did. I'm shocked this thing even ran, it's the worst engine I've ever seen."
It's funny, all the parts outside the engine have the pentastar casted into them because it's a "Chrysler." But as I was looking at all the parts inside the engine, there was no hiding that it was pure AMC:
After I got it all torn down I took the bare block and crank to the machine shop to see if the it's salvageable. The conversation with the machinist went like this:
"HOLY CRAP! Did you get this out of a junkyard car?"
"Nope, it came out of my Jeep"
"Ah, so it just kicked the bucket and you pulled it"
"Not really, It was actually running fairly good. No smoking or knocking"
"BS, this is one of the worst shapes I've ever seen. I don't think I've ever seen a cyl ridge so big.:
My Co-worker that went with me: "No, I can vouch for him. It actually ran pretty damn good."
Machinist
He called me later that day after he measured everything. The cyl were worn
.040'' over!
The crank was at least straight and they could grind it .010'' under. So he said he could bore it .060'' over since the cyl walls are really thick on those motors and I wouldn't have a problem. I gave him the ok to clean the block, bore it .060 over, line hone the crank journals, grind the crank, size the rod and main bearings and install new .060 over pistons onto the rods. A week goes by and he calls me up and says its all done. I get there and looked for my stuff and couldn't find it. He points right next to me and there it was, I couldn't even recognize it. A pretty virgin metal block with freshly honed cylinders, smooth clean crank and shiny new pistons on my rods. I took it all back to the shop and set the pretty block on my cart. All my co workers saw it and was amazed that the greasy pig that I had apart was the same block that was sitting there.
Oooohhhh, prettyyyyy: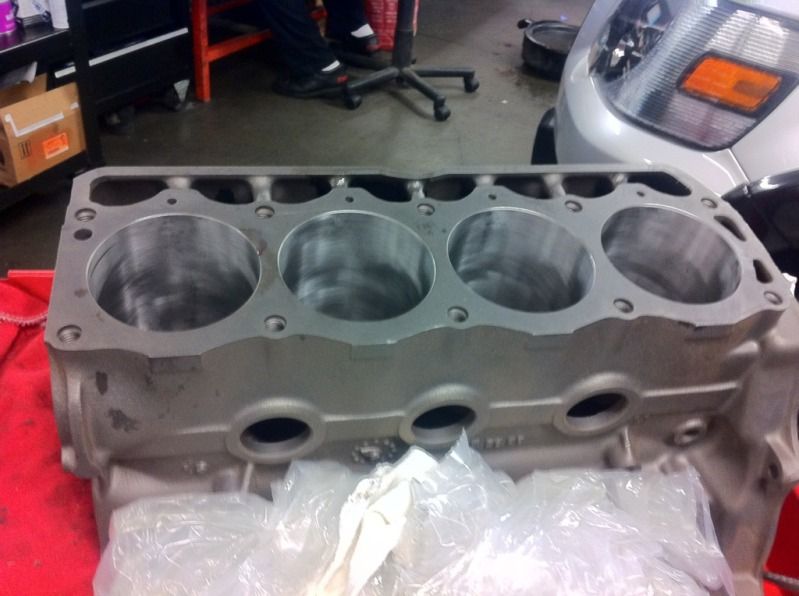 The first thing I did was get a new oil filter stud from our parts dept. As you all know, the AMC-era YJ's used metric thread oil filters. Well, for some reason they're hard to find around here and only one parts store carries them. Chrysler doesn't make them anymore and they only have one left in stock at some dealer in Arizona. So I got an oil filter stud from parts and slapped it on. Now I can run the standard thread filters, such as a Mopar M090 used on 4.0s and newer 2.5s, which we carry in stock.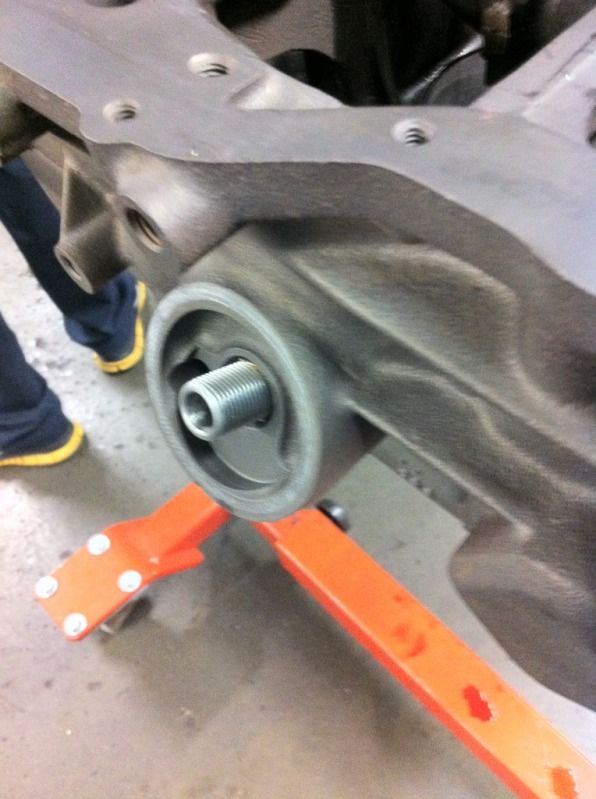 I got the pistons, crank and cam in today. On monday I'm going down to a place called The Cylinder Head Exchange and swapping my current head for a new one. Once the engines all together I'll paint it and throw this beast into my Jeep.