Registered User
Join Date: Feb 2013
Posts: 8
1991 Jeep Wrangler
---
I'm a college student owning a jeep older than me for two years and i am trying to find out how much it costs to get it sanded and painted. Since most of you gone through this im seeking advice for some of you jeep veterans, so any help?
Registered User
Join Date: Dec 2004
Posts: 9,597
27.86 in sanding disks and 40 bucks for that nice paint at Lowes.... You really asked a VERY open question with boundaries to what you really want in the end...
Typical /f12 Hooligan
Join Date: Apr 2012
Location: Corona
Posts: 5,489
You probably want to take this thread over to the Paint and Body Section of the Forums here:
http://www.jeepforum.com/forum/f260/
That said, paint and body are something you can probably do yourself. depending upon how dented, rusted, and how many previous coats of paint your jeep has on it, you may be able to sand it down yourself and spray paint it.
How good of a finish do you desire for your Jeep?
What condition is it in now?
How long do you plan on owning your Jeep?
Do you wheel it and dent/scratch it on a regular basis?
If you drag it through hell every month, rattle can it. If you drive mainly on-road and want it to look like a newer car finish - get it professionally done.
My daughter doesn't wheel her jeep hard. Hers went from this:
to this:
and now this: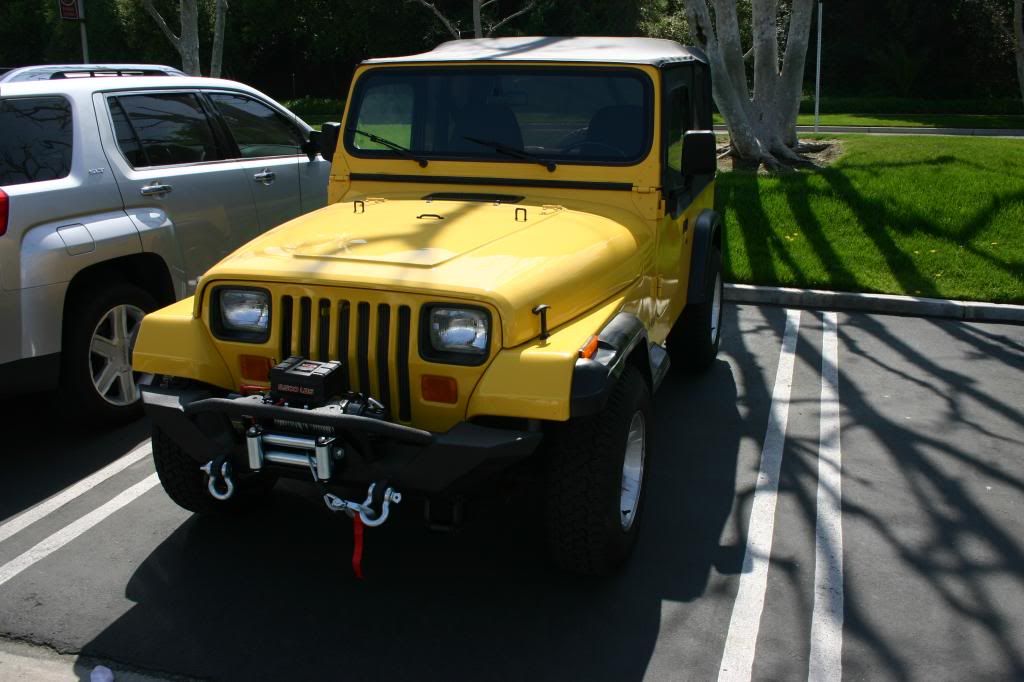 I did all the "body work" and 1Day did the paint and color sand. Cost me $650 at 1Day and they shot the door jambs, under the hood edges, tailgate jambs. But remember, I stripped the jeep down, prepped it, and they did the rest.
---
♔ 91 YJ "Alice" 4.0L, AX-15, NP 231 Flange, Adams Driveshafts F/R, 2.5" OME 36Rs, 5/8" /f12 Booms, 32" Yoko ATs, 4.10 D30/35 AutoLockers F/R
To view links or images in signatures your post count must be 10 or greater. You currently have 0 posts.
YJOTM Sept. 2017
♘ 05 LJ Rubicon "Ghost"

♠ Luck Favours The Prepared ♠
Web Wheeler
Join Date: Dec 2012
Location: The Desert
Posts: 6,446
---
"Auto racing began 5 minutes after the second car was built."
Henry Ford
Registered User
Join Date: Jan 2013
Location: Cardiff by the Sea - Glamis North
Posts: 1,323
I didn't do much prep and went to a guy who does classic cars. Cost me $1600 but it is almost too good for a trail jeep. He painted sanded,clearcoat, sand, more clearcoat. It looks better than new, I almost hate to take it off-road......I'm lying.... I can't wait to take it out, you only feel it with the first hit, after that it's just another ding.
Currently Active Users Viewing This Thread: 1

(0 members and 1 guests)
Posting Rules

You may post new threads

You may post replies

You may not post attachments

You may not edit your posts

---

HTML code is Off

---