XJ-8 Grill (Round headlight grill) Grill Finished PICS
---
I have been search quit abit for a round head light option and thought it would be cool and challenging to go the old school direction. I found two CJ grills and decided to make a CJ grill for the XJ. I still need to put turn signals in it but I am pretty pleased so far with the way it has turned out. It is definately a different look.
Thanks 1BADCJ8 (Danno) for letting me and Becky hang out at the Scrambler Run
I have built some pieces that match the contour of the corner lights and have installed them. At this time I do not have pictures of the additions. The grill is at the point of final clean up and then paint. I will post pictures up when it is done. I have also decided to install a headlight conversion so the headlights are shallower in the grill along with the increase in light.
Thanks to 87XJCO (creator of the Xota) for finishing, priming and soon to be painting of the grill. Here is a couple of pictures of it in primer.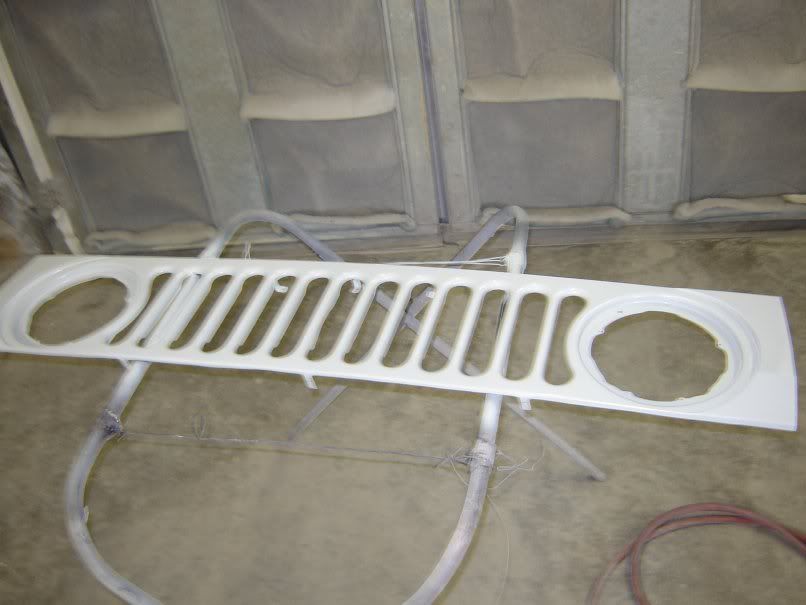 Here it is with a guide coat
Here are some pics of the Jeep in the daylight.
I thought about painting the elevated portion of the grill orange to match the jeep and/or paint the carner light bezel chrome area the same silver as the grill and bumpers. I think it would not make the ends look out of place. If I made another one I would see if I could make the grill slot rails also match the shape of the corner lights.
Updated pictures of the front Grill with the ends painted Orange. I will install it tonight after work and post pictures up then. The grill is just set in place.