Transmission Cooler & Gauge Install *lots of pics*
---
Finally got around to installing this stuff over the past couple days... it's all really easy, but it's been nasty hot till this week, so I've been waiting. It's a B&M SuperCooler # 70268 (same one Jason uses in his writeup, was $51 new locally) and Autometer 2 1/16" GS Series trans temp gauge (I got this one because the colors match OE Jeep gauges
, #3849, $70 local). Anyway, here's the write-up:
1) Remove the two screws in each headlight surround, and the four screws across the top of the grill.
2) Decide where to mount it. I had originally used the two left-most available holes, but got excessive engine temps (from blocking the fan almost entirely) and ended up moving it to where the arrows indicate. The right most hole (red dot below) just needs to be drilled through like 0.0625" aluminum, and there's a hole in the radiator support beneath that.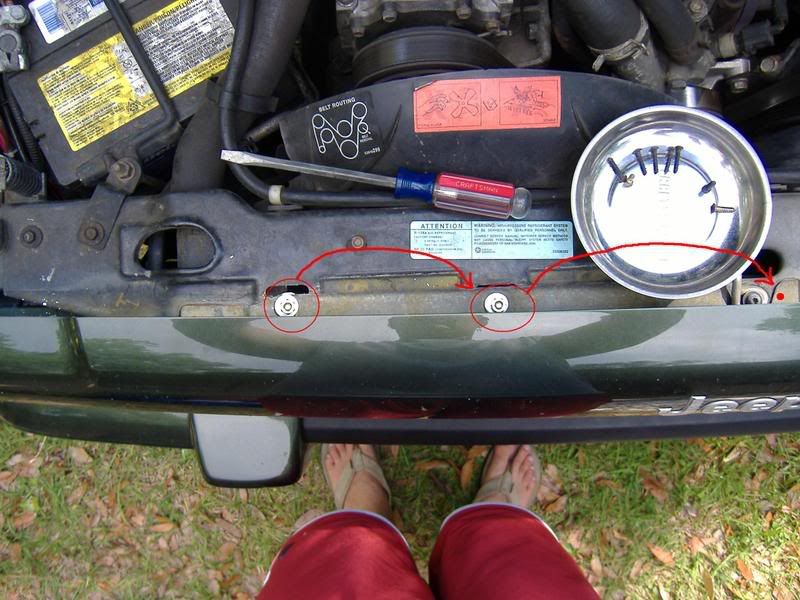 3) Bend up the supplied brackets (or some plumber's wrap or something) to hold the cooler in place. Mine looked like this, and this should work for any 97-01 model. There's even a hole in the lower radiator support that lines up.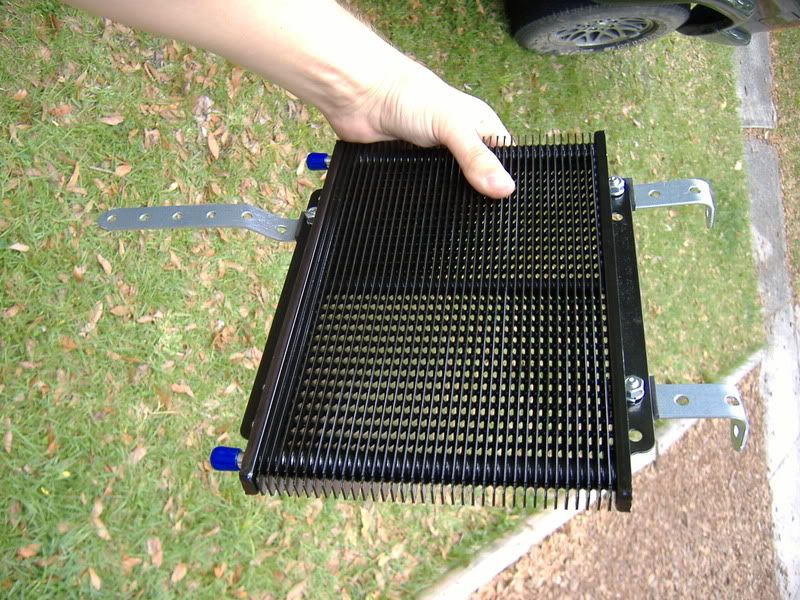 4) Plumbing install is a tad more interesting... I just chopped the two trans lines going into the radiator, used the supplied bard fittings and hose (along with a galvanized T for the gauge thermometer) and it hooked up fine. There was one problem though, both Jason's write-up and the FSM list the FRONT trans line as supply (pressure out), which is it, but both say it goes into the top of the radiator. The FRONT line on mine goes into the bottom of the radiator (which actually makes more sense) and the top is return. So I assumed the top was supply, and have the thermometer on the cold side, which I'm going to switch. Pics to come with proper routing.
*plumbing pics here*
5) You're done installing. Snug everything up, replace the grill and light surrounds, and enjoy the piece of mind.