Registered User
Join Date: Jul 2011
Location: lenoir city
Posts: 43
Tow hook points
---
So my 2000 Cherokee sport doesn't have any tow hooks front or rear.I'm wondering if I can use some off another truck like let's say a 2005 GMC truck 2wd.My dads truck has 2 of them that he said I could use.on my jeep it has a place that looks like to me that some were mounted on it before. the front facie on the bottom where the front spoiler is has 2 holes cut out for something and mounting places with holes that has a nut welded to it. This is my concern on me mounting them there.the Cherokee is a sub framed SUV and it looks like I'd be mounting them on the rear radiator core support which I'm not sure would be strong enough to have a truck with a chain pulling at it when I'm stuck.Then again I really don't see a strong place to put some tow hooks. I could be wrong and it be where the bumper mounts and not the radiator support. Here are some pics of what I'm talking about.
Here's the hole I'm talking about on my jeep.if you look closely you can see where I'm talking about the hooks would mount.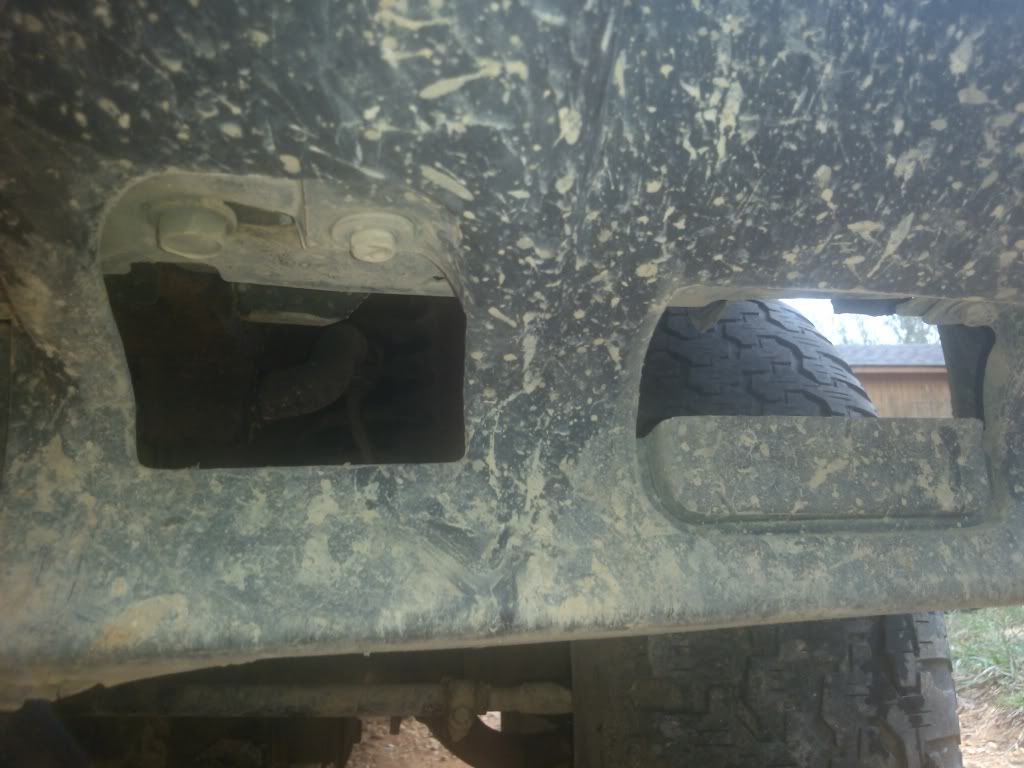 Here is inside where you can really see what I'm talking about
Here is the tow hook I'm going to use.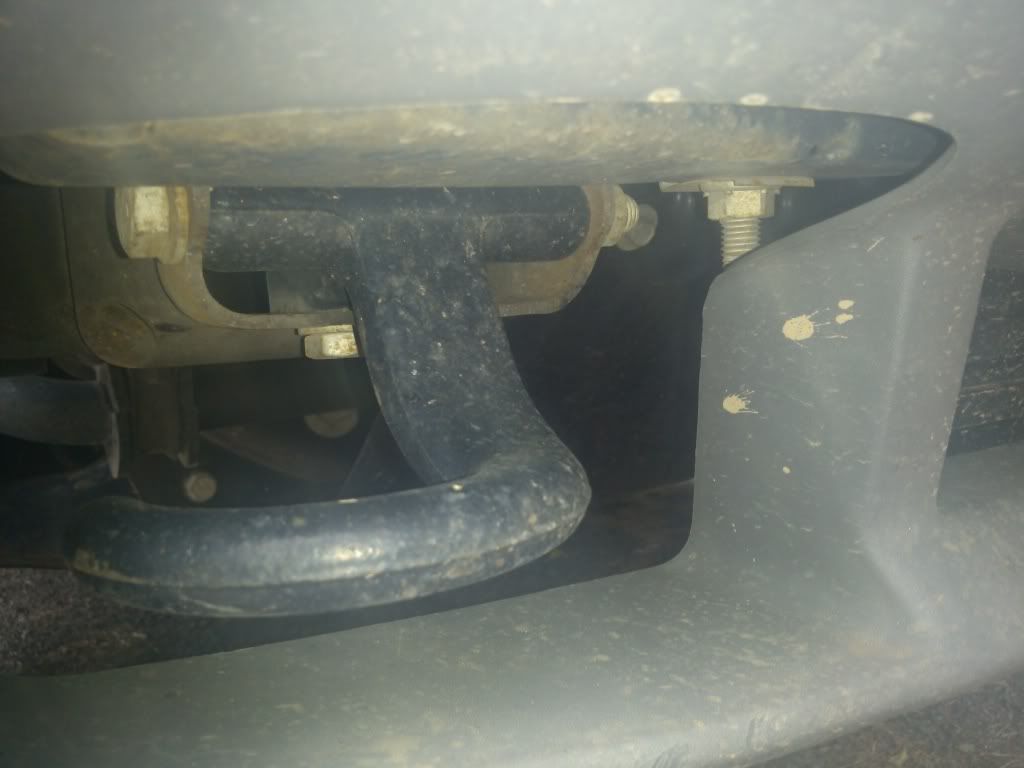 Far back of the holes I'm talking about on the jeep.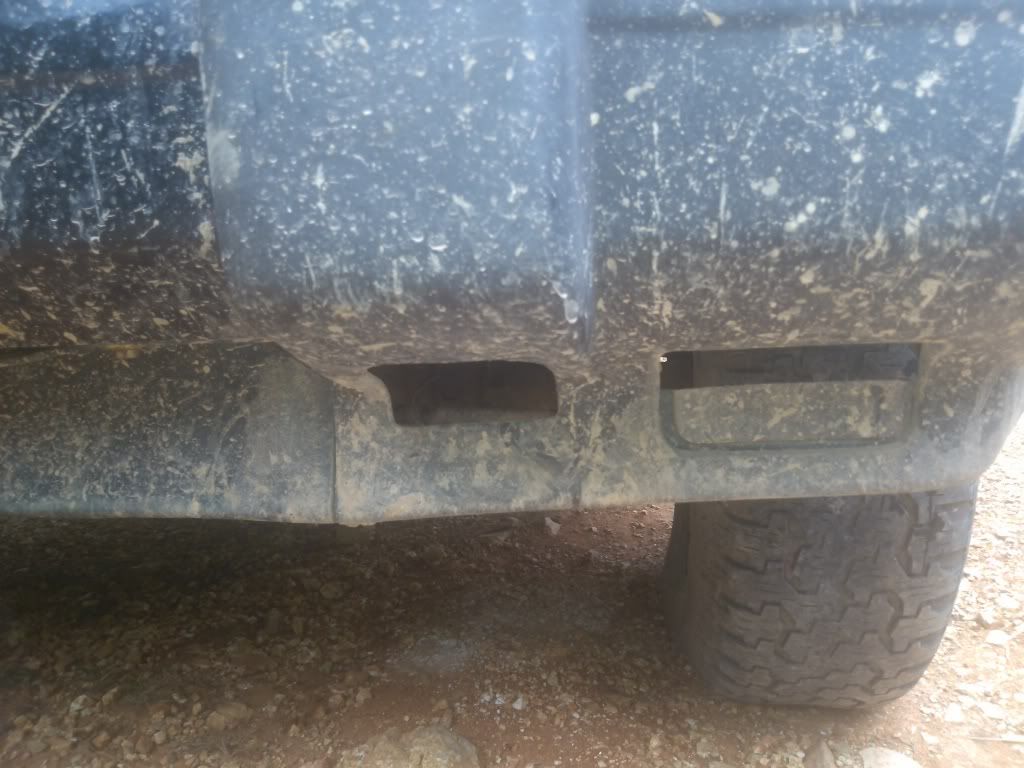 Real Jeeps have dents
Join Date: Apr 2002
Location: out in the garage - Minneapolis
Posts: 25,789
Tow Hooks on a Unibody vehicle such as the XJ Cherokee REQUIRE the use of mounting brackets. Bolting tow hooks to the sheetmetal "frame" is asking for trouble.

Several companies sell copies of the factory original brackets, or you can stop by the junkyard and see if you find some.


.
---
.
A recent Gallup public opinion poll shows the NRA, at 58% approval, has a higher approval rating than either Hillary Clinton or Barack Obama.

Progressive Liberalism: Bringing you new Healthcare ideas so wonderful, they have to include mandatory participation ...
Originally Posted by Ronald W. Reagan: Government is not the solution to our problems; Government is the problem.

Registered User
Join Date: Dec 2005
Location: Easton
Posts: 500
When I did mine, I didn't like how far back the bracket placed the hooks. I would have had to cut the air dam all the way to the bottom to have enough room to get straps on the hooks. Didn't want to do that. My solution was to shift the hooks forward using pieces of Unistrut. The rear bolt on the hook goes in the front hole of the bracket. The front bolt of the hook goes in a hole in the Unistrut, the rear bolt on the bracket goes in a third hole in the Unistrut. I did have to trim that openings in the air dam about an inch to get the Unistrut in.
I used Grade 8 bolts but still hope I never have to test how strong the set up is!
JF Admin
Join Date: Sep 2006
Location: 3rd rock from sun
Posts: 11,880
It is kinda sucky how far back the hooks sit but that keeps them close to the uni-body to reduce leverage.
---
***Chris***
"You can set my jeep on fire and roll it down a hill,
But I still wouldn't trade it for a Coupe DeVille."

To view links or images in signatures your post count must be 10 or greater. You currently have 0 posts.


To view links or images in signatures your post count must be 10 or greater. You currently have 0 posts.

Registered User
Join Date: Jan 2007
Location: Tokyo, Japan
Posts: 145
---
1998 Jeep Cherokee Classic, Chili Pepper Red, 4.0, 4WD, 3" OME Full Leaf, JKS QD, JL Sub, Sony CD w/Ipod adapter, Polk Audio Speakers, Uniden CB Radio. JCR Front Prerunner bumper, JCR Stage 3 Sliders, Reese hitch, Yakima Rack, Mopar spare tire rack.

2013 Jeep Unlimited, Gecko. Bone Stock.
Registered User
Join Date: Jan 2007
Location: Paradise, CA
Posts: 2,425
I really don't know why anyone would screw around with any other hooks. These are cheap, easy to install and secure.
http://www.ebay.com/itm/11236-05-HEA...35eeda&vxp=mtr
...and just bolting hooks alone are fine for cosmetics, but hooking a strap, chain or rope to an improperly mounted recovery tow hook to pull a 2 ton vehicle out of a ditch can KILL someone...or just remove an arm, hand, etc. Pretty gruesome way to go.
---
1990 XJ Laredo - White & Chrome
1988 MJ Pioneer - Metallic Green and Black
¢
Registered User
Join Date: Jun 2012
Location: Monrovia
Posts: 749
Those are just like the stock hook mounts, the only thing missing is the hardware, the 2 L brackets that secure the front of the bkts to the front x member and the bottom brackets..#15 in the above posted image. IIRC, there is a special nut on one side of the "frame" that goes into a large diameter hole. I found a set at the bone yard and got all the mounting hardware with them for $20 bucks. Didn't want hooks, so I made bars for some shackles and put them just outside the air dam. Grade 8 hardware with aircraft lock nuts used for the mount pionts and I cleaned up a couple of shackles I had laying around.
---
Volunteer, American Society of Military History. http://tankland.com/
Just got a 1989 YJ too!
Registered User
Join Date: Jan 2007
Location: Paradise, CA
Posts: 2,425
I do like the d-ring option. More secure as the strap/chain etc can't slip off even pulling laterally. Would be a much better set-up for pulling a vehicle on the road for a short distance as well.
---
1990 XJ Laredo - White & Chrome
1988 MJ Pioneer - Metallic Green and Black
¢
Currently Active Users Viewing This Thread: 1

(0 members and 1 guests)
Posting Rules

You may post new threads

You may post replies

You may not post attachments

You may not edit your posts

---

HTML code is Off

---