Registered User
Join Date: Oct 2012
Posts: 7
So my jeep doesn't exist!
---
Hi all,
So finished lifting the 84 wagoneer, Took it to the mechanics last week to replace my ratcheting D30 w/disco CV shafts (which I understand is an anomaly), an alignment, and other minor stuff. So minor stuff was fixed, get a call Monday.
Apparently he can't find replacement shafts for my axle. Car quest and other shops kept sending him either non disco shafts or disco shafts that are 27 splines and a smaller diameter as opposed to the originals (29 spline). So we decide to send out the originals to get rebuilt, at a significant cost compared to buying shafts(65 for a shaft and 110 to rebuild each). So I get a call today, they can't find parts to fix the joint.....
So I call jeep customer service as a last ditch effort, they refer me to three vendors, all of whom insisted that XJs didn't exist before 86 .....
What the hell do I do ! I'm dead in the water without my daily driver.
I'm almost 100 percent sure I don't have RCVs, CLARiFYiNG IT IS AN XJ Not a grand wagoneer.
Just to make sure heres a pic of the axle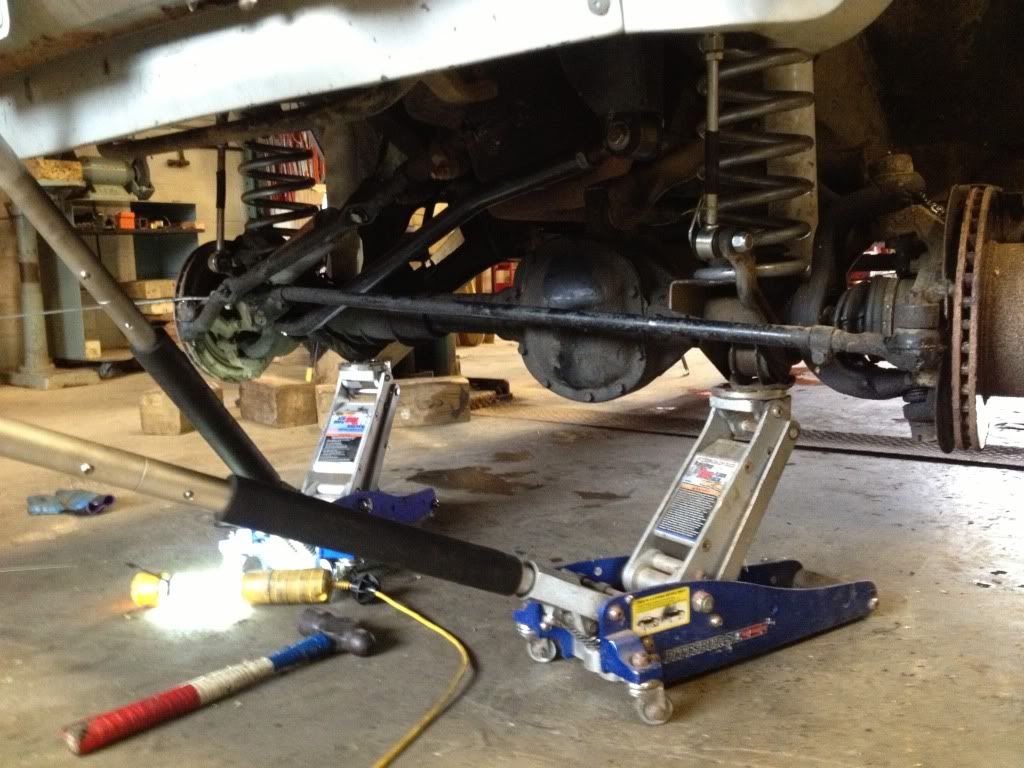 Real Jeeps have dents
Join Date: Apr 2002
Location: out in the garage - Minneapolis
Posts: 25,858
Go to RockAuto.com. Find the parts you need by brand name, and part number. Have the idiots at the auto parts store order by brand name and part number the shafts you need, not by make/model/year of vehicle.

XJ D-30 U-joint shafts and CV shafts are interchangeable, why not use u-joint axle shafts ?

I have never owned an early XJ with the Vacuum Disconnect, are you sure the axle spline count varies, early vs. later ?

29 spline vs 27 spline normally refers to Transfers Case and transmission input/output shafts.


According to RockAuto, all 1984-1989 XJ D-30 use the same part numbers for CV axle shafts.
---
.
A recent Gallup public opinion poll shows the NRA, at 58% approval, has a higher approval rating than either Hillary Clinton or Barack Obama.

Progressive Liberalism: Bringing you new Healthcare ideas so wonderful, they have to include mandatory participation ...
Originally Posted by Ronald W. Reagan: Government is not the solution to our problems; Government is the problem.

Registered User
Join Date: Oct 2012
Posts: 7
Ok so correction, 2 of the splines on the shaft we counted had notches so I counted two extra, the shaft is 27 spline but is still a larger diameter then any shaft we can find. All shafts that we've been using just spin in place and grind against the slots for the larger diameter splines
Registered User
Join Date: Sep 2010
Location: Finleyville
Posts: 3,334
another option... Get another D30 from a JY XJ, like an HP, and forget it? They swap in quick.
---
Im the guy who makes new gauges, check out our gallery at Teamadw.com
Registered User
Join Date: Oct 2010
Location: Olympia
Posts: 50
On my 84 I switched out the cv shafts with ujoint shafts from a later model xj no problem.
Currently Active Users Viewing This Thread: 1

(0 members and 1 guests)
Posting Rules

You may post new threads

You may post replies

You may not post attachments

You may not edit your posts

---

HTML code is Off

---