RC LA install write-up
---
This is a writeup and product evaluation on Rough Country's new long arm kit. It's pretty fresh on the market so there's not a whole lot of info on it yet. Hopefully this thread sheds some light on it and answers any questions ya'all might have regarding this kit.
The Story:
The jeep was once mine but I handed it over to the lady and I have future plans for a TJ. My goal was to get it riding as nice as possible (caddy-like......YES IT CAN BE DONE ON A JEEP!
) and still be capable if she feels like getting it brown. I knew long arms were the way to go in order to achieve that nice ride quality. We had four options in mind: Frankz's LA's, Trek's, RC's upgrade, or RK 3-link and ended up settling with RC's upgrade. A little later I received some money from stock at my old job and we figured since we have a little more cash that we'd just get the full kit. Yeah...why not?
Next thing I know I got an order for the 4.5" LA kit through 4wheelingplus.com. (Awesome company to deal with by the way and no this ain't no paid advertisement
) It was backordered for a couple days but I got it within a reasonable amount of time.
Bye bye short-arms forever.......:hi:
The Goodies.....
I went to do some last minute shopping today and came home to see 9 boxes stacked up like a pyramid in front of my door. They all had "Rough Country" labeled on them so I figured it must be for me.
After dragging em upstairs....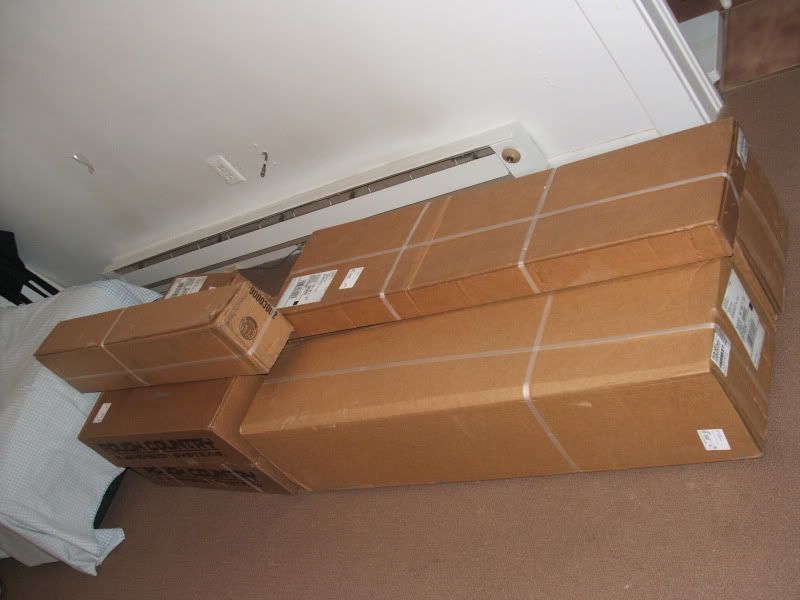 Now a smart thing to do with all kits is to inspect all the hardware to make sure everything is there before you start tearing apart your rig. Out came the jeep knife specifically purchased to open boxes containing jeep parts.
Box 1: Brake lines, U-bolts for either 35 or 8.25, sway bar discos, and what appears to be brake line brackets.
Box #2: Coil springs
Box #3: AAL, center pints, and leaf spring clamps. I have no idea how much the AAL nets but I'm guessing 2.5" or so since my kit came with a 2" shackle. I will most likely sell the AAL and hardware cuz I already have 3" OME leaf springs and can use em with the shackles.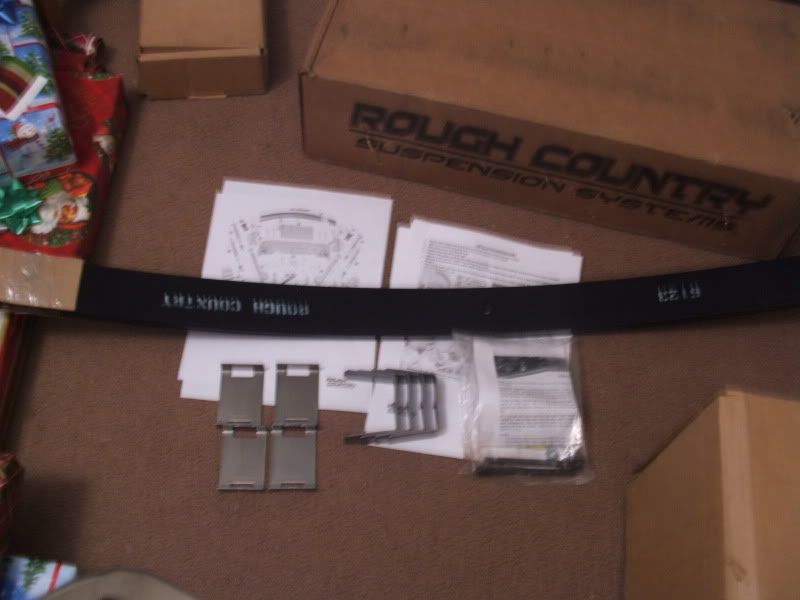 Box #4: Transfer case skid plate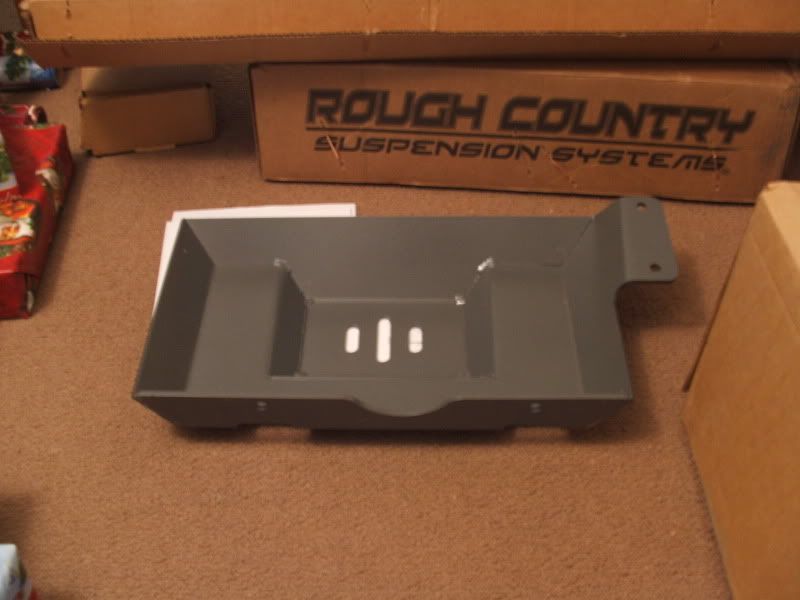 Box#5: Adjustable shackles and all hardware. Hmmm these seem very familiar......
Box#6: Double sheer trackbar and drop bracket plus hardware. Something caught my eye when I took it out of the box. I noticed the bushing end was crooked a little. Maybe it was welded on that to compensate for angles...or not. I dunno yet but we'll find out. I will admit that the trackbar could've been made a little more beefier. It's rather small compared to my current JKS setup but if will be just fine for what my gf's driving style.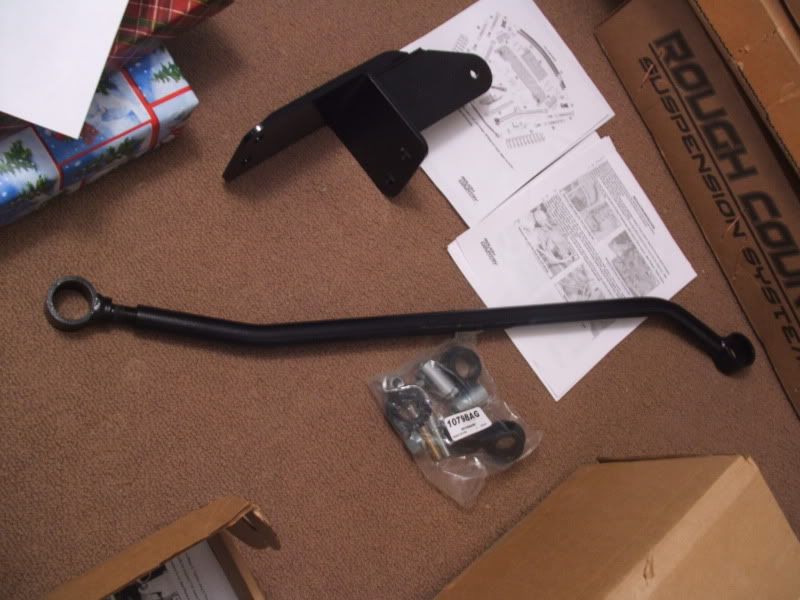 Box#7: Shocks and mounting hardware plus 4 cool stickers. When I took these out of their individual boxes, the first thing that comes to mind is jenny craig. These babies are FAT! The are much larger than ordinary shock absorbers and look cool as hell. I dig the rubber bumpstop on the shaft...that's neat. NOTE: these are mounted can up.
Box#8: Lower and Upper arms, flex joints, t-case crossmember side brackets, pitman arm, and nutsert. My god these arms are BEEFY.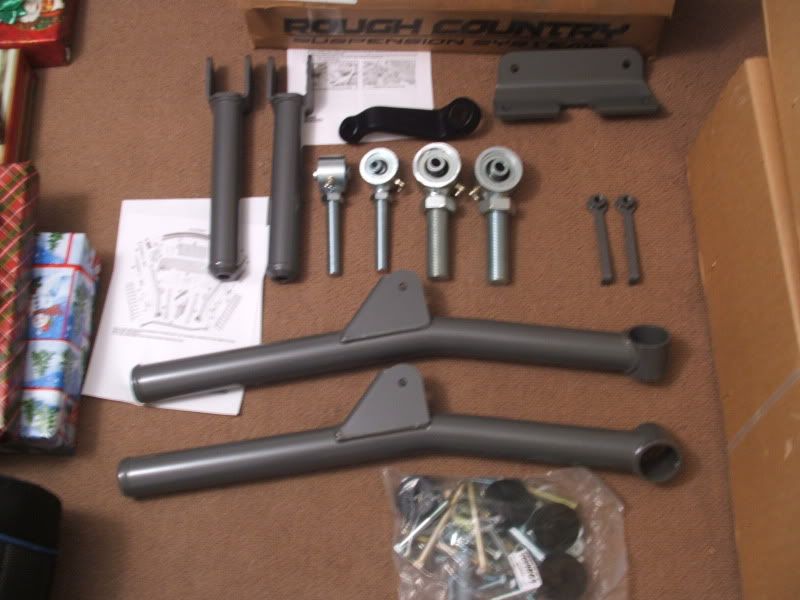 Box#9: The Crossmember
Included were detailed instructions and part list. Everything was included, no parts were damaged, and all boxes were intact. Nice job gettin the product to me!
Parts seem to be very well made and welds are good. The only questionable component in the whole kit were the sway bar discos. I think it relies on a little horizontal ball and socket to handle the vertical forces of the sway bar/axle. I never used this type of setup so I can't really say for sure if it would cause problems so I just gotta wait and see. It'll probably be fine anyways.
---
2001 XJ Sport 4.5" LA

1999 TJ 2.5L 5spd 2" lift