Part Two: Lifting the rear
Ok so i have 0 pictures for this part
So first I took the tires off with the quickness of a Nascar team.
Then I raise the truck up high enough to drop the axle fully.(took a couple of tries to get it to the height I wanted) After that I kept the axle jacked up while I unbolted the u bolts, removed the rear sway bar, (which I'm not planing on reinstalling on the axle I have plans for it later on in this build thou). I then unbolted the rear shocks from the axle. If I didn't have the time restraints I would have installed the new shocks, but I wasn't gonna chance breaking the infamous top shock bolts. So I'll do that another day I then lowered the axle out of the way. Next step was to build up my leaf pack after clamping the pack, an repeating the disassemble process i previously described. After that I built the leafs in the following order:
Main leaf
(if my donor main leaf wasn't broken it would've went Here)
the 2nd leaf
The cut 2nd leaf
the 3rd leaf
the cut 3rd leaf
the 4th and final leaf
I used a 3 inch long 5/16 diameter bolt to line the leafs up. I then use the c lamps to clamp the pack together, so i could use my home depot center pin to bolt it together. I then used my home made spring clamp in the rear of the pack in the location the stock one was (which I knew cause it was a different shade of rust) I then raised the axle back up. I learned after struggling for 10 minute that I needed to put the axle on jack stands. So it could rotate, I then bolted the u bolts up easily. I next bolted back up the shocks, put back on the tires ,an measured the lift. I gained a total of 2.5 inches but only 1.5 over stock because I was sagging about a inch an heres a crappy cellphone picture in the rain.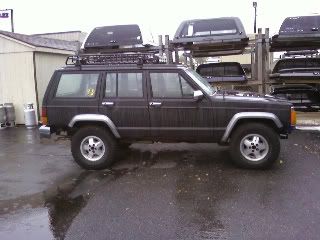 Thats all for now i was hoping to have this finish by the next meeting but i doubt i will get it done unless i find some place to finish it up this weekend