Registered User
Join Date: Mar 2007
Location: mahwah nj
Posts: 367
My Budget Boost*build thread*
---
Ok so this idea started about a month ago an have been putting it together ever since. I used
this write-up
and
This write-up
for idea the only difference i wanted to net around 3 inches. I don't have pictures of everything because i was working after hours an my boss likes to leave before 1 am so that is why lift is being done in stages even thou i have everything. but i figure at least writing it done might help some one in the future.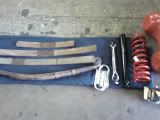 The parts i gathered:
Stock Cherokee Leafs-Free Supposedly no sag
Stainless Allen head "center Pins" an lock nuts-10 (home depot)
Spring Leaf Clamps- free (made myself from scrap laying around the shop)
Rusty's d35 U-bolts- 25 shipped (off jeepforum member)
3"Front coil springs from Rancho Part Number- RS6423-136.87
2 Front Monroe Sensa-trac Shocks Part Number- 37193- 57.04
2 Rear monroe Sensa-trac Shocks Part Number- 37029- 64.00
---
1998 Jeep Cherokee Classic
4.5"suspension
35x12.50r15
d30/8.25
automatic

Part One: Building the Add-A-Leaf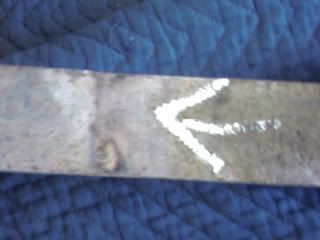 First I marked the direction of the Main Leafs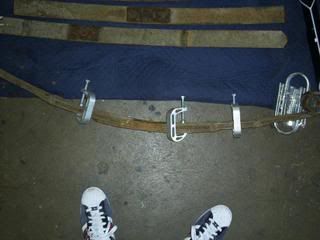 Next i clamped the spring leafs an cut the the spring clamps off. I Found that just snapping the center pin is the best way of of seperating the pack i did one pack at a time so that i could use the the assembled pack to figure out were i wanted to make my cuts after cutting the top three leafs on the first pack i started the next pack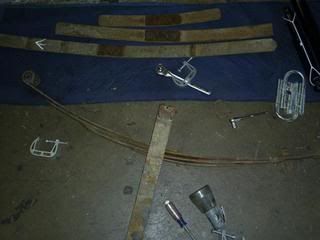 As you can see my plans here had to take a sharp right turn, because the main leaf on the second pack was broken. So i decided that i would just use the lower to leafs.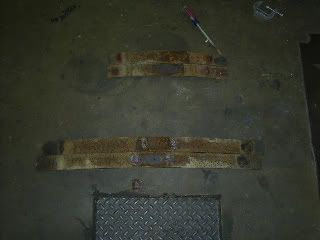 These are the cut leafs.
So next thing on the list was spring leaf clamps. I couldn't find any except for online an as of this weeks set back i couldn't afford any so i made some i found half inch wide pieces of metal.They are used on westin side steps an have a bolt welded to one side i didn't need this so i cut it into 4 inch long pieces an drilled a 3/8th inch hole on each end an used some bolts to sandwich the pack in between 2, These turned out great but i only had enough material to make 2 so I'm gonna have to either find more material or buy the ones online next week. So onto next the next Part
---
1998 Jeep Cherokee Classic
4.5"suspension
35x12.50r15
d30/8.25
automatic

Part Two: Lifting the rear
Ok so i have 0 pictures for this part
So first I took the tires off with the quickness of a Nascar team.
Then I raise the truck up high enough to drop the axle fully.(took a couple of tries to get it to the height I wanted) After that I kept the axle jacked up while I unbolted the u bolts, removed the rear sway bar, (which I'm not planing on reinstalling on the axle I have plans for it later on in this build thou). I then unbolted the rear shocks from the axle. If I didn't have the time restraints I would have installed the new shocks, but I wasn't gonna chance breaking the infamous top shock bolts. So I'll do that another day I then lowered the axle out of the way. Next step was to build up my leaf pack after clamping the pack, an repeating the disassemble process i previously described. After that I built the leafs in the following order:
Main leaf
(if my donor main leaf wasn't broken it would've went Here)
the 2nd leaf
The cut 2nd leaf
the 3rd leaf
the cut 3rd leaf
the 4th and final leaf
I used a 3 inch long 5/16 diameter bolt to line the leafs up. I then use the c lamps to clamp the pack together, so i could use my home depot center pin to bolt it together. I then used my home made spring clamp in the rear of the pack in the location the stock one was (which I knew cause it was a different shade of rust) I then raised the axle back up. I learned after struggling for 10 minute that I needed to put the axle on jack stands. So it could rotate, I then bolted the u bolts up easily. I next bolted back up the shocks, put back on the tires ,an measured the lift. I gained a total of 2.5 inches but only 1.5 over stock because I was sagging about a inch an heres a crappy cellphone picture in the rain.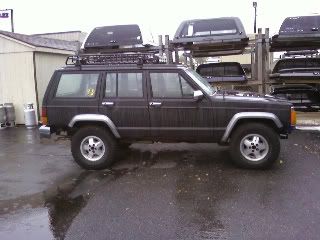 Thats all for now i was hoping to have this finish by the next meeting but i doubt i will get it done unless i find some place to finish it up this weekend
---
1998 Jeep Cherokee Classic
4.5"suspension
35x12.50r15
d30/8.25
automatic

Registered User
Join Date: Dec 2007
Location: Gainesville, GA
Posts: 252
how did you lower your roof rack?
---
1995 XJ Country
3.5" Full Traction w/ HD leafs
31x10.50 BFG M/T KM2...see specs

Georgia Institute of Technology
Ramblin' Wreck from Georgia Tech
i reversed the brackets an put the bars thru it i personally think it looks better ill look an see if i got pics i wont be home till tomorrow the earliest
---
1998 Jeep Cherokee Classic
4.5"suspension
35x12.50r15
d30/8.25
automatic

Registered User
Join Date: Dec 2007
Location: Gainesville, GA
Posts: 252
do you know if you can still use the tire carrier with it lowered?
---
1995 XJ Country
3.5" Full Traction w/ HD leafs
31x10.50 BFG M/T KM2...see specs

Georgia Institute of Technology
Ramblin' Wreck from Georgia Tech
Currently Active Users Viewing This Thread: 1

(0 members and 1 guests)
Posting Rules

You may post new threads

You may post replies

You may not post attachments

You may not edit your posts

---

HTML code is Off

---