***** Part 4: Wiring *****
I'm powering it using a Radio Shack 40A mechanical relay, 30A fuse (per Perma Cool's instructions), and 10 gauge wire. The fan will be wired in parallel with the OE Auxiliary fan, so that it will be activated by the ECM when either 1) the A/C is turned on, or 2) the engine temp rises above 218*F. I will also have a switch to activate both fans if I choose to (for crawling/idling/towing). I finally found a flawless method of adding a switch and not getting a CEL, for a reasonable price and a bit of work. It will work like this:
NOTE: the diode I used is actually a type 4004, not 4005. And the resistance that I never filled in is a 100 ohm.
I can't take any credit for it, however, as the idea for the DPDT switch came from a member on the All About Circuits forum. Here's the thread:
http://forum.allaboutcircuits.com/sh...ad.php?t=19150
This is the circuit one of those members suggested. The DPDT switch allows you to easily dupe your ECM:
I got this switch from Radio Shack... not exactly what I wanted, but it fits there, and doesn't have a 'center-off' feature. It works well: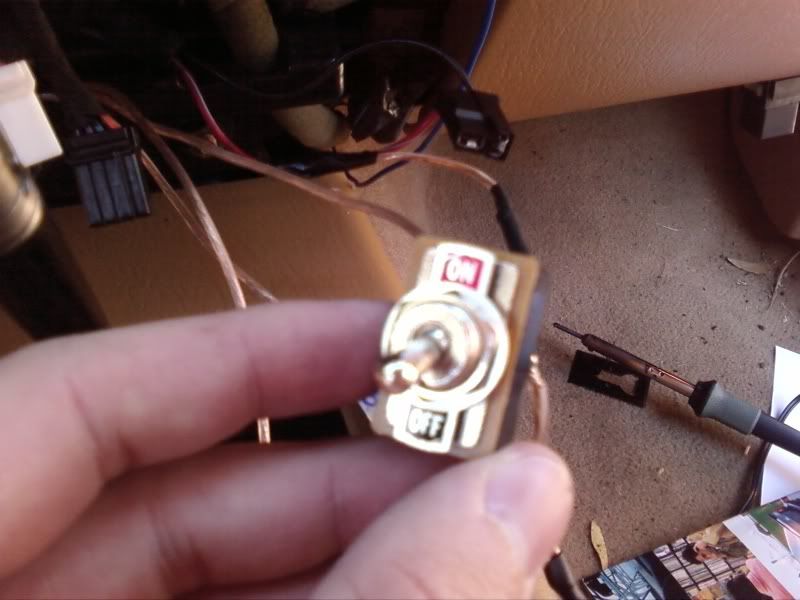 I simply put a hole in the empty slot next to my rear wiper switch:
And it ends up looking like this:
***** Part 5: Cost Breakdown *****
Perma Cool #19114, shipped $137
'91-'96 A/C bracket $15
'91-'01 Alternator bracket $8
New idler pulley $17
Sheet metal, 2' x 2', 22 ga $18 (ended up not using this)
Relays/Wire/fuses $15
Switch/diode/resistor $6
--------------------------------------------
Total $216 ($198 without the sheetmetal)
You could easily have done this cheaper if, for example, you got a smaller fan, or used a Taurus fan, etc. I actually bought a junkyard Taurus fan for $23, but that thing was so huge I didn't even want to mess with it.
Now that both fans operate simultaneously, and the fan is mounted up close to the core, cooling happens almost instantly. If the fans are turned on as the temp is reaching 220*F, it will drop to under 200*F in a matter of 3-4 minutes. I consider this an overwhelming success.