Quote:
Originally Posted by dedbo1t
.....makes me almost wish my xj didn't come with the stock roof racks.....almost.
No reason you can't simply use your gutter mounts. If you really wanted you could even take off your stock mounts, but that shouldn't be necessary - most things will fit overtop. Put on a rack using the gutter mounts then mount a lightbar on your spare stock crossbars. Whatever you wanna do!
---

1999 XJ SE 5 spd 4.0 -- Dead
2001 TJ Sahara 5 spd 4.0 -- Sold
1995 ZJ 5.2L -- Sold
1997 TJ 4 cyl 5 spd - still figuring it out...
Bump from the Dead
---
I wanted to write back with an update on how these are doing.
I had a few nuts that rusted, and I apparently didn't paint one as good as the other 3, so it's got a little rust as well.
More than a year later, all 4 are still in great working order though, and the refresh was more cosmetic than anything else.
What's been on them?
- 3 6"x6"x12' pressure treated posts
- 2 surfboards, a 6'6" and a 9'6" longboard (crossing the bay bridge tunnel)
- 1 16' warehouse rack support, took 2 of us to lift, strapped it on, made the ride fine
- 4 snowboards, nothing heavy, but I got more money into my boards than my jeep...
- 8 2"x4"s laid flat, with 3 sheets of 4'x8' drywall, home depot run, made it in 1 trip
pretty much everything I've put up there has worked out great!
the body of the jeep has no damage from them either, my door trim worked better than expected.
I know there was a few of you that emailed me asking for more info, if you see this, post up and let me know how yours are working too.
Registered User
Join Date: Jun 2005
Location: Tacoma, WA
Posts: 204
Those look pretty much the same as the mounts for my surco rack. And they're pretty much indestructible. I carried a couch on my roof rack using them that had to weight a good couple hundred pounds. Took 4 big guys to get it on top, and 2 angry swearing guys to get it off.
But as for the gutters, I mounted the roof rack to the stock roof rack using u bolts = ****. I thought it would fly off at freeway speeds.
Mounted it to the gutters and I can shake the entire jeep without the roof rack budging.
Nice setup, but you probably could have craigslisted a thule roof rack and got the same thing without the cutting and welding and for close to as cheap. But jeeps really aren't a practical thing, so...
---
74 CJ-5 lifted & locked 07 Jeep WK Overland 5.7 Hemi. Rough Country bb, Bilsteins, & Rugged Terrains
Registered User
Join Date: Oct 2006
Posts: 155
Deja vu!
We were just talking about trying to copy the Kargo Master gutter mounts and welding our own basket. Well having my brother-in-law weld it. Your design looks easier.
---
88 XJ Laredo under construction
Registered User
Join Date: Oct 2007
Location: Florida
Posts: 218
where did you get the Auto CAD program to do that I can't find any for free on the internetz....
---
Jeep XJ 97' 4.0 I6 60 mm TB Bore,
______________________________________
My Jeep isn't getting LIFTED....its EVOLVING.
Sweet!
I forgot, I've had a couch up on mine too! and a queen size mattress & box spring...

I spent $40 for the 4' aluminum tubes, the most expensive part of my setup, keeps it pretty light too.
U-bolts were like $3, the other nuts & bolts I had laying around.
The best part was the CAM cutting, and material, was a freebie, BIG THANKS to Chris out there in Phoenixville for that one!
So, total = $43

I tried to make my tubes the same size as the yakama tubes though, so all their cool components (snowboard holder, kayak holder...) fit my main assembly. But they cost money...

AutoCAD is another that isn't free, quite the contrary... $2700 last I spoke with our vendor.
I designed mine in my free time here at work, I'm an electrical draftsman.

I'm more than happy to share the file with anyone that wants it, CAM cutting and bending is on you though...
shoot me an email: deucestudios at gmail (dot) com
Registered User
Join Date: Jul 2004
Location: Southwest Idaho
Posts: 70
[hijack]
Here's another option for the DIY crowd: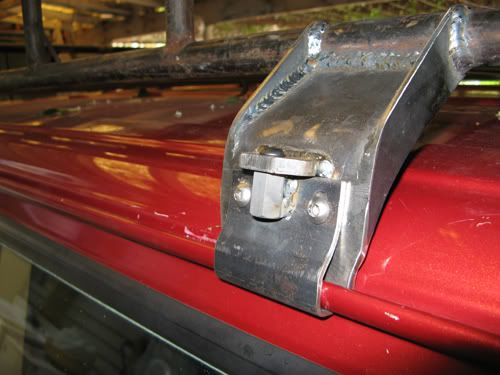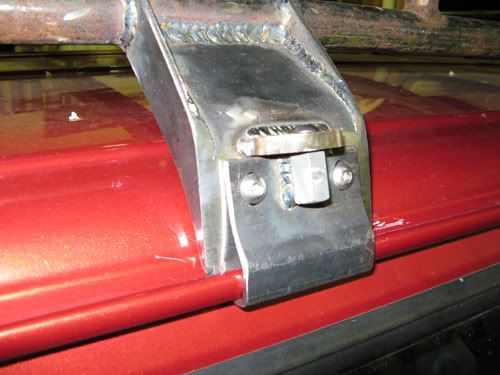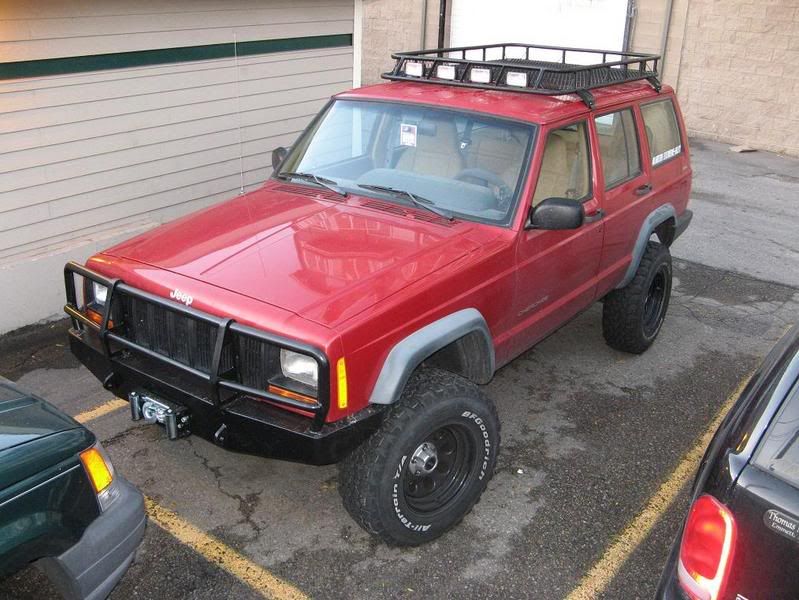 I used 1/4", 3/16" and 1/8" for mine...
[/hijack]
---
98 SE XJ
4.0L, AW4
RE 6130 w/ 3.5" springs
31x10.50 High Tec OTR Muds
Cragar 397 15x8 4" BS
Terra 2Lo, HD SYE, Bilstein 5150 & 5100s
Yo Racer32, that setup looks good man.

I've had probably 20 people email me asking for CAD files & PDFs, sorry if I've been late getting back to everyone.
If you still need the files, feel free to email me, and I WILL reply to you (eventually).

I'd think that more people would have posted their creations in here though.
Like I said, there's a bunch of people that have made their own versions of these (which is great that everyone tailors them to their need) but I have yet to see any...

Post them up!

p.s. 2 years, tons (literally) of different cargo, and they're still holding up great.
Registered User
Join Date: Sep 2009
Location: Farmington N.H.
Posts: 78
Good job man! those brackets are similar to those on van ladder racks that I had on my 94XJ. As far as strength or rain rails, they will hold hundreds of pounds. I had at times 5 ladders on my XJ with no problems at all.
---
"we're here for a good time not a long time " Live Free Or Die
Bump from the dead.
I'm still getting email requests for these, sorry for taking so long to respond to them.
I am glad to keep sending out measurements!
The only thing I ask in return, is that you take pics, and post them in this thread.
Also... Looks like these are about 5 years old. They're still holding up strong as the first day. COUNTLESS crap has been up there, and never had an issue.
Oh and, more pics of them on my jeep.
(Yakima big powderhound snowboard racks fit on them)
Registered User
Join Date: Feb 2007
Location: Tucson
Posts: 508
Reviving an old thread, but I wanted to know what you used to bend the steel. Did you use a manual finger break? Hydraulic press? Table edge and hammer? (The last one is a joke).
Quote:
Reviving an old thread, but I wanted to know what you used to bend the steel. Did you use a manual finger break? Hydraulic press? Table edge and hammer? (The last one is a joke).
The joke. Seriously...
Mini propane torch, till the metal was cherry, put it in my vice, and gave it a bend, dialed to perfection with a 24oz. Estwing.
You can see how imperfect they are.
Also, theres 2 pieces to each bracket, a & b. So bracket 1 part a, won't fit on bracket 2 part b... they have to stay together, or they don't fit.
Registered User
Join Date: Sep 2010
Location: Finleyville
Posts: 3,330
Quote:
where did you get the Auto CAD program to do that I can't find any for free on the internetz....
Thats because most good cad programs will make back their cost in about 8 hours... There are a bunch of free cad programs out there, like Sketchup, or DraftSight. Mostly just free for home use.
Someone has to pay the programmer to make the software
(A fellow ITT sucker here.....)
Currently Active Users Viewing This Thread: 1

(0 members and 1 guests)
Posting Rules

You may post new threads

You may post replies

You may not post attachments

You may not edit your posts

---

HTML code is Off

---