Registered User
Join Date: Jul 2013
Location: Morgantown
Posts: 14
Codes Galore (where to start)
---
Well I checked to see why my service light was on and wow there were alot of codes that poped up but now I have to figure out where to start any advice or if you have had any of theses problem chime in and tell me your experience you had and symtoms you were having when your problem started!!
code PO138 =Heated o2 sensor bank sensor
powertrain control module uses sensor to calculate the air/fuel ratio in exhaust
Cause= o2 sensor defective
fuel system running very rich or less lean
engine miss fire condition -repair
fuel pressure very high or low fuel pump or pressure regulator
code P1294= Target Idle not reached
ECM dectected idle speed not within specified range
Cause= mechanical condition on Vacuum leak
Throttle Cable not free
Idle speed screw misadjusted
Code PO303= cylinder 3 misfire
Cause= Ignition system fault spark plug ignition wires, coils
vacuum leak
injector fault
high orlove fuel pressure
Code PO505= Idle speed higher/lower than expected
Cause=vacuum leak
dirty throttle body
Iac motor defective
poor electrical connection to IAC
And on top of all this I was looking thismorning and Im almost sure I have a valve gasket leak very small!
any help on where you would start on this would be greatly appreciated!!
thanks in advance
Registered User
Join Date: Aug 2012
Location: Sellersburg
Posts: 327
The 0138 probably won't cause anything that you would notice.

The 0303 is probably causing the 0505 and 1294.

Start with cheap and easy, take the plug out and inspect, and inspect the wire to make sure no worn spots where it can arc.
---
1998 Jeep Grand Cherokee 5.9 Limited - Stone White - Stock for now.

To view links or images in signatures your post count must be 10 or greater. You currently have 0 posts.
<-- 5.9 Owner's group on FB.
ok I will do this and get back to tell you what I discovered thanks for reply
Real Jeeps have dents
Join Date: Apr 2002
Location: out in the garage - Minneapolis
Posts: 25,782
Always start diagnostics/repairs with the lowest numbered Check Engine Light (CEL) trouble code. Often whatever is faulty and causing the lowest number code, is also causing bad data or some other engine issues that make the higher number codes illuminate the CEL.

A P0138 can cause all sorts of issues, including a very rich mixture, cat converter troubles, and bucking, stalling, or backfiring of the engine.


Fix the P0138, erase the codes, and see if any other codes come back.
---
.
A recent Gallup public opinion poll shows the NRA, at 58% approval, has a higher approval rating than either Hillary Clinton or Barack Obama.

Progressive Liberalism: Bringing you new Healthcare ideas so wonderful, they have to include mandatory participation ...
Originally Posted by Ronald W. Reagan: Government is not the solution to our problems; Government is the problem.

Web Wheeler
Join Date: Jul 2011
Location: Canton
Posts: 3,548
You didn't state what year your XJ is, but going by your handle I would think you have a 2000. If so, check the Oxygen Sensors relay 20 Amp mini fuse in the Power Distribution Center. It's identified in this photo as O2S Relays. This may address the P0138.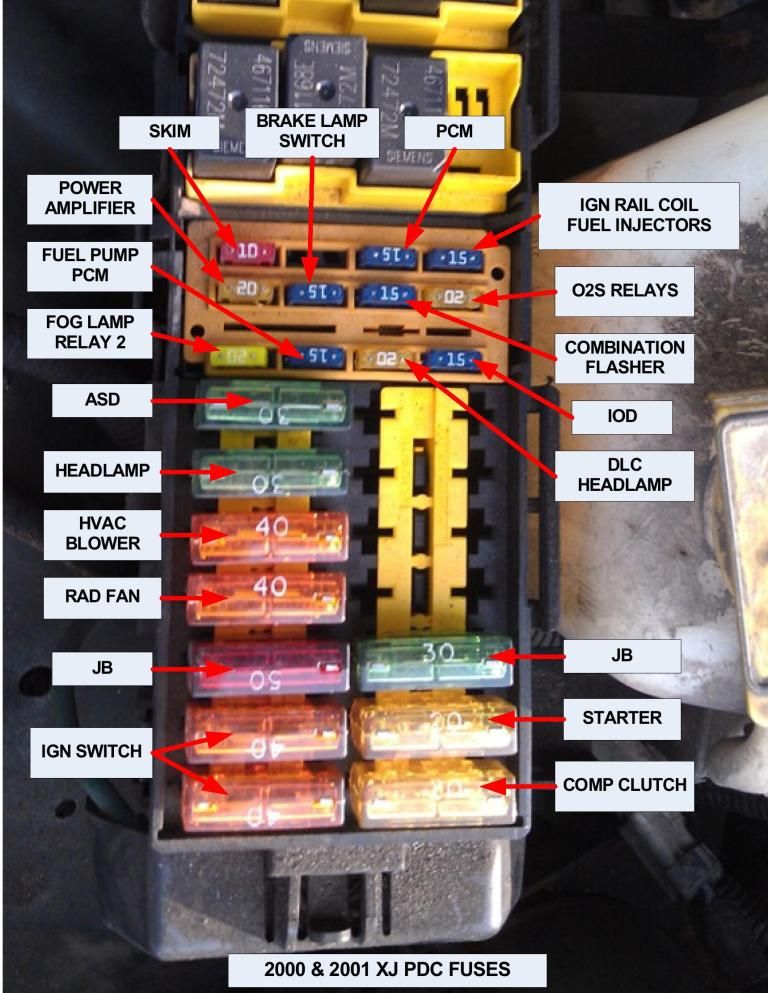 thank you for your reply and all your help I will fix the P0138 code and respomd back with results
I was just reading about this on the net and I decided to check back on my question to see if any more responses had come threw Im glad you chimed with your information very helpful Ill let you know what I find out thanks

you were right my jeep is a 2000
---
Last edited by TRSXJ2000; 07-16-2013 at

12:55 PM

. Reason: adding text
I check fuse everything is ok with that!!
wire great and plug is fine !!
Now I think I found some major issues thismorning that is causing all theses codes as well or I should say it wasnt help the codes at all!! I looked at manifold thismorning and there are 2 bolts missing out of it! that would create a vacuum leak and im asumming exhaust leak!! Could anyone inform me on the size and where to source then I callled autozone they said they couldnt get them and I went to ace hardware and they have none as well any advice it would help me out alot thanks in advance!!

Next there is oil laying on the top around valve cover so im asumming that it might need a valve cover gasket and I got checkin the bolts and they were only hand tightened!! I tightedthem up and it seems to be actually running smoother than it was!!
Currently Active Users Viewing This Thread: 1

(0 members and 1 guests)
Posting Rules

You may post new threads

You may post replies

You may not post attachments

You may not edit your posts

---

HTML code is Off

---