I wanted to try out a roof rack cargo basket on top of my custom Wrangler hardtop project (
http://www.jeepforum.com/forum/f9/sa...roject-952157/
), but didn't want to pay huge bucks for one, and also was having trouble finding one that was the perfect size. So I came up with an idea for a budget roof rack basket using two inexpensive Harbor Freight ATV Cargo Carriers. Since this is designed to fit on a factory XJ roof rack, I thought I'd share it in the XJ forum in case any of you are looking for a budget roof basket solution.
Here's the basic idea:
Here's a rough drawing/photo simulation of what the rack would look like on the XJ rack that's on top of my custom hardtop:
I finished building the rack basket today, all it needs now is priming the new parts and painting. The bottom photo shows a close-up of how it attaches to the XJ rack bars, after it's painted I'll put some rubber on the clamp surfaces to cushion it a bit.
Here's a photo of the rack mounted on my roof panel: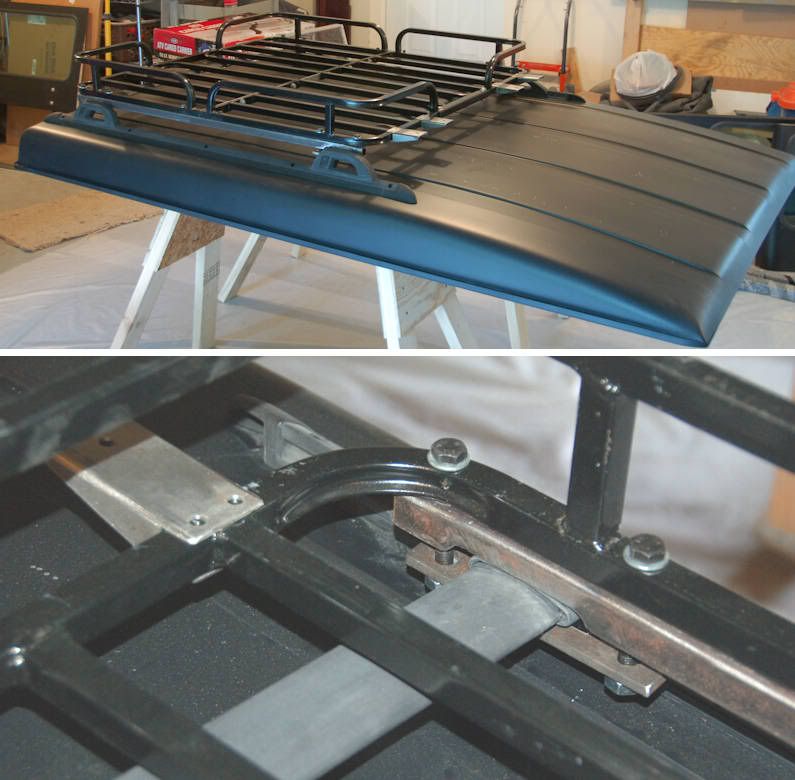 One thing I like about this basket is how the "fence" doesn't go all the way around and leaves a "valley" down the center - this will make it easier to carry long items like 2x4's on the rack.
All this took besides two Harbor Freight $32 racks ($39.99 regular price - 20% off coupon) was:
- 1 48" piece of 1/8" x 1" steel (to bolt the center together)
- 2 48" pieces of 1" square steel tubing (to strengthen the sides/form the mounts)
- 8 3/8-16 x 1" bolts/washers/nuts to bolt the baskets together in the center
- 24" of 5/16" x 1" steel strip to form the bottom of the clamps
All of the original bolts/nuts/washers supplied with the HF baskets were also used.
Total cost of the project was about $75.
The only modifications required to the HF racks were drilling holes to mount the side stiffening/mounting rails.
The light brackets (you can see one in the photo above) were made from 8" of 2" square tubing split lengthwise into a 1" channel, and will be attached with 8 1/4-20 x 1 1/2" bolts/washers/nuts. I'll drill the holes in the basket for the light brackets when I decide to mount lights on it.
The full build of this rack is in the Wrangler forum, it starts at post 2001.