So, I've read about people doing this, and after checking out how ridiculous the lip is inside the stock TB, I decided to get it bored by a shop.... but he wanted $50 to do it, and I'm cheap as hell, and Harbor Freight was running a sale...
So I bought a $44, 5-speed, 2" stroke bench drill press, a $12 60mm hole saw bit (that didn't end up working), a $4 1.5" sanding drum (50 grit), and a $3 pack of 120 grit finishing drums. (total of $51, if you negate the $12 hole saw that didn't work, more on that later)
So I started with this stock TB off the spare '99 motor I have.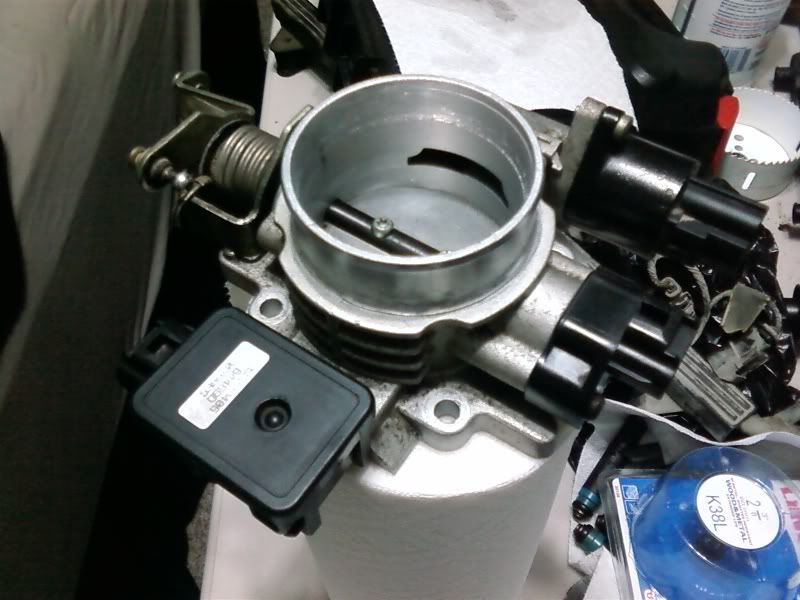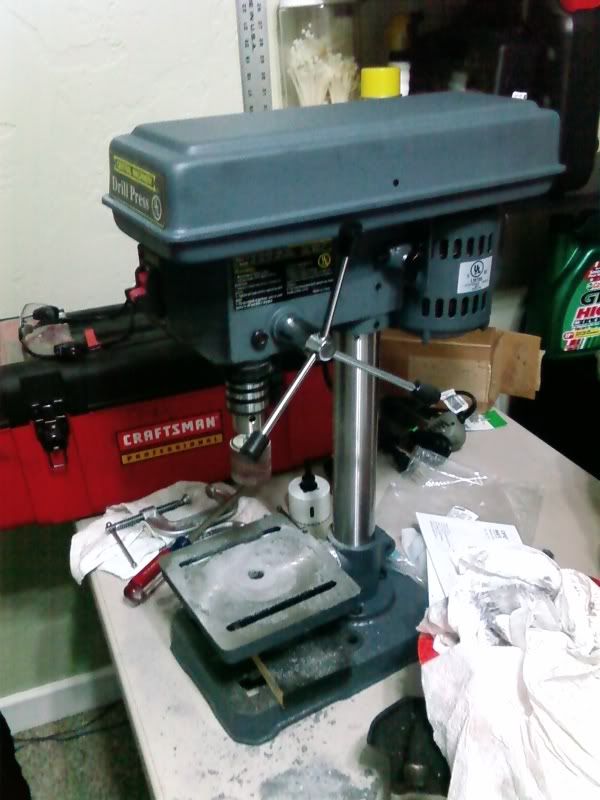 First step is to remove all the sensors ( T20 Torx bit ). The IACV has four bolts, the MAP has 2 bolts, and the TPS has two bolts. Don't hesitate to just yank em off, there are no adjustments so you can't FUBAR it.
Next you remove the two T20 bolts holding the butterfly on. (You must hold the butterfly 100% open in order to slide it out.) Then you slide the spring/bar assembly out.
I used the stock TB gasket to draw a centered circle around on the BOTTOM of the TB, where I bored it out. Then just move your drill press table up to the proper height, and work your way around. I stopped pretty frequently to A) let it cool, because Al gets hot pretty quick, and B) to make sure I wasn't removing any material past the lip, because the butterfly is only 60mm, and once you make it to big, you have to get a new butterfly made.
Once I got enough material off, I switched to the 120 grit drum and smoothed it out. Then clean it up, and re-install all the sensors and whatnot.
NOTE: I didn't take any pics because this is a pretty simple procedure, and there are plenty of other write-ups if you need to see pics.
As for the hole saw bit: I thought this would be a quick and painless way to bore the TB, but it turns out that commonly available hole saw bits were NOT made to bore perfect holes in metal. In wood, it obviously doesn't matter if the bit is 0.03" out of round, but for metal, it doesn't work. I tried to go down from the top, where the TB tapers down to 60mm, but ended up scoring it pretty bad (you can see it in the top pic really well
). It definitely took more time, but instead of paying $50 for someone else to do it, I spend $51 and have a drill press too
Final pics: