Registered User
Join Date: Jun 2016
Posts: 23
Antenna R/R and Floorboard Leak Fix: 96' XJ Sport
---
I've been reading around trying to find the source of my xj's leak in the passenger side floorboard for a long time now. It only happens during rainy days and after quite some time I gave up and after some random research on it I think I may have finally found the source. I'm experiencing water in two strange areas marked inside the yellow marked areas:
A few days ago I went to the carwash and went to screw my antenna back on and I noticed a pretty large crack in the base of the antenna: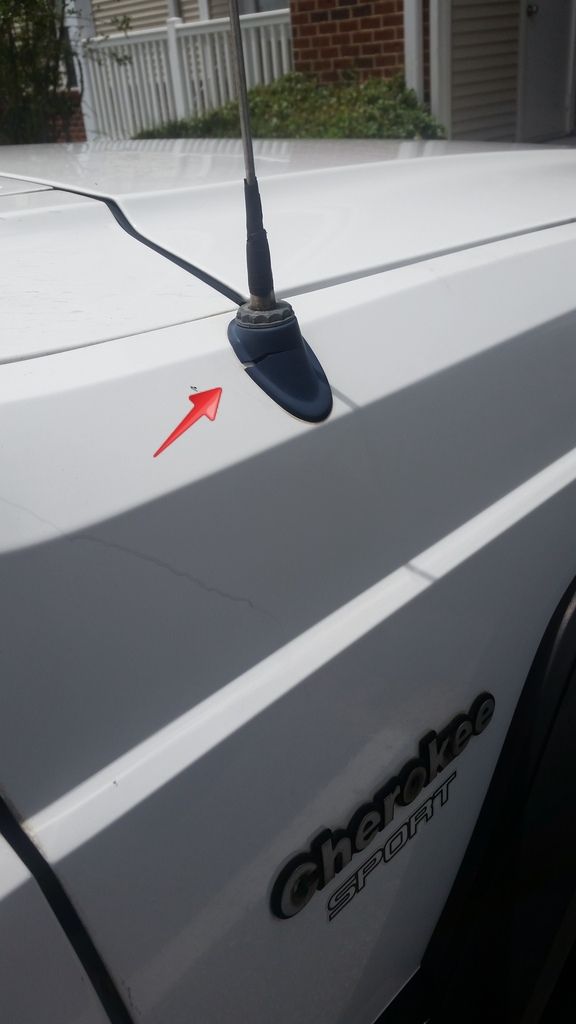 I'm not sure how I never noticed it, but I'm hoping that's the culprit.. I can't find much on changing them out, but has anyone ever done this? I get my replacement here in a few days. just wondering how to get the old one out.
Registered User
Join Date: Jun 2016
Posts: 22
I have a 99 and I could see the bottom of the mount and antennae cable when I had my inner fender liner out.
Tore everything out today and took a look.. Sheered off my rear right seat mount bolt trying to get it loose.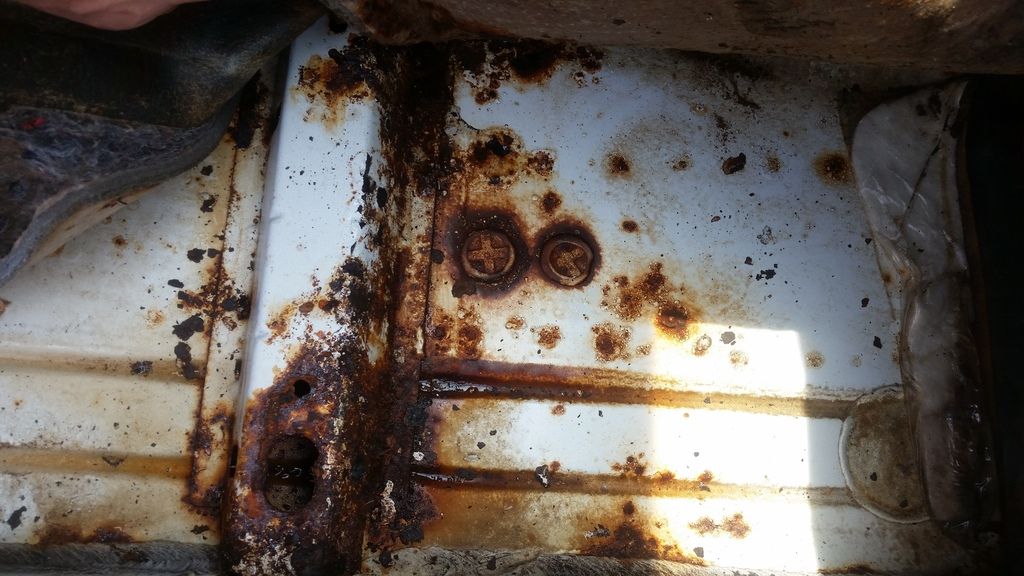 God help me.. so, when I lifted up the wet carpet I felt some dripping from underneath. It appears to have rusted through the bottom over time.. Heres a YouTube vid that shows what's going on:
It appears to have eaten away under that mount bracket from the top.. it's just got to be the ac... is there a step by step anywhere for the floorboard patch. I was REALLY hoping to not have to do the patch but it's unavoidable now. Can I even get that bracket off?
Registered User
Join Date: Dec 2015
Location: central new york
Posts: 528
I know it seems very dramatic when you first encounter it, but this really isn't that bad. The hole is actually helping at the moment because it is helping to get the liquid out.

When you first saw it, did it make you want to puke a little? lol. That's how I felt when I found mine.

First order of business will be to address the leak source.

As for the patching, you can wire wheel out the rust and get into some metal work, have a body shop take a look at it, or just clean it up, and address the holes with a filler such as fibre strand (fiber reinforced epoxy). Personally, I don't think the area is bad enough to rip out and weld in new panels (not unless you plan to tear everything out and fix a bunch of places). Otherwise the overhead of the job (time/materials) just won't pay off.

Once the area is cleaned up, and the hole is patched. Some fluid film would go a long way in slowing down any additional corrosion. (though most would get into wire wheeling down to metal, prepping, and repainting with something like chassis saver or por 15). I prefer Fluid Film, that way I can see the rust, and keep tabs on whether it is growing or staying under control. When the rust is under a coating, you won't see it again until it is really bad.
---
Things I keep around that help fix Jeeps:
AeroKroil and Fluid Film
BAFX Products 34t5 Bluetooth OBDII Scan Tool and Torque Pro OBD2 App for Android
Etekcity MSR-P600 Digital Multimeter
Bernzomatic TS4000 Trigger Start Torch + MAP Gas
1/2 inch sockets, Breaker, Cheater Pipe, and BFH

Thanks for the reply, and yes, this did make me a little sick. Mostly because the leak is underneath that bracket and I have no clue how to get it off.
Right here to be exact: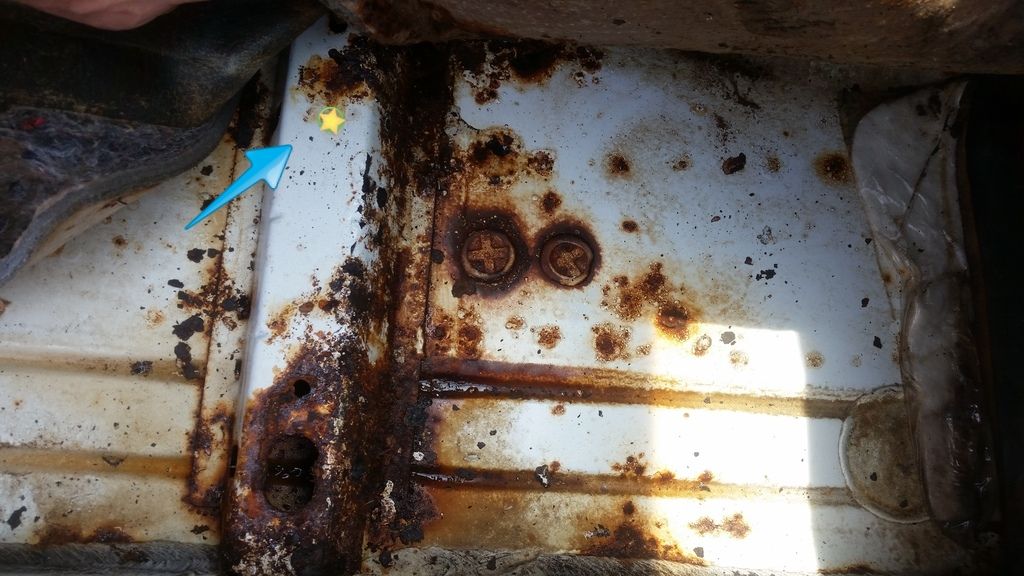 Is it welded in place? I'm not very intimidated by the job altogether, but that bracket is the only thing stopping me right now.
Wowzers. Definately overdue for a patch job. ..So I removed the carpet and hit it with a wire brush to get rid of all the loose rust and paint. The drivers side is perfect with extremely minor surface rust on a few small areas. The passenger side has cancer. Still not nearly as bad as some of the others I've seen. Gave it a good vacuum and here's what I'm working with:
Rear Passenger Side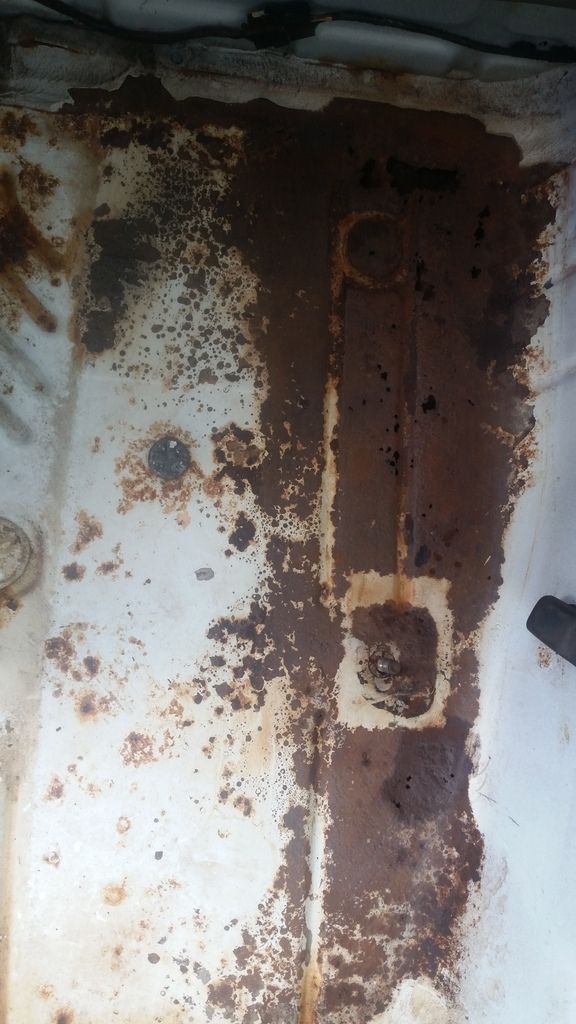 Front Passenger Side
http://i349.photobucket.com/albums/q...psl8pvosl5.jpg
The crossmember is ate through on a few spots. I'm going to attempt to salvage it and patch the metal underneath it.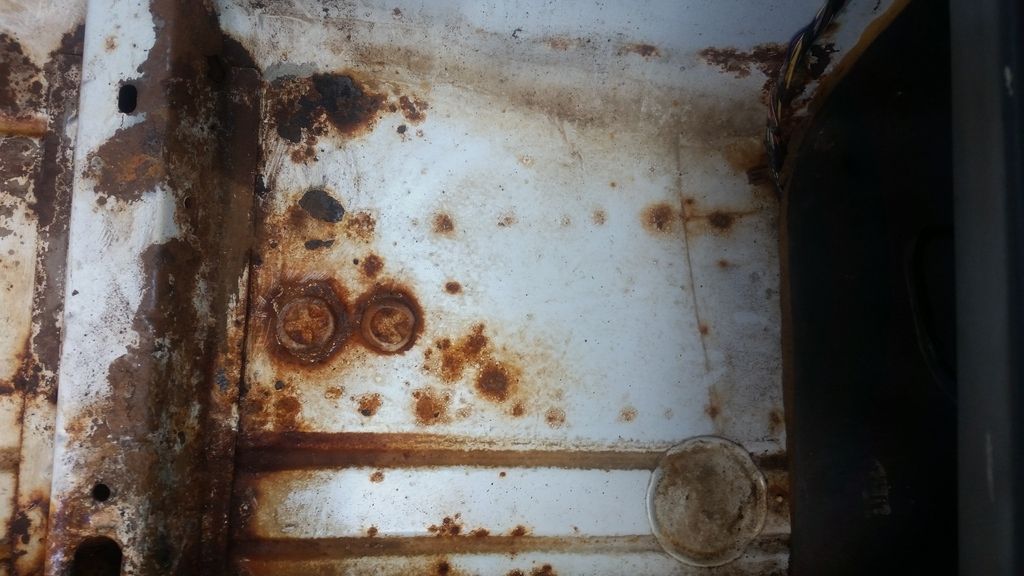 From what I've watched in a few videos: Grind the rust, patch it up, grind the welds, smooth it out, apply Chassis Saver, and re-upholstery.
All along the sides of the paneling there is this thick white epoxy-type glue on all joint areas. It's peeled off in the rear where the rust is most prominent.
What is this stuff and is it necessary to replace it for a proper fix? Also do I need to apply any primer or just the chassis saver?
Web Wheeler
Join Date: Feb 2007
Location: Ewing, NJ
Posts: 1,705
Based on those pics, I wouldn't be thinking about welding in new sheetmetal at all. You should be able to clean that up with a wire wheel and some fresh paint. The hole looks small enough that you could patch it with the fiber strand as mentioned above, or maybe even just fill it in with a welder.
This is what my old '96 looked like a few years back:
http://www.jeepforum.com/forum/f177/...r-days-899383/
- Justin
---
1992 Cherokee Laredo - mostly stock, DD. 300k miles and counting

2004 Grand Cherokee Laredo - 4.7, bone stock - Wife's DD


To view links or images in signatures your post count must be 10 or greater. You currently have 0 posts.

Currently Active Users Viewing This Thread: 1

(0 members and 1 guests)
Posting Rules

You may post new threads

You may post replies

You may not post attachments

You may not edit your posts

---

HTML code is Off

---