Registered User
Join Date: Dec 2013
Location: Waterloo
Posts: 3
96 Cherokee Sport Ladder Logic versus Schematic
---
Hi, I am a controls electrician with limited automobile repair experience trying to resolve some issues with a 96 Cherokee Sport that has sat for 3-years. I replace the blown heater core, radiator, A/C Condenser, transmission cooler in an attempt to get it road ready for my 16-year old son. I also decided to change the plugs, wires, gas filter, serpentine belt. I had intentions of draining the old gas but was surprised to find the tank was 3/4 full and the gas smelled fresh so I decided against changing it.
I fire the thing up and ended up with several a** ache issues before I could finally drive it out of the garage (blown brake line - set up rear brakes). I drove it five mile around the block then left it running in the driveway for 20-minutes or so to make sure the battery had a chance to charge up and everything get broken back in. I jumped in to take it to the store about 10-miles or so and the thing sputtered a bit then died just a block from the store.
Long story short: Replaced Crank Position Sensor (old one tested bad - resistance across b-c terminals) - started for 10-seconds then died again! Checked for fuel at the rail - small amount came out from residual pressure. Swapped out Automatic Shut Down and Fuel Pump relays - no change. Jumpered out fuel pump relay and opened fuel rail port - steady stream of gas! Went online and found out how to check codes from ignition switch sequence. Codes 12-54-55 shows Distributor Sync Sensor. Beat my brains out looking for one before finding out they are also referred to as "Pickup Coil", "Camshaft position sensor" on the schematics.
Now it's back to the online forums for a generous dose of "Memory Mechanic" and "Parts Swapper Mechanics" ILL-ADVICE before I stumble upon someone that knows about "Sequences of Operations" and "Proper Point to Point Troubleshooting Procedures"! OYE what a challenge!!
I had to take Microsoft Paint out for a try to see if I could breakdown these electrical schematics.
So here is my question: I refuse to be a parts swapper! Is there a "LADDER LOGIC DIAGRAM" that show the "Sequence of Operations" available. I need a Point-to-Point diagram, not a wiring diagram. I need to know what conditions need to be satisfied before the next sequence can take place!
Specifically need to know:
After I checked the Automatic Shut Down Relay and socket which I (THOUGHT???) to be fine, then plugged back in with an external tag wire rigged to the load side of the relay contact (pin #5) - i am reading (-) 11.56 VDC. It read (+) 11.56 VDC on the line side (pin #3) of receptacle/cavity when the relay was out. Very confusing to me. UPDATE: Discovered cavity terminal @ pin #3 was dislodged from the plastic base preventing connection to cube relay!
Any help out there please!
---
Last edited by TomBrady; 12-07-2013 at

07:29 AM

.
Web Wheeler
Join Date: Jul 2011
Location: Canton
Posts: 3,548
Quote:
So here is my question: I refuse to be a parts swapper! Is there a "LADDER LOGIC DIAGRAM" that show the "Sequence of Events" available. I need a Point-to-Point diagram, not a wiring diagram. I need to know what conditions need to be satisfied before the next sequence can take place!
Unfortunately Chrsler never produced logic diagrams. The closest thing to it is their Diagnostics Procedures Manuals, but they too just move from step to step in a diagnostic procedure, and most often require the use of their DRBIII diagnostic tool in the process.
Some Cherokee DIY mechanics refer to wiring diagrams and the descriptions of how a system works in the specific Factory Service Manual to troubleshoot a problem. Other DIY mechanics just ask a question on a Jeep forum and get guidance from experienced members of the forum. And, unfortunately (again) some of that guidance is to shotgun a part.
Can I assume you have a genuine Chrysler Cherokee (XJ) Factory Service Manual for the 1996 XJ? If so, you'll have to refer to the diagrams and system descriptions and make determinations as to which is the next logcal step in the troubleshooting process.
I don't have a copy of the '96 FSM so it will be difficult for me to assist you.
I just downloaded a pdf file of the '96 FSM from Pacific Coast Manuals for $7.95 and it turned out to be a '97 FSM. Arse holes. I've contacted them to see if they can recitify the problem. If not I'll put a stop payment on them through PayPal.
My '97 and '99 FSM diagrams will be different than the '96 just based upon a photo of the PDC in a '96 vs. the PDC layout of a '99. The relays in the '96 look like Type 2 or Type 3 relays and my '99 has Type 1 relays (primarily), so it may only cause confusion if I attempt to help you along...even if the ASD circuit is wired the same.
Specifically "then plugged back in with an external jumper rigged to the load side ot the relay contact - i am reading an (-) 11.56 VDC. It read (+) 11.56 VDC when the relay was out."
I have no idea what pin sockets on the ASD relay you were reading or under what conditions you were getting these readings (Key ON/OFF?).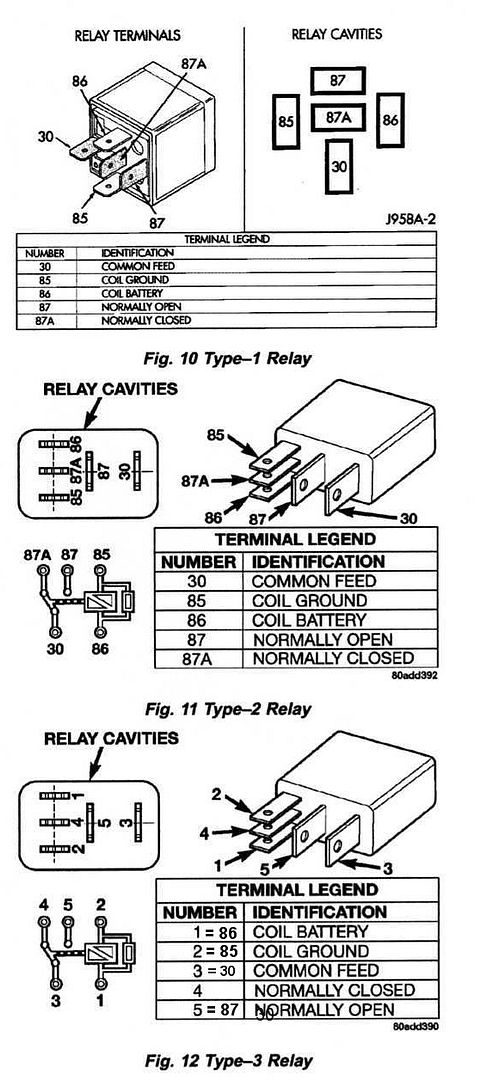 Real Jeeps have dents
Join Date: Apr 2002
Location: out in the garage - Minneapolis
Posts: 25,730
The 1996 XJ has on-board OBD-II self diagnostics, what Check Engine Light trouble codes are downloaded using a trouble code reader ?
---
.
A recent Gallup public opinion poll shows the NRA, at 58% approval, has a higher approval rating than either Hillary Clinton or Barack Obama.

Progressive Liberalism: Bringing you new Healthcare ideas so wonderful, they have to include mandatory participation ...
Originally Posted by Ronald W. Reagan: Government is not the solution to our problems; Government is the problem.

Registered User
Join Date: Dec 2013
Location: Waterloo
Posts: 3
Thanks for the help guys. I changed the Crank Position Sensor which I learned about through this forum. It showed "bad" with a resistance between the b-c terminals of the terminal connector. It failed to start after the new one was installed. That's when I learned about the on-board diagnosis feature.

I performed the on-board diagnosis via clicking the ignition switch three times (on/off/on/off/on) and received the 12/54/55 error codes. I was skeptical of the new found code so proceeded to check point to point wiring and readings via the schematic I found on this forum.

The -11.56 VDC was taken from a tag wire I attached to the "Automatic Shutdown Relay" which according to the diagrams Ken provided would be pin #5 on the Type II relay (Fig 11) of the picture with the relay plugged into the cavity. The +11.56 VDC was measured at the cavity pin #3 with the cube relay out. (Key on RUN Position!) The next day I discovered the female socket that receives the male connector on the cube relay (Cavity Pin #5) had popped out of the plastic housing / came loose and prevented the connection. The weird voltage must have been back fed from the PCM some how??? Still a mystery to me!

Today I decided to install a new pickup coil, cap and rotor – still no start!

I went to the Powertrain Control Module to check the wire harness connector for bad connections as well as continuity/insulation integrity between the new Pickup Sensor in the distributor. I sprayed all the connections down with a liberal dose of contact cleaner then proceeded to check the wiring for continuity, grounds and shorts.

I took DC Voltage Readings from the Pickup Coil Terminal coming from the PCM wire harness. The readings are as follows:

A4 to A18 = 5.2 VDC
A4 to A17 = (-) 5.2 VDC
A17 to A18 = 0VDC
A4 to battery ground = .01 VDC
A17 to battery ground = 5.2 VDC
A18 to battery ground = 5.2 VDC

ALSO between The Distributor Pickup Connector and PCM with other sensors common the A4 and A17 still connected:
A17-A4 ohm readings = 704k-ohms
A4 Terminal to PCM Plug unhooked = 3.4 ohms on the length of wire
A17 Terminal to PCM Plug = 2.0 ohms on the length of wire
A18 Terminal to PCM Plug = 3.1 ohms on the length of wire

I do NOT have a factory service manual simply because I like a challenge to see how much I can accomplish without spending the money but thanks for the tip on "Pacific Coast Manuals". I thinks it's time to order one!
---
Last edited by TomBrady; 12-07-2013 at

07:35 AM

.
Registered User
Join Date: Dec 2013
Location: Waterloo
Posts: 3
I am going to disconnect all the sensors/devices (at their respective terminals) common to the A4/A17 feeds from the PCM (Throttle Position Sensor/Manifold Absolute Pressure Sensor/Crankshaft Position Sensor/Camshaft Position Sensor) then take ohm readings between the individual pairs of wires to verify wire and insulation integrity. I did download the Factory Service Manual from Pacific Coast and am very thankful for the tip Ken! It's a great alternative to some of the other repair manuals that are being sold out there today! It's been my experience that you need to take a day with a yellow highlighter and red sharpie marker just to go through those manuals to markup what pertains to the individual vehicle and cross out all that applies to other models/options!
Just a bit of a side note: I didn't know what a crank position sensor, pickup coil, MAP Sensor or PCM was a week ago! Gotta love the Internet Forums, Technology and folks that like to share their knowledge on such things
Thanks again fellas!
UPDATE: All the wires tested good between the Distributor Pickup and the Powertrain Control Module so I decided to retrace my previous steps to see where I made a mistake. Good thing for the Factory Service Manual. I originally was led to believe that the entire distributor needed to be removed in order to replace the Camshaft Position Sensor by an erroneous post on this forum. I had never removed a distributor and was ignorant to some of the finer points of the procedure. I removed it without first finding Top Dead Center on the crank. I didn't think about the the possibility of the engine stroke being out of sync by 180-degrees.
I went to the procedure section in the FSM and removed the number 1 spark plug, placed my finger over the opening and rotated the crank clockwise per the instruction until I felt air passing through the opening which indicated the compression stroke. Continued rotating the crank to Top Dead Center marks on the damper then check the position of the rotor on the distributor. Sure enough it was 180-degrees off alignment. I re-installed it per the FSM, reconnected all the sensors and it fired right up. Bottom line was the Camshaft Position Sensor. What a lesson for sure!
Like I always say "the kind of education you can't get in college". Well maybe you could in this case but who has the time
---
Last edited by TomBrady; 12-07-2013 at

01:34 PM

.
Web Wheeler
Join Date: Jul 2011
Location: Canton
Posts: 3,548
Glad its fixed.

A note about the Pacific Coast Manuals.

I bought and downloaded what they said was the 1996 Cherokee Service Manual. After opening the download, the first page said it was the '96 service manual, but as started to look through it I found that it was the 1997 service manual, not the '96.

I emailed them with my complaint but haven't heard back from them.
Registered User
Join Date: Apr 2009
Location: Los Angeles / SFV
Posts: 3,305
Currently Active Users Viewing This Thread: 1

(0 members and 1 guests)
Posting Rules

You may post new threads

You may post replies

You may not post attachments

You may not edit your posts

---

HTML code is Off

---