A TJ is perfect for flat towing behind a motorhome. I did it for years without a problem before I bought a car trailer. TC in neutral, tranny in gear, first click on ign to unlock steering wheel without draining battery.
Equally as important is to have the towbar as level as possible. With the long overhang on most motorhomes, crossing sidewalks, driveways, large bumps, etc. may pry/pop the towbar off the ball if you do not have max. travel in both directions.
They make towbar mounts that attatch to the stock towhook location above the bumper. With your 4" lift, that would make for a pretty tall riser/hitch to keep your towbar level. But, I have seen it done.
I used Roadmaster's XL removeable frame mounts. They are expensive, but I found a used set for cheap. The towbar was at least 6" lower than mounting it above the bumper. I never had a problem off road except cleaning some dirt out of them a couple times. The mounts are more solid, and gave me piece of mind while towing. Now, they are just sitting in my garage.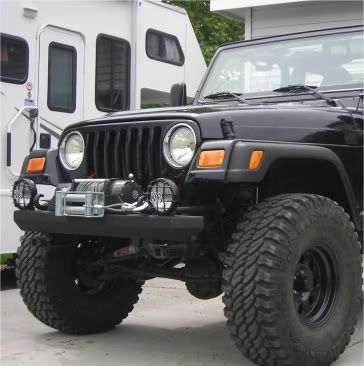 BTW, I used magnetic lights on the rear bumper and never used an aux. braking system. My state does not require them. I never had a problem.