Registered User
Join Date: Jan 2009
Location: Yermoms house
Posts: 2,282
Quote:
gotcha, thanks Caribou. The gauges are definitely on the list. And I might as well throw on the deep tranny fliud pan as well.
Deep pan and a big *** cooler!
---
2007 WK Overland
5.7 Hemi, 18% tint, baby seats
2000 F350 PSD CC LB
2001.5 B5S4 500awhp gutted track car
2002 WJ Limited
4.7 HO, 6.5" LA, 37's, JK 44's SOLD
Registered User
Join Date: Feb 2010
Location: Wisconsin
Posts: 468
A 30 lb fuel pressure guage is enough. Ideally, you are looking for 14-16 lbs of pressure.
Check out Geno's Garage. I have the Westach FP, Boost and EGT Guages. I have a 2002 I bought new.
---
85 CJ7, Howell TBI, Twin Stick, 4:10's, 35" Pitbull Rockers, Clifford 6=8, Detroits, Matkins Level II, BDS 4", Summers Brothers. Skynyrd rocks.
06 Rubicon
06 Lance Camper
02 Dodge Cummins
06 VW Jetta TDI
Registered User
Join Date: Aug 2009
Location: Colorado Springs
Posts: 241
That's a pretty nice looking truck and you should love those tires as long as you stay on solid ground. My dad had them on his 05 2500HD w/ Duramax and 8' bed. They lasted him about 70,000 miles.
Registered User
Join Date: Mar 2010
Location: Boise
Posts: 1,279
I have an early 98 (got the quad cab update but retained the 12 valve) 2500. It came with an auto and after rebuilding it and throwing over $800 into the trans (did the work myself) it decided it wanted to split the one way clutch the first drive home and back to work. Threw that bastard away and put an NV-4500 in it and havent looked back since. Its like a completely different truck. Can pull steep grades in overdrive pulling 9000+/-lbs.
Built right and with a good trans you can get some mileage out of them. My dad had a 91 (brother owns it now, still running it) that has over 325,000 on it. Trans was pulled once to replace torque converter and my dad decided to tear into it and give it a go through (at 215,000). Replaced the seals, put it back together (didnt need clutches or steels) with the new torque converter and never touched it after that. He did plenty of towing with it and never babied it. My only point is they are hit and miss. You get a good one and it will treat you like a god. Get a back one (like mine) and it will beat you into the dirt and rub alcohol on your wounds.

Nice looking truck by the way!
---
90 YJ 5.2 Magnum, AX-15, 231 SYE'd
D44 front, welded/trussed AMC20HD rear. 4.56 gears soonish.
Western 6 lug aluminum wheels, with 35x12.50x15 Wrangler MTRs

To view links or images in signatures your post count must be 10 or greater. You currently have 0 posts.

Registered User
Join Date: Aug 2009
Location: Romeo
Posts: 379
Perhaps the best year of the 24v to own. I would buy it off of you in heartbeat, honestly those are great trucks. The weak spot is the lift pumps, and the steering boxes. Also the doors rust easy so keep it clean and wax your door jams and you should be fine.

It's real easy to make great power with these trucks. I built one for my buddy back in high school, and we made over 400rwhp/900rwtq with the stock charger.
---
ΜΟΛΩΝ ΛΑΒΕ
Youngin'
Join Date: Nov 2006
Location: Lake Orion
Posts: 4,730
I have replaced the lift pump in the Dodge with a raptor 100. (Has a brand new injection pump now too, since that went bad 6 days after i bought the truck.)
But since the last time i've updated, I've put a Super chip in it. New tail lights, led third brake light, new tow mirrors, tinted the windows and new headlights.
I've also bought a 16' + 2' dove tail Goosneck trailer to haul the jeep on.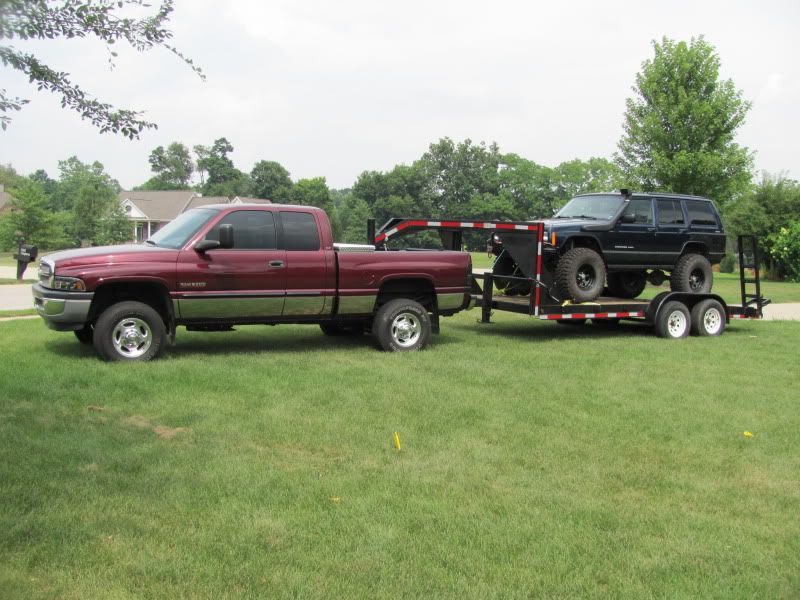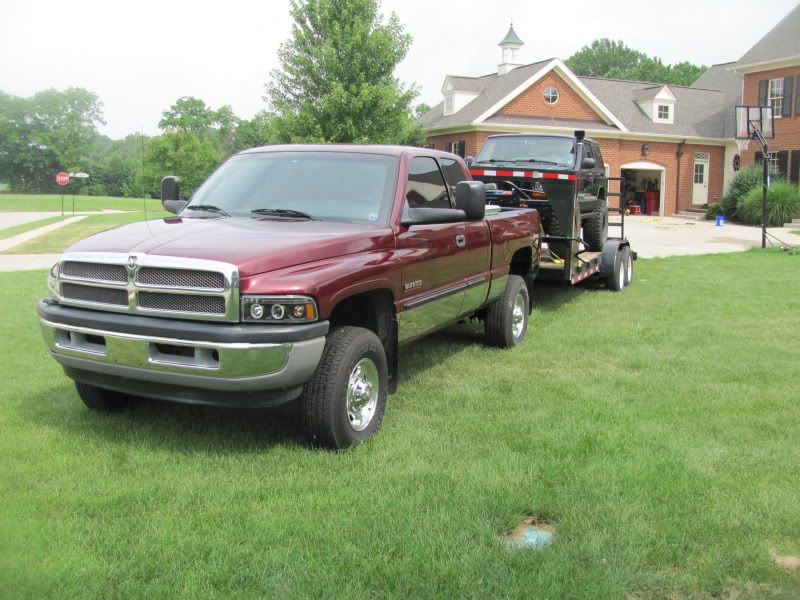 ---
2014 Jeep Wrangler Sport S
3.6L V6 - Manual
2001 Jeep Cherokee Sport
4.6L Golen Engine Stroker
6.5" TnT Customs Longarm Kitl Ford HP D60 l 6.5" Rock Krawler Coils l TnT Customs HD Trac Barl Omix Ada HD SYE l 1" UBEsl CV Driveshaft l39.5" IROKsl 17x9" Pro Comp 98sl High Clearance Shock Mounts [COLOR="red"] l Hidden Hitch l AJs Custom Front Bumper l SONY Xplod stereo l Alpine Speakers l TnT Frame StiffenerZ l 22" RE SS Brake Lines l 1.5" TnT Customs Boomerang Shackles l Sterling 10.25 *FULL WIDTHS* l JKS Mini Skids and Sway Bar Brackets l 7/8" Heim Joint High Steer

To view links or images in signatures your post count must be 10 or greater. You currently have 0 posts.


Registered User
Join Date: Feb 2008
Location: Indianapolis
Posts: 1,678
thats a great lookin set up
---

To view links or images in signatures your post count must be 10 or greater. You currently have 0 posts.



To view links or images in signatures your post count must be 10 or greater. You currently have 0 posts.


2000 TJ, 100" wb on leaves
2007 WK CRD
Currently Active Users Viewing This Thread: 1

(0 members and 1 guests)
Posting Rules

You may post new threads

You may post replies

You may not post attachments

You may not edit your posts

---

HTML code is Off

---