So, I went to work with paint and wood grain today.
I hemmed and hawed about how to make it best match the waggy with the combo of wood and paint today....If I did 1 thick stripe it would have been centered between the two stripes where they are now. however, the area above and below that (where the stripes are now) is textured like wood and the area in between is corrugated like the rest of the aluminum and would have looked weird.
If I kept just 1 thin stripe it was way too much tan.
I thought about making a thicker strip where the top one is but then half of the vinyl would have been on wood textures aluminum and the lower half would have been kn smooth but corrugated aluminum and it would have covered a horizontal seam as well.
I went back and forth on it all morning. Unfortunately the materials and textures kinda dictated where it would look correct. This is how it came from the factory (as far as the layout not actual colors). I decided it was fine to make it match the waggy and look like they go together rather than like it CAME WITH the waggy.
Make sense?
Well, without further ado, Here is the result of 11 hours, 7 cans of rustoleum gloss almond, and 1458 square inches of vinyl wood grain.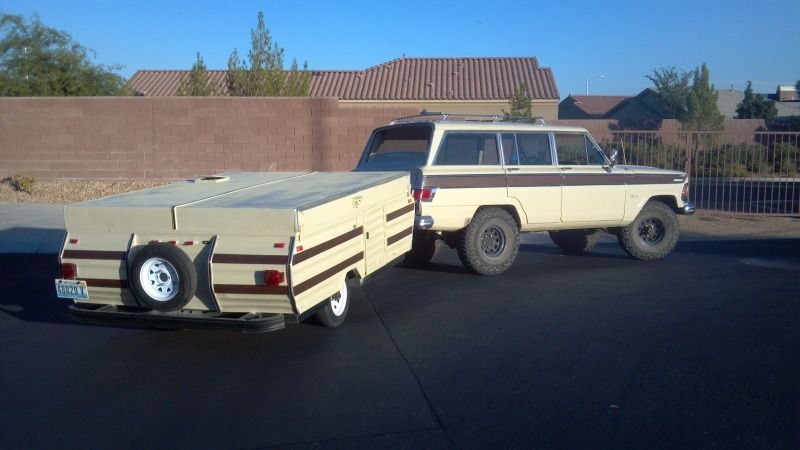 I love the running lights.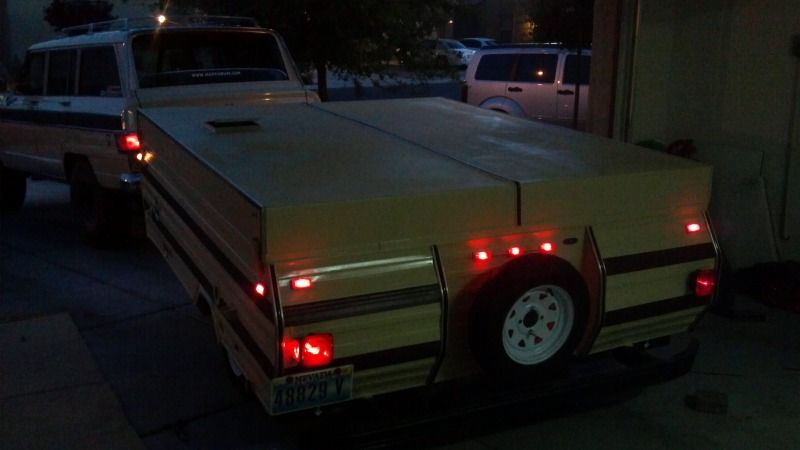 So, at about 8:30pm, i towed it back to work and then drove back home. Im pooped, dumped about 20 hours into the camper this weekend, but now, aside from the lift, its exactly what i want, and how I want it.