Hi Everybody! (hi Dr. Marn!)
I'm Dr. Marneaus, you may remember me from such fabulous threads as
Marn's 73 Wagoneer Thread
,
97 TJ's Build Up
and
The Official Las Vegas/Southern Nevada Chat Thread

Well today I'm here to bring you a brand new thread, on an entirely new topic!
If you're an avid follower of my antics on this website, you may have heard mention in
Marns 73 Wagoneer Thread
that an eventual goal of mine was to get a vintage pop-up camper to tow around with my 1973 Wagoneer.
Well, sometimes things happen sooner than we plan! I was conversing with a member of the forum (who also happened to have a wagoneer of his own) on a completely unrelated topic, and he mentioned that he had an older tent trailer listed on craigslist. I found the ad, realized it was exactly what I wanted, and rushed over to take a look. It was, indeed, all that I had hoped for.
I made him an offer, literally as another pair of buyers pulled up, and he accepted. We shook hands, and I said I'd be back in a day or three to pick it up.
The product I purchased appears to be a well cared for 1980 Jayco JayFinch6 Fold-Down Camping Trailer (apparently Jayco called them Fold-Down rather than Pop-Up).
Here are a few pictures from the day I first saw it. Overall, in fantastic condition for a 32 year old trailer. Some minor cosmetic stuff, but literally everything works. no leaks. no tears in the canvas or the interior upholstery. linoleum is a little dirty, but no damage. wood paneling inside is all perfect.
New tires, new battery, new jacks.
3 burner stove, propane heater, manual and electric pump sink, hookups, surge brakes. Currently wired for 4 pin plus an extra 12v wire to charge the battery.
currently painted as such because the Original owner painted it flat black to use as a hunting rig before the PO bought it from him. PO painted it white and blue.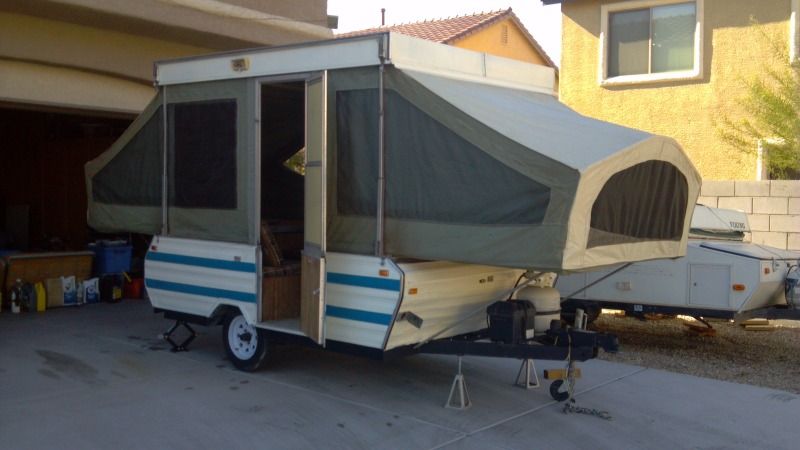 you can see the front sheeting is pressed in a bit. no worries.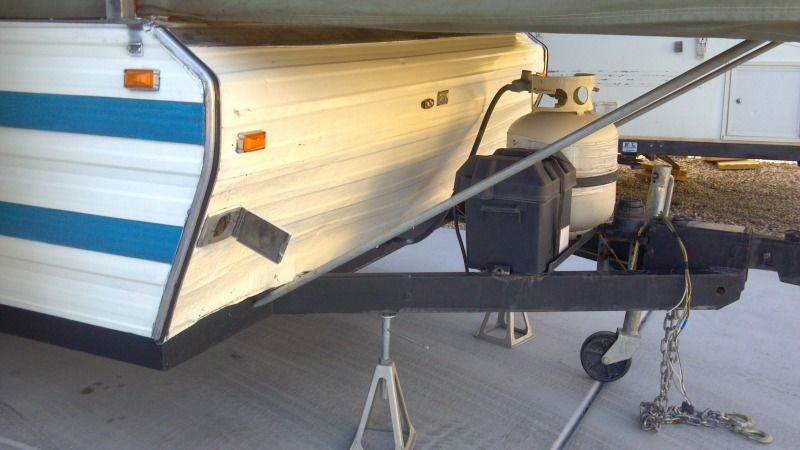 Canvas is solid, just a little dirty.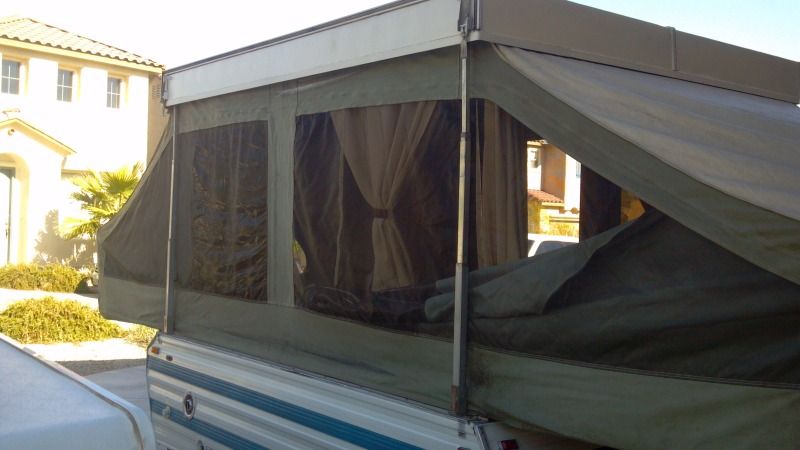 New battery, propane tank is clean, and the hitch for the surge brakes.
Vinyl and screens are perfect, just a lil dirty.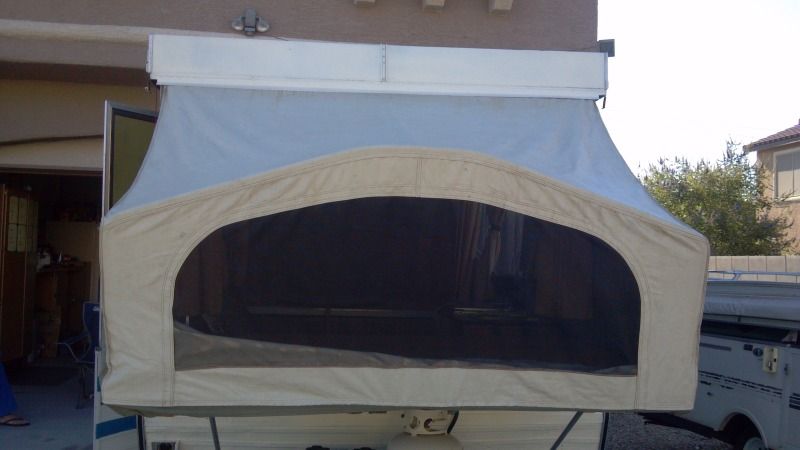 Interior upholstery is nice, not worn or damage.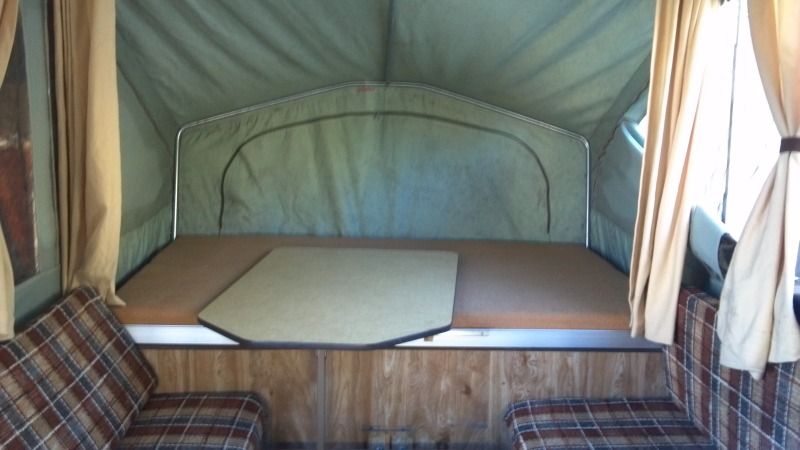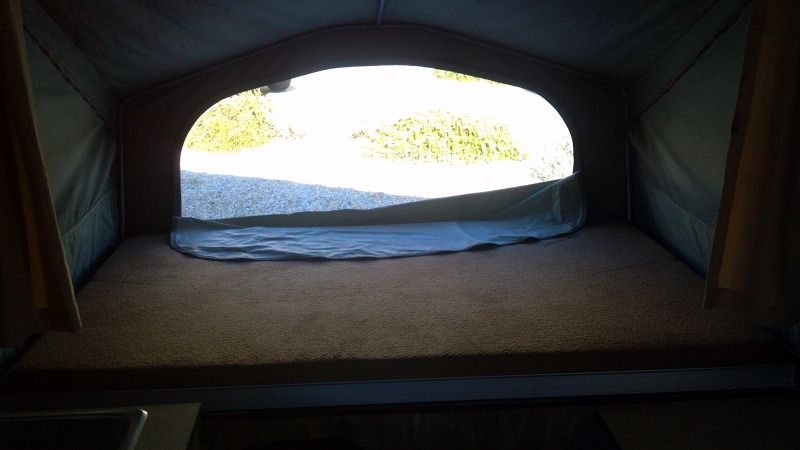 Kitchen (note that the vinyl on the icebox is fully intact too):
So, I cruised on over after work today, and JF member Roobicon was nice enough to help me tow it over to the storage yard where I work, since my waggy is in storage.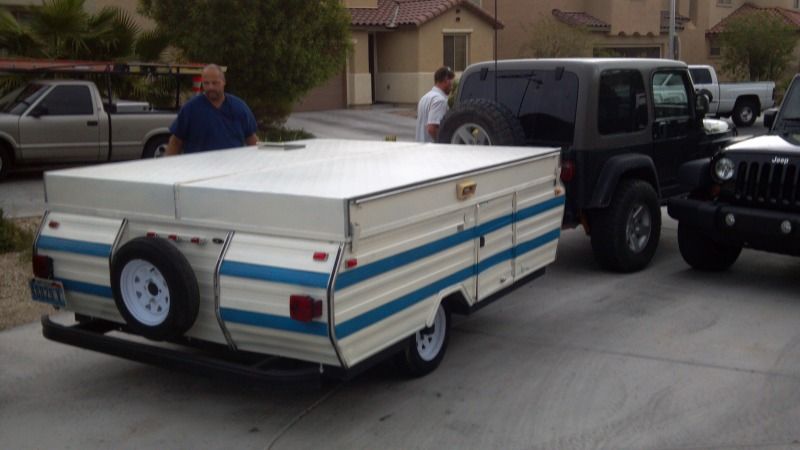 Looks thrilled, doesnt he?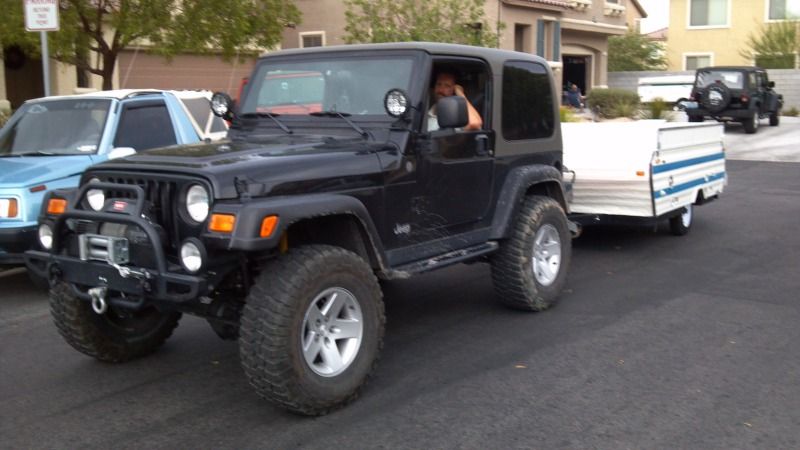 Said he hardly noticed it on the 15 minute drive.
So, we parked it at my work where it'll be stored. I plan to bring it home this weekend to power wash the heck out of it, and get the canvas cleaned up.
Plans for the camper in the future include:
-Paint to match the waggy (wood stripe included)
-Dual Propane tanks
-Solid axle (minor lift) and 5 lug wheels/tires to give it some lift
- Pintle hitch or 3-axis hitch
My overall goal at this point is to just make it slightly more capable than on the 12" rims. I am not looking to build a trail camper, but it needs to be able to traverse soft gravel and sand, as well as steeper and tighter roads. The 12" tires and low clearance are not conducive to that goal. I'll also most likely start doing more of my Expo-style mods to the trailer, rather than my actual truck. This is good because I can keep the truck more original.
Right now, however, it needs literally nothing. I could hook up and tow it wherever I wanted to!
So, enjoy! There's more to come, and I'm pretty psyched.