Registered User
Join Date: Sep 2008
Location: Okanagan, Canada
Posts: 69
I am in the process of building an M101CDN into an offroad roof-top-tent camper. check it out here
http://www.jeepforum.com/forum/f104/jeep-m101cdn-offroad-camping-trailer-construction-691445/
it hauls great behind my YJ and with the wide flares i can really see it well in the mirrors. the weight before i started building it up wasn't even noticable but now i can feel it back there, added about 500lbs to it in steel and other bits. will scale it when she's all done and get a total.
---
Dont forget to wave, OVERLAND...
Registered User
Join Date: Aug 2008
Location: BigFork, MT
Posts: 211
---
Al Swearengen: Sometimes I wish we could just hit 'em over the head, rob 'em, and throw their bodies in the creek.
Cy Tolliver: But that would be wrong. -Deadwood

Nightcrew member #095
Registered User
Join Date: Jul 2006
Location: Halifax, PA 17032
Posts: 229
haha, talk about overkill! it would be fun to have one though!
Registered User
Join Date: Jan 2009
Location: Jean
Posts: 5
Hey Mike, I picked up my two trailers from Ft.Sill OK and drug them back here to the lasd of Vegas and had no problems towing wise. Teh DRMO folks helped load them on top of each other and off we went. I had removed the tires off the top trailer and failed to put the lug nuts back on so during the trip, they migrated out of their holes and into the brake housing. After discovering the 8 pt spindle nuts and the difficulty of finding a socket for them, I have decided to go with a new axle setup that makes tire changes etc. more managable. Even with the two lashed to each other, my only enemy was the wind holding me back on some stretches. My tow vehicle is my '06 Rubicon LWB with a 3.5" lift and stock engine. I did put 5" springs in the back to offset the weight I thought would drag the rearend down. It all worked out great! Thanks for the heads up...
---
A.I.O. Adapt, Improvise and Overcome
Registered User
Join Date: Feb 2007
Location: Oakhurst, CA
Posts: 26
M116 Trailer
---
This thread was useful to me when I was looking into getting a military trailer for my jeep.
So to keep it going heres a pic of a M116 trailer I just got for $450. I am modifying it to be my snowmobile hauler and fabing up some ramps.
The previous owner axed the pintle hitch and installed a standard ball type receiver. Wish it still had the pintle.
Trailer weight 870 lbs. 3/4 ton capacity
Jeep is on 33's with a 2" BB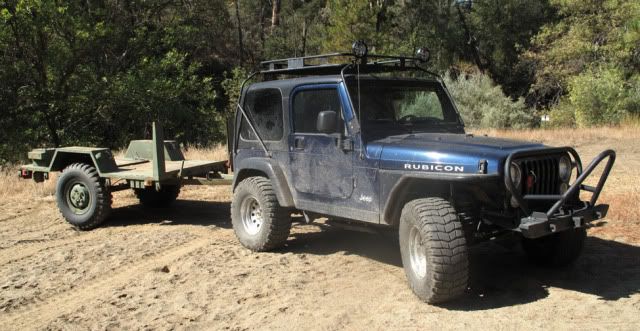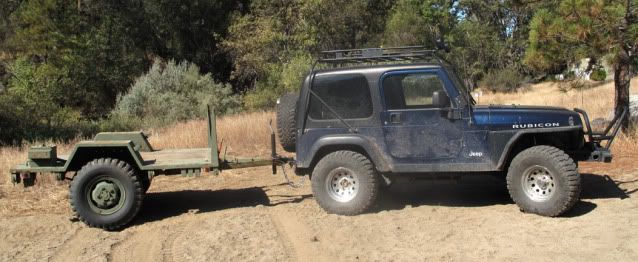 ---
If your stuck u didn't go fast enough...
Currently Active Users Viewing This Thread: 1

(0 members and 1 guests)
Posting Rules

You may post new threads

You may post replies

You may not post attachments

You may not edit your posts

---

HTML code is Off

---